PERFORMANCE PROMISE
CLEANLINESS AND HYGIENE
Sparkling glasses. Gleaming dishes and cutlery. Utensils and trays washed clean. Free of viruses, bacteria and other germs. Winterhalter stands for the highest levels of cleanliness and hygiene. Worldwide.

BE ON THE SAFE SIDE
Cleanliness and hygiene. They form the basis of basic human need. A need that has become even more important since the emergence of Corona: We have seen the danger that pathogens can pose and how important hygiene is in our daily lives.
This particularly applies to industries that work with food. For over 70 years, Winterhalter has been offering them professional warewashing solutions based on innovative washing technologies. Controlled and monitored by sensors. Automated by an efficient washing process. Always as a combined system solution: with chemicals, water treatment and racks precisely suited to the application. Winterhalter achieves a disinfection level of over 99.999% – over and above the visible cleanliness. This means that when it comes to hygiene, our customers are on the side of absolute safety. Even with events like Corona.
OUR HYGIENE PROMISE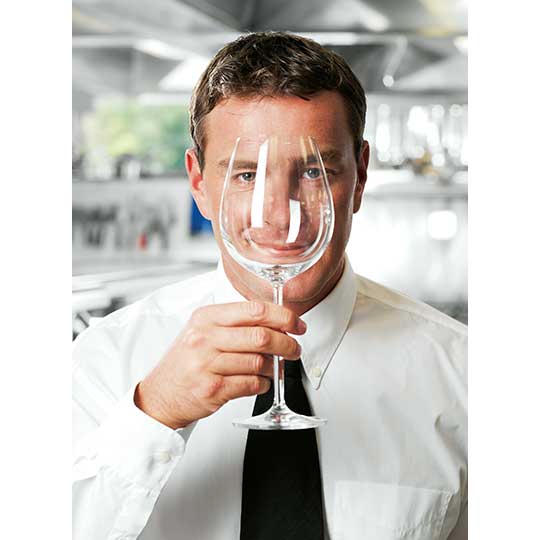 CERTIFIED HYGIENE SAFETY
We are 100% reliable: All Winterhalter warewashers have DIN SPEC 10534 hygiene certificates that meet the specified microbiological and hygiene standards. When professionally operated with a suitable and sufficiently dosed detergent, not only stubborn dirt but also over 99.999 % of germs are eliminated – including dangerous influenza and Corona viruses.
FIRST-CLASS WASH RESULTS
Sparkling glasses. Spotless dishes. Shiny cutlery. As washing specialists, Winterhalter's mission is perfect cleanliness and hygiene. We develop solutions that use new technologies and possibilities, take all relevant washing factors into account and are thought through to the smallest detail. For the very highest standards of cleanliness and hygiene.
OPTIMISED SYSTEM SOLUTION
The whole is greater than the sum of its parts. According to this principle, Winterhalter optimises all the important components in the washing process, balances them precisely and coordinates them: machine, water treatment, chemicals, racks and accessories. Excellent individual products form a combined, first-class solution. Tailor-made to meet individual requirements.
SUPPORT AND TRAINING
Winterhalter has specialised in commercial washing for over 70 years. In this time we have gained a great deal of knowledge and valuable experience – particularly in the area of hygiene safety. We are aware of the challenges in different industries and know how to ensure operational hygiene processes. We pass on this knowledge to our customers in consulting sessions, briefings and training courses.
THIS IS HOW WE ENSURE HYGIENE SAFETY
WASHING UP BY HAND VS. MACHINE
What are the advantages of the warewasher compared to washing up by hand? Is it really better? And even more importantly: In these times of Corona, is it hygienically safe and sensible to wash up by hand? There's no room for compromise when it comes to protecting your health. Here is a brief comparison of the two.
1. Cleanliness and hygiene
In terms of cleanliness and hygiene, machine washing with its automated washing process has several advantages: Temperatures exceed 60 °C during washing and 65 °C and 85 °C during rinsing – and remain consistently high. The water pressure and the contact time are perfectly matched, and the chemicals are precisely dosed and optimised for the items being washed. Moreover, the wash water is automatically and constantly regenerated. These factors are not defined for hand washing and depend on the "human factor" – for example, the time available, motivation, etc. In addition, there is a danger of germs being transmitted when drying and polishing with a tea towel.
2. Time and staff costs
Washing and drying by hand requires significantly more time and ties up staff capacity. This means that staff shortages could occur at peak times. Or that hygiene regulations may not to be achieved due to time constraints.
3. Economic efficiency
Economically, machine washing is characterised by low time requirements and low consumption values: Only the amount of water, energy and chemicals actually required are used. This ensures lower operating costs overall. Costs related to dish and glass breakage are also significantly reduced. Naturally, the acquisition costs when purchasing the machine must also be taken into account.
4. Environment
When washing by hand it is extremely difficult to achieve the exact dosage of detergent, making the danger of underdosage and, in particular, overdosage relatively high. Washing by machine is different: Automatically controlled dosing pumps ensure precise dosing of detergent and rinse aid. The machine also performs better in terms of the resources used: Considerably less water is required for machine washing than for hand washing for the same amount of wash items.
5. Health and safety
When washing by hand, there is a danger of glass or dish breakage due to manual pressure or carelessness, and consequent injury. Importantly, direct contact with the detergent solution can damage the long-term protective layer of skin. This danger is almost eradicated by machine washing.

RECOMMENDATION
Is Coronavirus rendered inactive by washing up by hand or by using the dishwasher? The German Institute for Risk Assessment (BfR)* examined this question and issued the following official recommendation on 27 May 2020:

"As enveloped viruses, the genetic material of which is coated by a layer of fat (lipid layer), coronaviruses react sensitively to substances that dissolve fat such as alcohols and surface-acting agents, which are contained in soaps and dishwashing detergents as degreaser solvents. Although specific data is not yet available for SARS-CoV-2, it is likely that these substances damage the virus surface and render the virus inactive. This applies in particular if dishes are washed and dried in the dishwasher at a temperature of 60 degrees Celsius or higher."

That means: Those who want to follow the advice of the BfR should use a machine for washing. Only this option offers the greatest possible hygiene safety. The high temperatures required are not reached when washing by hand.
_____
* The German Federal Institute for Risk Assessment (BfR) is a scientifically independent institution within the portfolio of the Federal Ministry of Food and Agriculture (BMEL) in Germany. It advises the Federal Government on questions of food, chemical and product safety.
FREQUENTLY ASKED QUESTIONS ON HYGIENE AND CORONA
Will a commercial warewasher make the Coronavirus inactive?
Yes, to about 99.999%. This is because Winterhalter warewashers are certified in accordance with DIN SPEC 10534 and guarantee a reduction in germs by more than 5 log levels – almost to the same level as disinfection. This high degree of cleanliness and hygiene is achieved by a combination of the right dosing of effective alkaline detergents, sufficiently long contact time, and stable high temperature management in the tank and during the rinsing. The prerequisite for this, is error-free functioning of the machine and correct operation.
Why are the chemicals so important?
According to experts, Coronavirus SARS-CoV-2 belongs to the group of so-called enveloped viruses. This means: The genetic material of the virus is enveloped in a layer of fat. And this reacts sensitively to substances that dissolve fat – such as those contained in the alkalis (bases) of professional detergents. Although specific findings for SARS-CoV-2 are not yet available, there are many indications that the surface is also damaged, thus killing the virus. It is therefore important to use a sufficiently alkaline detergent and the recommended dosage when washing.
Why is using a warewasher better than washing up by hand?
There are several reasons: The mechanical washing process is completely automated and allows much higher temperatures than washing by hand – with significantly longer active wash times at a constantly high temperature. In addition, highly concentrated cleaners are used at the optimal dosing. Plus: The machine's rinse cycles with its high temperatures dries the dishes so well that they do not have to be polished by hand – which prevents the transmission of germs when using a tea towel. Warewashers like those from Winterhalter offer hygienic wash results at a consistently high level. And in the shortest possible time: This is because a machine can hygienically wash approx. 20 glasses in under two minutes – depending on the rack and machine size.
What needs to be taken into consideration with regard to Covid-19 when washing glasses?
In principle: The transmission of Coronaviruses via infected glasses is one possible route of infection. Which is why the clear recommendation of hygiene experts is: Please don't wash glasses by hand, but in a professional glasswasher. This is the safest and most efficient solution– see the comparison "machine washing vs. hand washing".
The reason: A commercial glasswasher cleans in accordance with DIN SPEC 10534. This standard recommends that glasses be washed a minimum of 90 seconds at over 55 °C using an alkaline detergent. Winterhalter glasswashers go one step further and wash at a temperature of at least 60 °C – the temperature does not fall below 65 °C during subsequent rinsing. Also important: Glasses must be removed with clean hands or gloves after the wash cycle to prevent a renewed transmission of germs. And of course the glasses should not be dried and polished by hand, as germs can be transmitted via the tea towel. Instead, we recommend using a water treatment technology that makes manual polishing superfluous: for example, a reverse osmosis device.
Does Corona make it necessary for me to increase the temperature of my warewasher?
No, not in the case of professional warewashers like those from Winterhalter: The wash and rinse temperatures are set from the outset to comply with the hygiene requirements of DIN SPEC 10534. If you are unsure, you can retrieve and check the temperatures on the display on most machines. Or simply ask your customer service.
How is the disinfection performance of a warewasher tested?
For safety reasons, we do not use Coronavirus for the hygienic test of the cleaning performance of our warewashers, but instead the test germ "E. faecium". It is considered to be extremely durable, is especially heat resistant and thus an ideal representative for a large number of germs – including bacteria and viruses such as the Coronavirus SARS-CoV-2. These hygiene tests remove at least 99.999 % of germs in a Winterhalter warewasher. Including Coronavirus.
Has Corona changed the washing technology?
No. Winterhalter's washing technology has always been designed to reliably eliminate pathogens in combination with the right detergent and at sufficiently high temperatures. Whether this is a bacteria or a virus like SARS-CoV-2. That means: Even those who own an older warewasher can completely rely on the hygiene safety of their Winterhalter machine. Provided it is still operating correctly and is properly maintained.
Can Coronavirus be spread via glasses, dishes and cutlery?
In principle, yes: Recontamination of dishes hygienically cleaned in the warewasher is possible by an infected person sneezing or coughing directly on the surface and subsequent transmission by smear infection. There is still no data on the length of time Coronaviruses can survive on surfaces such as dishes or glasses. However, the proportion of transmission through smear infection is estimated to be on the low side. This also makes the risk rather low.
Is there anything else I can do to help washing hygiene?
A Winterhalter warewasher is the most important hygiene component. Provided this is correctly set up, you can rely on absolute hygiene safety. What else you can do: Ensure that clean wash items are transported, stored and prepared for reuse in a hygienic way.
What must I be aware of when washing in a machine?
During the actual washing process you do not need to do anything else. Because Winterhalter's washing technology offers you absolute hygiene safety. You only need to ensure that hygiene safety is maintained in the upstream and downstream work process – i.e. when loading/unloading the machine and when the cleaned dishes are stored and prepared for reuse. The strict separation of clean from dirty areas is important in terms of the space and staff. This includes, adequate hand washing before unloading, the use of gloves and not polishing with dry cloths. Simply everything necessary to avoid recontamination.
Does the machine report hygiene-relevant faults?
Yes, Winterhalter warewashers indicate the corresponding errors on the display and accompanied by a sound: for example, if the detergent is empty or the required temperatures are not reached. There is also CONNECTED WASH: All important operating and machine data can be viewed and checked at any time via the app. Including automatic notifications in the case of critical errors.
Hygiene safety downloads
---
The perfect interaction of technology and chemicals is decisive for the cleaning and disinfection performance of a warewasher. This is the reason why at Winterhalter we always think in terms of an overall system. And that is also the reason why our warewashing solutions eliminate more than 99.999% of germs. For maximum hygiene safety.
Speak directly with your expert.
Corona has given the subject of hygiene a new importance. As a worldwide washing specialist, we are there for you in this new environment and happy to answer any questions you may have. Simply call or email us.