CHEMICALS
ADDITIONAL PRODUCTS
The best of the rest. Winterhalter has a product to deal with every eventuality. Whatever your considerations, commercial goals, corporate social responsibilities or budget.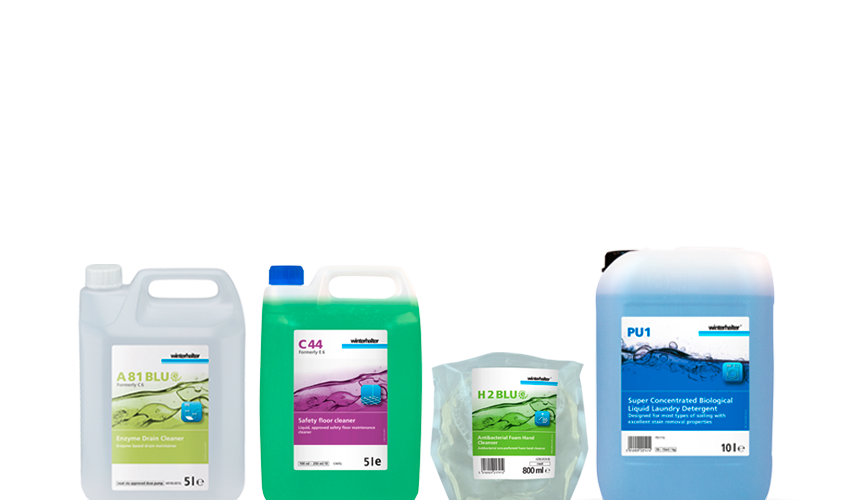 WE HAVE THE COMPLETE RANGE.
The highest quality for the toughest demands of any catering establishment. General chemicals for all aspects of your business. Industry specific where there are more specialist requirements. The following section is an example of what we have available in our range, rather than an exhaustive selection.
SPEAK DIRECTLY TO OUR EXPERTS
We want you to use the optimal chemicals for your environment. Work with one of our chemical experts to identify which chemicals will deliver the very best results for you. Simply call or email us.
OUR CRUST CRACKER PRODUCTS
Specifically formulated to work with our utensil washers (UF Series). These products are an environmentally-friendly, enzymatic pre-cleaner. A range that is capable of removing stubborn food, starch and protein residues.
OUR BLUe PRODUCTS
Our range of environmentally friendly products. They are biodegradable to EU guidelines. Formulated from plant based ingredients, bio ethanol (derived from natural sugar by fermentation) and naturally occurring enzymes. They are safe to enter the waste system and the packaging is recyclable.
OUR FLOOR CARE PRODUCTS
A range of products specifically designed for all flooring types. There is something in the range to maintain, strip clean or polish. To complement these products are a range of carpet and upholstery care solutions.
OUR HAND CARE PRODUCTS
Winterhalter has developed a complete range of products for the cleaning, sanitising, protection and care for hands. The range includes liquid hand soaps and new foam systems that clean hands gently and hygienically with or without the need for sanitisation. Our soap dispensers are designed for optimal dosing for the right cleanser.
OUR LAUNDRY PRODUCTS
A range of professional on premise laundry systems. Our extensive range of products enables you to configure the best combination of products to meet your business requirements.
THE WINTERHALTER SYSTEM
Cleanliness and hygiene. Each one of our products plays its part. Together they deliver the perfect wash result. Welcome to the complete Winterhalter system