CHEMICALS
HOUSEKEEPING
For all the demands of a modern food service environment. A range of solutions to deal with every surface, challenge and eventuality. Winterhalter has the right chemicals for every application.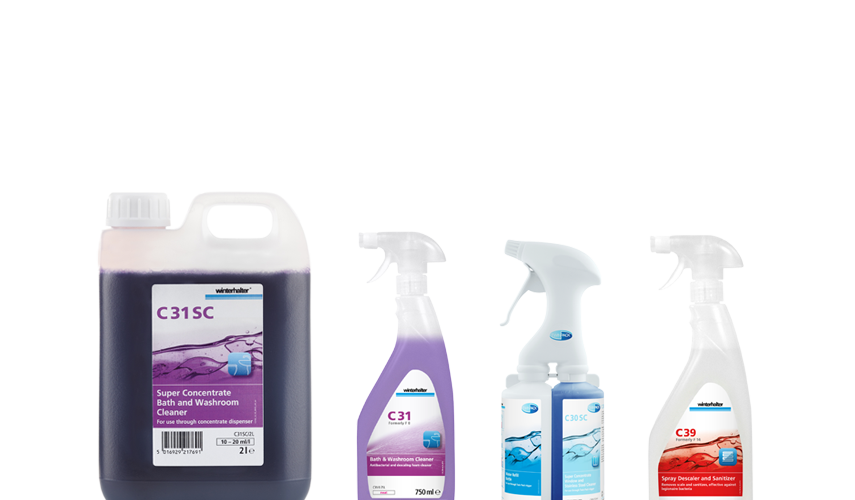 WE HAVE THE RIGHT HOUSEKEEPING.
Our chemicals don't stop with machines. To enhance our range we have specialist housekeeping products. Products as diverse as the challenges faced by cleaning modern premises. Everything housekeeping needs to clean, descale, freshen, polish or disinfect. Products designed to facilitate your cleaning regime. From glass, toilet and washroom cleaners to thick bleach and grout cleaners. For those wishing to be more considerate to the environment and wishing to reduce costs, there is also a concentrate range. All perfectly formulated to deal with the most challenging environments.
SPEAK DIRECTLY TO OUR EXPERTS
We want you to use the optimal chemicals for your site. Work with one of our chemical experts to identify which chemicals will deliver the very best results. Our impressive range of chemicals can meet the needs of every commercial catering environment. Simply call or email us.
OUR HOUSEKEEPING CONCENTRATES
OUR HOUSEKEEPING TWIN PACKS
THE WINTERHALTER SYSTEM
Cleanliness and hygiene. Each one of our products plays its part. Together they deliver the perfect wash result. Welcome to the complete Winterhalter system