PAY PER WASH
INDUSTRY-FIRST FLEXIBLE PAYMENT OPTIONS
Pay Per Wash is as simple as it sounds. Just pay with every wash cycle. There's zero upfront cost and everything is included in the price - the machine, chemicals, service and repairs and even some racks thrown in too.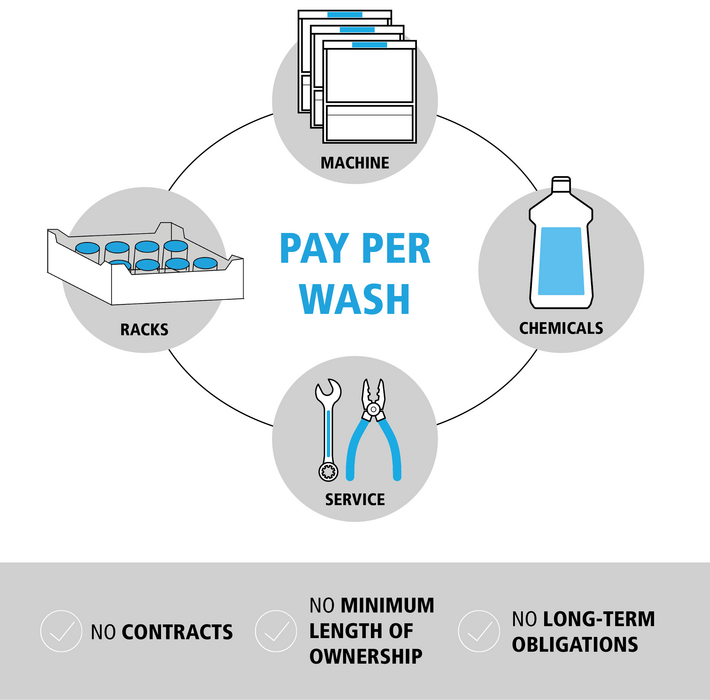 SOUND TOO GOOD TO BE TRUE?
We believe that high-quality shouldn't be inaccessible. We know that for a lot of independent businesses and seasonal venues, you want to provide the best for your customer, but the best isn't always affordable. Which is why we've made this unique package. It rivals anything else on the market, and it's a credible alternative to financing and renting that comes with no strings attached.
SO HOW DOES IT WORK?
We'll work with you to tailor your costs based on the frequency and items that you're washing. Wash cycles can cost you as little as 20p per wash.
There's no contracts, no minimum length of ownership and no long-term obligations.
Once you're up and running, you simply log into the online PPW portal to buy wash credits. You can pay by card, and invoices are automatically sent to you. Credits are added to your machine automatically, so you're free to start washing! We'll even keep you updated. Your machine will notify you when your credits or chemicals are running low, so you can concentrate on what do you best.
DO YOU HAVE QUESTIONS ABOUT PAY-PER-WASH?
Would you like to avoid making compromises when it comes to washing dishes? Do you value brand quality but have a limited budget? We offer alternatives to the traditional purchase of a Winterhalter warewasher. No investment required. We look forward to hearing from you