CLEAN WASHING. ALWAYS WITH SYSTEM.
COMMERCIAL DISHWASHERS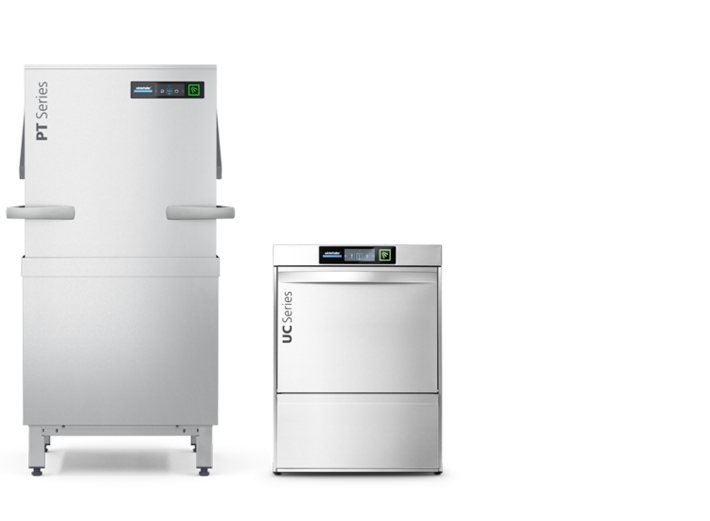 THE RIGHT SOLUTION FOR EVERY NEED. HYGIENICALLY SAFE.
High quality standards. That's what connects us to our customers. We want more than just deliver a Gastro dishwasher to you. Our customers come to us because they are looking for a professional solution: tailor-made for their specific requirements, which are especially important to meet in the current situation.
UC SERIES GLASSWASHERS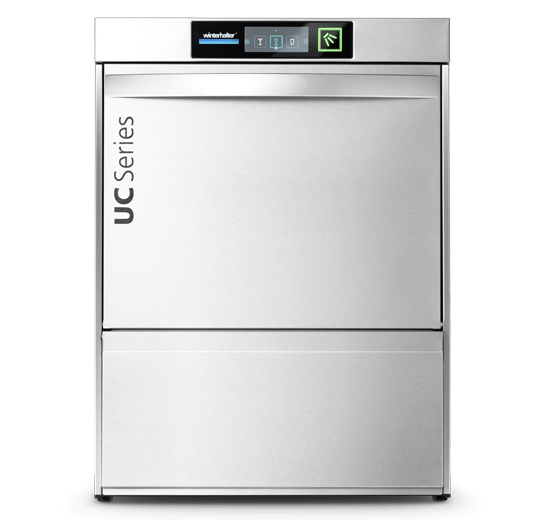 CLEANLINESS AND HYGIENE
Sparkling clean. Hygienically clean. Visibly flawless. The UC guarantees perfect dishwashing results – which is more important than ever in the current situation. For reliable inactivation of potentially pathogenic viruses. Documented by DIN certificates. After all, nothing beats hygiene safety.
ECONOMICAL AND EFFICIENT
The UC Series is cost-effective to operate: The optimised wash field reduces water consumption by up to 25 percent compared to the previous model. Consumption of electricity and chemicals also drops as a result – which further minimises the overall operating costs. And all this with first-class wash results.
CUSTOMISED SOLUTION
Perfectly adapted to the space available to you and your dishes: The UC is available in sizes S, M, L and XL. There are four different variants for you to choose from: a glass, dish, cutlery and bistro washer. Each of these has up to three standard programmes and numerous equipment options.
USER-FRIENDLY
A smart touch display with programme and progress indicator. Single-button operation. Ergonomic door handle. And particularly easy cleaning, with two wash fields that can be removed with one hand at the push of a button – entirely without the use of tools. Operation of the UC is easy and intuitive. Just as you want it to be.
UC SERIES PRODUCT FEATURES
PT SERIES PASSTHROUGH DISHWASHER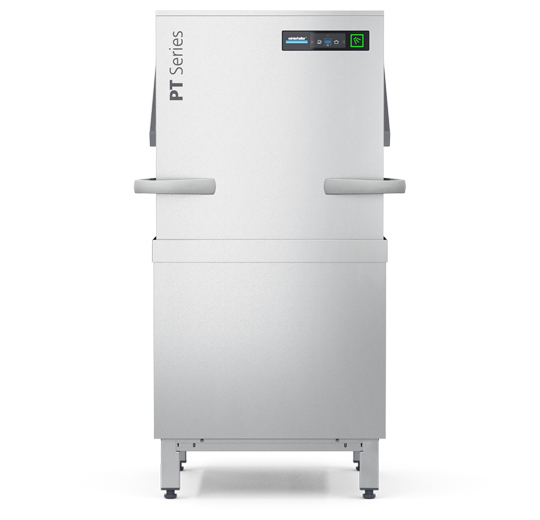 CLEANLINESS AND HYGIENE
The PT Series is full of technical innovations: Taken together, the many well thought-out details ensure first-class cleanliness and hygiene. For reliable inactivation of potentially pathogenic viruses. Documented by DIN certificates. After all, nothing beats hygiene safety.
ECONOMICAL AND EFFICIENT
Intelligent use of energy. Low water consumption. Perfect wash results. The PT dishwashing system is a lesson in how to combine first-class wash results with maximum cost-effectiveness.
RAPID WASHING SPEED
Washing with the PT means saving time: hood up, rack out, new rack in, hood down. And while the machine gets to work, the clean dishes can be cleared away and the next rack filled.
SIMPLE TO USE
Touch screen with self-explanatory pictograms. Start button for 1-button operation. Guided self-cleaning programme. Another distinctive feature of the PT Series: refreshingly simple and intuitive operation.
PT SERIES PRODUCT FEATURES
Alternative payment models
Start-ups. Food outlets with seasonal trade. Franchise-holders with a whole fleet of machines. Every one of our customers has their own requirements. And a traditional purchase is not the ideal financial solution for every customer. Winterhalter therefore offers alternative payment models. We will be happy to advise you and work with you to find the right solution for your individual situation.
We don't just sell our customers any old dishwasher with a host of technical features. We always provide a system for ultra-clean dishes and sparkling glasses.