PLASTIC CUP & BOWL WASHING SYSTEM
WASHING REUSABLE PLASTIC CUPS & BOWLS
Reusable plastic cups and bowls washed clean. In less than two minutes.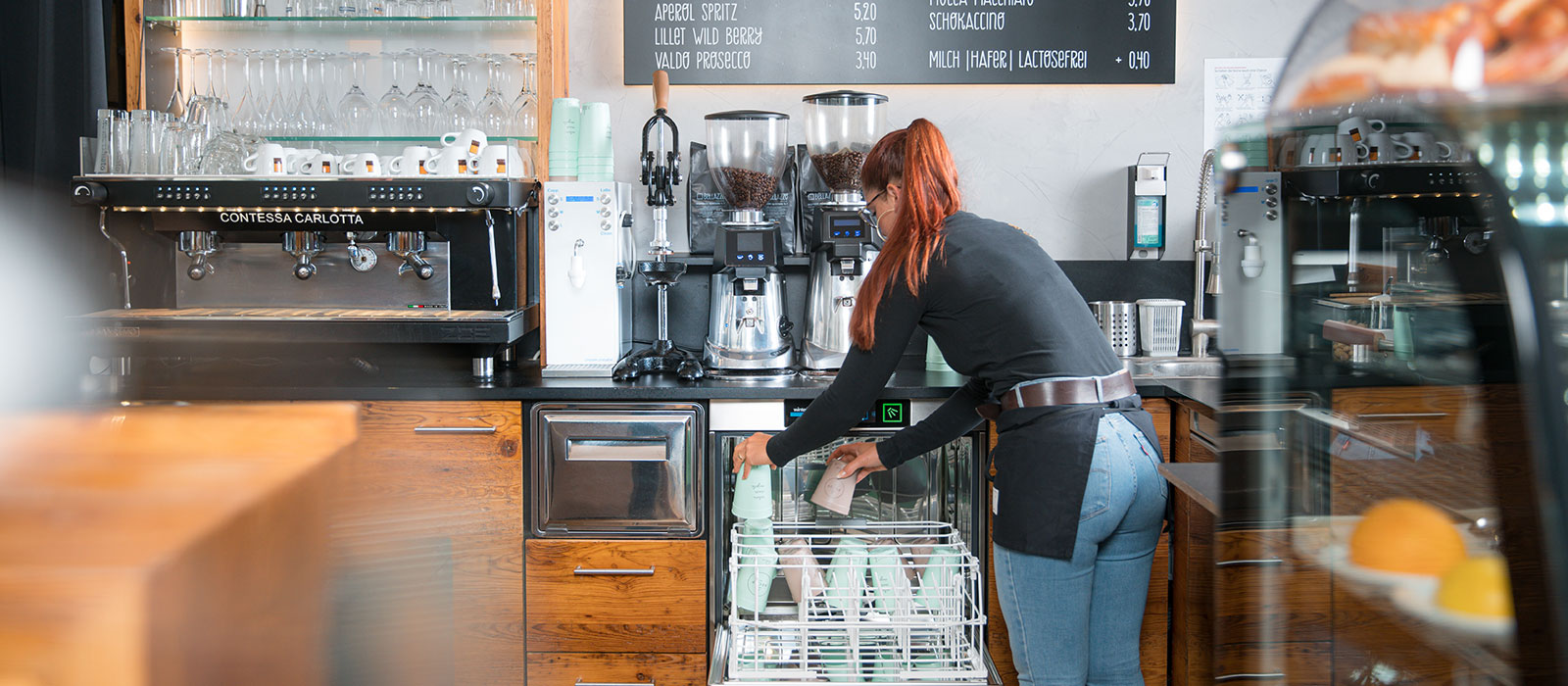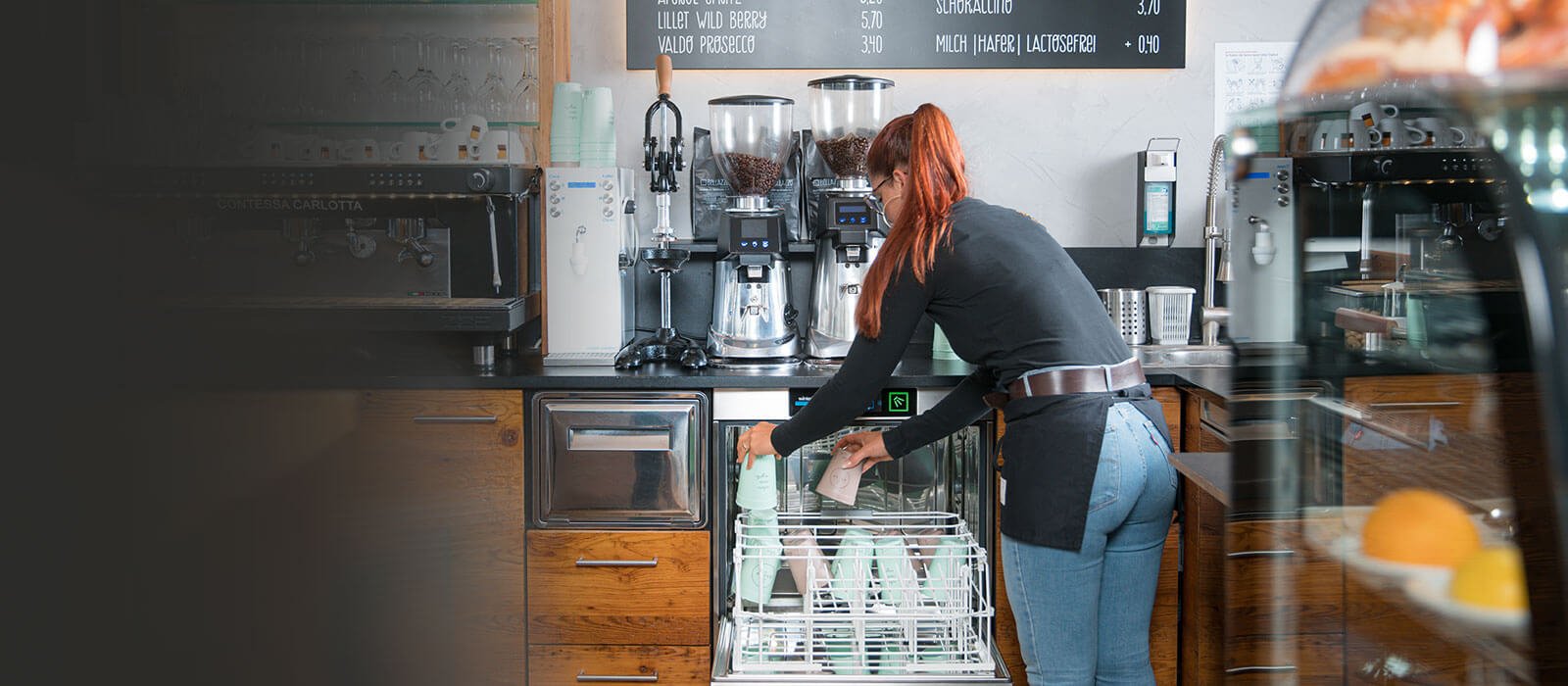 HYGIENICALLY CLEAN
Takeaway coffee, Chai Latte on the way to work, or Asian rice dishes to go – operators of gastronomic establishments frequently use reusable plastic cups and bowls for their "to-go" business. More and more consumers are acting sustainably, focusing on waste reduction and responsible consumption. Starting in 2023, legislation requires caterers to offer reusable alternatives for "to-go" beverages and take-away meals. Reusable systems are becoming increasingly central in addressing this new challenge. However, they can only work if washing doesn't become an issue, meaning absolute cleanliness and hygiene are guaranteed when washing plastic cups and bowls.
REUSABLE PLASTIC CUP WASHING PROBLEMS
The plastic material makes washing reusable plastic cups a real challenge.
The conventional machine programs, racks, detergent and rinse aid are no real solution: when washing, the light cups quickly tip over and fill up with wash water – meaning that they have to be emptied and washed again. And the low thermal conductivity of plastic leaves the cups dripping wet after the wash cycle, so they must be dried by hand. Winterhalter has now solved this problem and developed a professional solution: the reusable plastic cup washing system.

WITHOUT THE REUSABLE PLASTIC CUP WASHING RACK
The reusable plastic cups easily tip over, fill with wash water and dry poorly.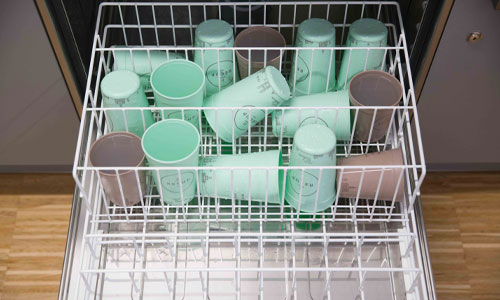 WITH THE REUSABLE PLASTIC CUP WASHING RACK
Cups are securely held in place in the rack, ensuring first-class wash results with optimized drying.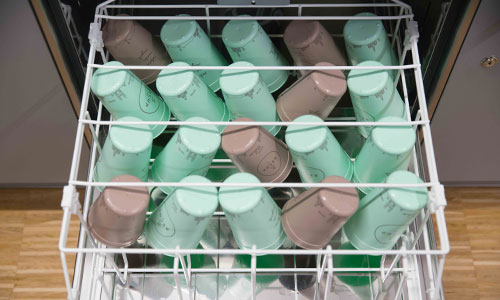 The system solution for reusables warewashing
Hygienically washed plastic reusables. First-class cleaning and drying results from the machine within a few minutes. Winterhalter relies on a holistic system solution for reusables warewashing: consisting of machine, rack, rinse chemicals and drying device. Each individual component makes an important contribution to reusables warewashing. Together they ensure perfect washing and drying results.<br/>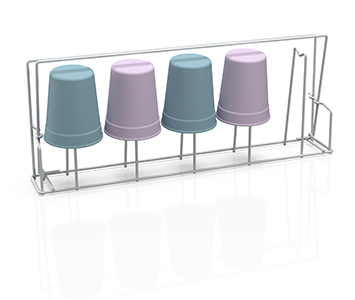 INSERTS FOR CUPS AND LIDS
Do you want to wash just a few cups? Or just a few lids? No problem: individual rack inserts transform the Winterhalter reusable plastic cup washing system into a flexible and completely tailor-made solution.
---
Challenges in washing bowls
Washing plastic bowls can also be quite challenging. Due to the low thermal conductivity of plastic, bowls remain dripping wet after washing, requiring manual drying. If cleaned bowls aren't immediately sold, they need to be stored. Residual moisture in the grooves and indentations of the bowls can promote mold growth. Since food from bowls is often not consumed immediately and may even be reheated, bowls must be cleaned and stored with particular attention to hygiene.
The solution for bowl washing
Winterhalter offers a tailored system solution for these challenges in bowl washing: machine settings, basket, and washing chemicals. This combination ensures hygienic cleanliness, allowing water to drain quickly and reliably from the bowls.
Interested in our reusable plastic cup and bowl washing system?
We would be happy to advise you on all aspects of reusable plastic cup and bowl washing, answer your questions and find the best solution for you. We would be happy to call you back on request!
SIMPLE RETROFITTING
The reusable plastic cup and bowl washing system is available from Winterhalter for different machine series and sizes. Retrofitting is possible at any time.
Sustainable reusable systems need a functioning warewashing solution: easy to handle, absolutely hygienically safe, and delivering first-class wash results. It's great that our reusable plastic cup and bowl washing system can also be retrofitted.
SPEAK DIRECTLY TO OUR EXPERT!
"I would like you to be completely confident in your decision to choose Winterhalter. Is the reusable plastic cup washing system the perfect warewashing solution for you? I would be pleased to help you find out. Simply call or email us."