Back to Overview
CONNECTED WASH: MORE SAFETY. MORE EFFICIENCY. A NEXT LEVEL SOLUTION BY WINTERHALTER.
Winterhalter boots commercial washing to the next level: With CONNECTED WASH, the new generation of under counter, pass-through, and utensil washers is integrated into the network and enables the analysis and evaluation of all important operating data. CONNECTED WASH optimises the operating safety and efficiency in the commercial kitchen.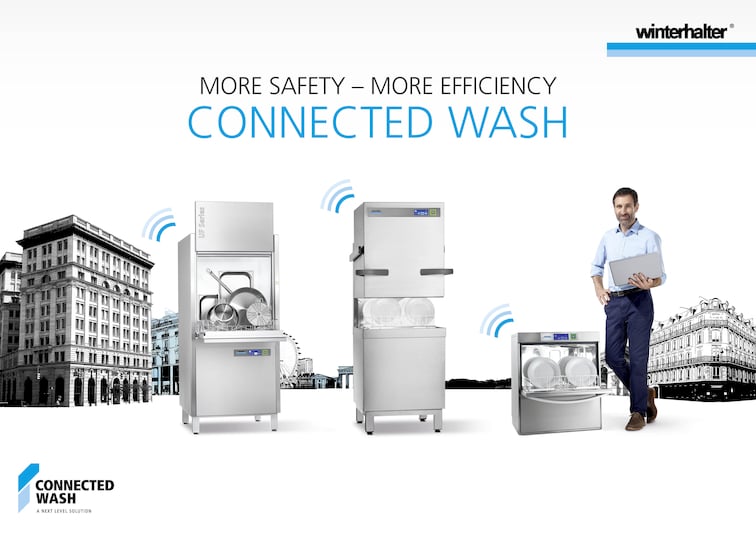 Ralph Winterhalter, CEO of the Winterhalter Group, is convinced: "Until now, the warewasher was a sort of "mystery box": it didn't give away much information about what was going on inside and around the machine. With CONNECTED WASH our customers know more than ever before about their washing process."
With CONNECTED WASH, warewashers are networked via LAN or W-LAN and send machine and operating data to a server virtually in real time. Using a computer, tablet or smartphone, customers have access to the CONNECTED WASH app. Machine functions are thus monitored, analysed and, if necessary, converted into recommended actions for the customers from anywhere over the world. The data is sorted clearly and by importance: The app gives users a quick overview of the status and all important data on their machines. Green indicates that everything is in order. Yellow indicates an interference in the washing process. Red is a fault message. As soon as a machine reports a critical error, the person responsible receives a push notification to their smartphone or tablet. This allows customers to react quickly to disruptions and therefore increase their operational safety.
CONNECTED WASH also enables sustainable cost optimisation. It gives tips, for example, if the timespan between start-up and the first wash cycle is too long or wash cycles are interrupted. Ralph Winterhalter explains: "Our customers are now on the safe side if the worst should happen: CONNECTED WASH documents all data in a warewasher log book. That way, there is evidence of full compliance with all relevant hygiene requirements according to HACCP."
In future, all customers can benefit from the possibilities offered by networking: e.g. the owner of a small cafe with just one warewasher or a foodservice business with multiple machines at different locations.
You can find more information on CONNECTED WASH at www.connected-wash.com
IHRE ANSPRECHPARTNERIN FÜR PRESSE ANFRAGEN
Sie sind Pressevertreter und benötigen Informationen zu unseren Produkten, Dienstleistungen oder zum Unternehmen? Ich freue mich über Ihre Anfrage.