MTF
MULTI-TANK
FLIGHT-TYPE
DISHWASHERS
Versatile. Powerful. Tailor-made flight-type dishwasher. For large-scale dishwashing. Economical and reliable. Everything rus smoothly.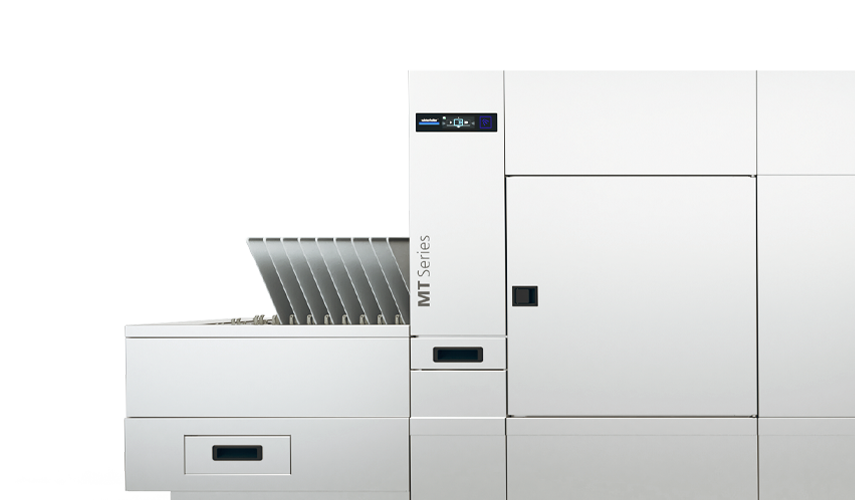 NO EXPERIMENTS.
Large-scale dishwashing of consistent items. Fixed meal and washing times that are repeated regularly. Day in, day out, week in, week out. A job for the MTF: the efficient multi-tank flight-type dishwasher does its job effortlessly. No matter what comes its way. It's easy to use and economical. Modular design and individual configuration. Perfectly suited to your washing needs. And designed for the best washing performance. A machine you can rely on, and which guarantees safety. In the kitchens of refectories and canteens. Of large hospitals and nursing facilities. Everything under control.
SPEAK DIRECTLY TO OUR EXPERTS!
We want you to be absolutely confident in your decision to choose Winterhalter. Work with one of our experts to find out whether the MTF is the right dishwashing solution for you. Simply call or email us.
MTF PRODUCT BENEFITS
HYGIENE SAFETY
The MTF is designed for the highest hygiene standards. With your machine architecture. Your hygiene and cleaning concept. Your special programmes and equipment details. It therefore meets all the requirements of the DIN standard.
USER-FRIENDLY
Touch screen with self-explanatory pictograms. Intuitive programme selection. Doors that open 180°. Open the unit effortlessly with just one finger. The well conceived details make operation of the MTF simple, safe and convenient.
PERFECT WASH RESULTS
The MTF warewashing system is extremely efficient. It ensures cleanliness and hygiene of the highest standard. At all times. Even with large loads of dishes.
ECONOMICAL
With integrated economy functions: thanks to innovative technology in the rinse zone, water consumption is reduced to a minimum in the MTF. This also significantly reduces the consumption of energy and washing chemicals. Overall, that means lower operating costs. And greater cost-efficiency.
Fixed peak times and large volumes of wash items. We have designed the MTF specifically for these challenges. It's part sprinter and part marathon runner in one, with extreme staying power at high speeds
DID YOU KNOW...
Winterhalter has been making multi-tank conveyor warewashers since 1971?
you can wash up to 6,600 plates per hour with the MTF?
Winterhalter conveyor warewashers are all »made in Germany« and »made in Switzerland« as far as production and development are concerned?
the largest MTF produced by Winterhalter has a total length of just under eleven metres and is used to clean dishes at Hanoi airport (Vietnam)?
THE WINTERHALTER SYSTEM
Cleanliness and hygiene. Each one of our products plays its part. Together they deliver the perfect wash result. Welcome to the complete Winterhalter system