Conveyor dishwashers
RACK CONVEYOR
DISHWASHERS
Powerful washing technology for high volumes of wash items. For a wide range of wash items, distributed throughout the day. Tailor-made solution for an efficient washing process.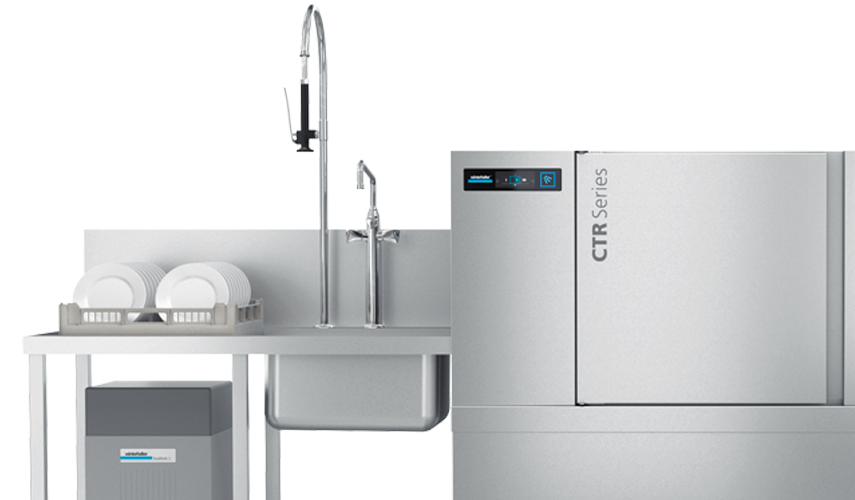 BE READY FOR ANYTHING.
When maximum performance is required. In hotels, restaurants and service stations. In canteens, nursing facilities and educational institutions. When you need to wash a wide range of wash items. Distributed throughout the day. Also during peak times.
Then this should be the first choice: Rack conveyor dishwashers from Winterhalter. Tailor-made to meet individual requirements. Because it is more than just the highest quality and reliability, first-class cleanliness and hygiene, simple and ergonomic operation. This is not only about a perfect solution from a technical point of view, but also from a business point of view: Economical in consumption, resource-saving and with the lowest possible operating costs. A solution that delivers on all fronts.
SPEAK DIRECTLY TO OUR EXPERTS!
We want you to be absolutely confident in your decision to choose Winterhalter. Work with one of our experts to identify which conveyor dishwasher is the optimal solution for you. Simply call or email us.
DID YOU KNOW...
Winterhalter has been making multi-tank conveyor warewashers since 1971?
Winterhalter conveyor dishwashers are all "made in Germany" and "made in Switzerland" as far as production and development are concerned?
Winterhalter has won over 20 awards for technical innovation in the last five years?
THE WINTERHALTER SYSTEM
Cleanliness and hygiene. Each one of our products plays its part. Together they deliver the perfect wash result. Welcome to the complete Winterhalter system