Back to Overview
NEW LOGISTICS CENTER: WINTERHALTER EXPANDS MECKENBEUREN HEADQUATERS
Four years after building a new production hall, Winterhalter is once again expanding its headquarters in Meckenbeuren with a large-scale logistics centre. The 10,000 m2 space is earmarked for shipping and logistics as well as for office spaces and staff rooms. "This will enable us to centralise logistics back in Meckenbeuren again, while also creating new capacities for our rapidly growing IT infrastructures. And what's more, the new building is a clear sign of our commitment to the location", is how CEO Ralph Winterhalter explains the reasons for investing approx. 15 million euros.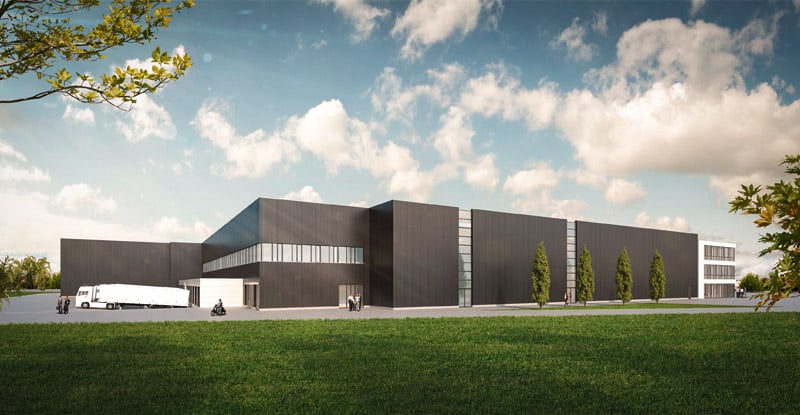 The construction project will enable Winterhalter to bundle various warehouse and logistics spaces, which were previously distributed over several sites, at the headquarters in Meckenbeuren, while also centralising machine shipment. Some old buildings, such as the former home of the Winterhalter family, had to be demolished in order to make way for a state-of-the-art new building measuring 122 metres in length and 110 metres in width, which fulfils the highest construction standards. This is ensured by a high-performance photovoltaic system on the roof, an intelligent heating system with gas-fired condensing boiler, a geothermal heat pump as well as a combined heat and power unit including buffer tank plus modern LED lighting technology. Ideal thermal insulation also helps to save energy. "When it comes to energy efficiency, it's not only our warewashers that we place the highest demands on. The conservation of resources and energy also plays a key role in building the new logistics centre", emphasises CEO Jürgen Winterhalter. The building project should take around 18 months to complete.
IHRE ANSPRECHPARTNERIN FÜR PRESSE ANFRAGEN
Sie sind Pressevertreter und benötigen Informationen zu unseren Produkten, Dienstleistungen oder zum Unternehmen? Ich freue mich über Ihre Anfrage.