Back to Overview
PAY PER WASH: NO INVESTMENT. ZERO RISK. A NEXT LEVEL SOLUTION BY WINTERHALTER.
With PAY PER WASH, Winterhalter brings commercial washing to a new level: the first warewasher you only pay for when you actually use it. This means perfect wash results for everyone – regardless of budget, and with maximum flexibility.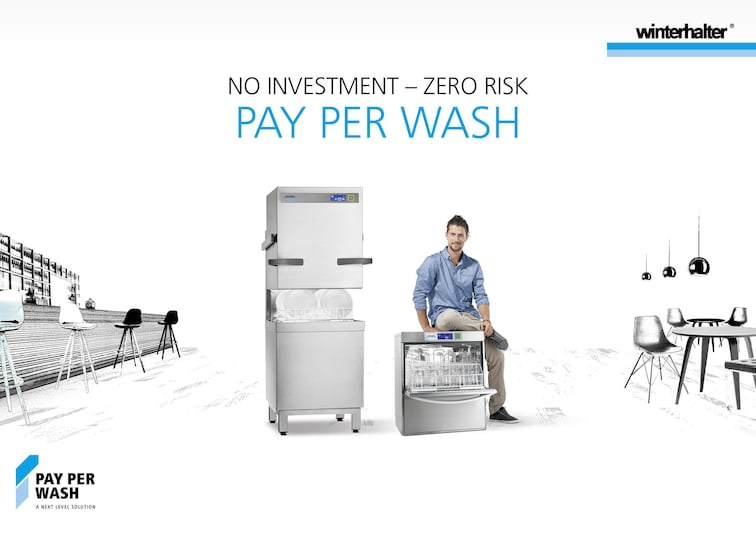 PAY PER WASH is an alternative payment model. With this solution, customers no longer have to buy, rent or lease their under counter or pass-through warewasher. No other acquisition costs apply. You only pay when the machine is actually washing. Ralph Winterhalter, CEO of the Winterhalter Group is really excited: "Traditional approaches are being questioned more and more. Many foodservice professionals no longer necessarily want to own a warewasher; instead they just want to pay when they use it. With PAY PER WASH, we are meeting these new requirements."
Billing with PAY PER WASH is based on actual use – with a precisely calculated price per wash cycle. The warewasher, racks, water treatment and the right wash chemicals are included. With this payment model, Winterhalter promises "zero risk" for foodservice professionals. Ralph Winterhalter: "Even repairs and maintenance costs are included in the fixed price." The new payment model is therefore especially good for foodservice professionals who like to calculate things exactly with use-based cost accounting. Owners of start-ups can also rely on perfect wash results without having to make an initial investment.
PAY PER WASH is so easy: Winterhalter customers select the desired number of wash cycles on the website and pay via credit card. The wash codes they buy are entered directly on the machine display and washing can commence straight away.
PAY PER WASH contracts have no minimum term and can be cancelled at short notice. This means no long-term obligations and full flexibility for foodservice professionals.
"With this unique solution we are bringing washing to a new level – no investment, zero risk," says Ralph Winterhalter.
You can find more information on PAY PER WASH at www.pay-per-wash.com
IHRE ANSPRECHPARTNERIN FÜR PRESSE ANFRAGEN
Sie sind Pressevertreter und benötigen Informationen zu unseren Produkten, Dienstleistungen oder zum Unternehmen? Ich freue mich über Ihre Anfrage.