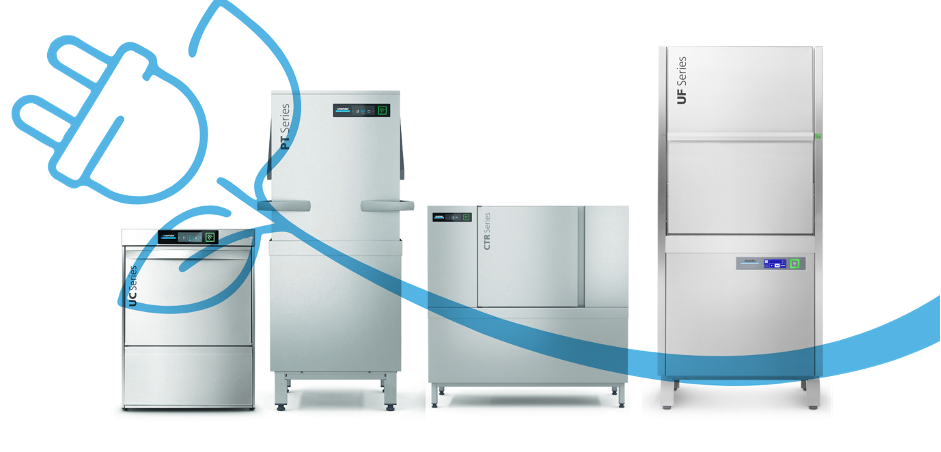 Are operating costs weighing you down? Find out how Winterhalter can cut your energy bills in half.
With rising costs and heavy inflation, there's a lot to think about when you make any investment as crucial as a warewashing solution. At Winterhalter, our dedication to energy efficiency is second only to our commitment to our customers. We design and create cutting-edge warewashing technology to revolutionise commercial dishwashing.
Our range of warewashers helps businesses from all sectors achieve unparalleled cleanliness without any hard sacrifices. Our machines are guaranteed to see you a return on investment in no time.
When you choose a Winterhalter warewasher, you're opting for the most eco-friendly warewashing solution guaranteed to achieve sustainable reductions in operating costs without intervention.
Winterhalter doesn't design machines; we design warewashing systems.
Winterhalter is created to simplify the warewashing process. Our machines are designed to sync with your kitchen – every moment of the day. Understanding this is the key to unlocking incredible savings and efficiency. Each device, from the UC and PT Series machines to the CTR and UF Series machines, is built to cut costs without sacrificing quality.
For example, the pre-programmed stand-by mode, which automatically activates periods of inactivity, lowers the machine's temperature to a sufficient, energy-saving resting level. In doing so, our machines save venues high electricity costs as the machine is ready to go without requiring much energy when restarting.
On the other hand, the Connected Wash feature assists venues by analysing all relevant wash data. In doing so, users can access an operational report to evaluate and optimise their venue. More importantly, it produces individual energy-saving reports and suggestions from your wash data to enable cost-effective usage in the future.
Moreover, to further assist the energy-saving capability, every machine is built with a double-skin design to guarantee optimal insulation. This means that as long as the door is kept closed in-between washes, operational costs can be kept to a minimum.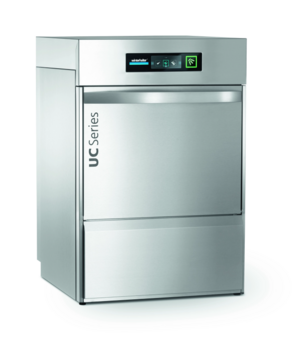 Optimise with our smallest but mightiest warewashing solution: the Undercounter Warewasher.
Designed for smaller spaces or as a specific, tailored solution in a large venue, the Undercounter Warewasher fits into every outlet. Whether used as a comprehensive solution to all warewashing needs or as a customised solution specified into a glass-, dish-, cutlery-, utensil-, plastic-, or bistro- washer, the UC Energy Undercounter Warewashers can cut operating costs by 25%.
The UC Energy Undercounter Warewashers transform exothermic energy into a valuable resource with the aid of Winterhalter's patented circulating air heat exchanger. With this feature, hot water vapor in the humid internal environment is extracted directly from the machine's interior, while the energy exhaust air heat recovery preheats cold inlet water. The combination dramatically reduces energy consumption for each wash cycle and lowers operating costs. In addition, they feature innovative wash fields with a uniquely designed nozzle geometry that guarantees first-class wash results in the utmost efficient manner. As a result, venues that opt for the UC Warewasher can reduce electricity consumption (and the resulting bills) by 25% whilst washing up to 1500 plates per hour.
The UC -Energy machine has been found to save up to 0.1 kWh per cycle, which amounts to an average of 2920 kWh per year, and to guarantee hygiene for only $2.50 a day!

Benefit from the most advanced technological warewashing solution: the Passthrough Dishwasher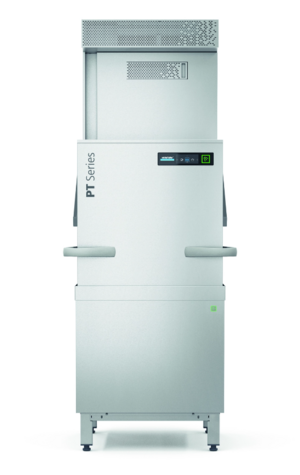 Uncompromising in cleanliness, the PT Dishwasher was made to cope with continuous, rigorous operation over long periods. Combining volume and customisability, the PT Dishwasher can operate as a standard dishwasher or can be configured into a cutlery-, bistro-, or glass- washer. With the advancements made on the new PT Dishwashers, in conjunction with available optional technology, venues can expect to cut operating costs by up to 50%.
Our Passthrough Dishwasher features uncompromising energy-saving technology to slash electricity bills without sacrificing cleanliness. The machine's perfect nozzle geometry ensures spotless cleaning while reducing water consumption by 25%. This is combined with the driven rinse system, which utilises an electric motor to drive the wash field in the final rinse. As a result, this reduces electricity consumption by up to 25% by reducing the heat requirement per cycle.
Moreover, the PT Dishwashers have the option for the EnergyLight heat exchanger, the EnergyPlus exhaust air heat recovery, and the ClimatePlus heat pump. The EnergyLight heat exchanger and the EnergyPlus exhaust air heat recovery utilise exothermic energy produced as a by-product during each wash cycle to preheat the cold inlet water, whilst the ClimatePlus heat pump uses the exothermic energy produced during each wash cycle to heat the rinse and tank water. The three heat recovery systems can save venues up to 50% on their electricity usage. Overall, the PT Series has been found to reduce electricity consumption by up to 0.07kWh, saving venues an average of 2184kWh per year.
Move mountains whilst cutting costs with our most powerful warewashing solution: The Compact Rack Conveyor Dishwasher.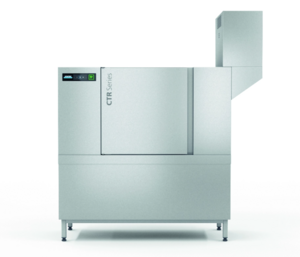 With a rack capacity of up to 195 racks per hour, the CTR simplifies even the most challenging warewashing problems. Customers who opt for the CTR also benefit from the modular nature of the unit that allows it to be precisely retrofitted into even the most unique kitchen configurations. Despite its high rack capacity and intense wash capabilities, the CTR warewasher minimises consumption to 130L per hour.
Like the other machines, users can benefit from the Compact Rack Conveyor Dishwasher's Energy heat recovery add-on to preheat cold inlet water and save on operating costs during each wash cycle. However, with the CTR, venues can further benefit from rack-controlled zone activation. This feature safeguards operational costs by ensuring that wash zones – the pre-wash, main was and final rinse zone – are not in continuous use but are only activated when required. The rack-controlled zone activation is complimented by a speed-dependent rinse-water volume function that adjusts the rinse-water volume to the current transport speed. Together these ensure that water consumption and energy costs are kept to a minimum, even during peak service times.
Tackle even the toughest soiling while optimising your resources with Winterhalter Utensil Washer.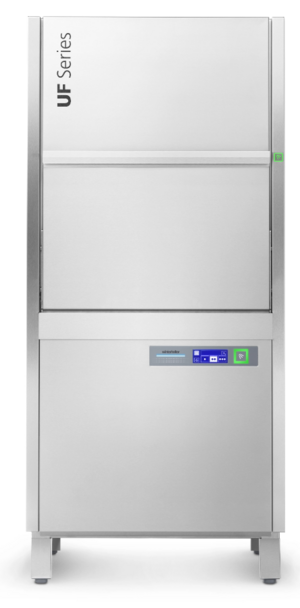 The Utensil Washer is a powerful solution that easily tackles even the toughest soiling. Its robust design makes it ideal for challenging washing tasks. Due to its cutting-edge technology, it ensures impeccable utensil hygiene with minimal effort, cleanliness and efficiency while optimising your resources.
The UF Washer is equipped with a highly advanced "Energy" exhaust air heat recovery system, capable of efficiently recovering heat and using it to preheat cold inlet water. This results in significant energy savings per wash cycle and lower operating costs. Moreover, the machine's standby function is truly impressive, automatically lowering the boiler temperature to a minimum value during wash breaks, thereby saving even more energy. In the long term, these features help venues reduce running costs.
Choose to cut costs: Choose Winterhalter.
Winterhalter's commitment and dedication to energy-saving solutions are paramount throughout our product range. With cutting-edge technologies like heat recovery, speed-dependent rinse water volume control, and connected wash capabilities, we stand out in the industry and are leaders in energy-efficient dishwashing solutions. This focus on energy efficiency translates to operational cost savings for our clients and partners.
By selecting Winterhalter's warewashing solutions, businesses like yours can achieve unparalleled cleanliness, maximise energy efficiency, and minimise operating costs.
To learn more about how Winterhalter warewashing solutions can benefit you, click here.