STF
SINGLE-TANK
FLIGHT-TYPE
GLASSWASHER
Specially designed for glasses. Even at peak times. The versatile single-tank flight-type glasswasher. With cold rinsing. Great for glasses.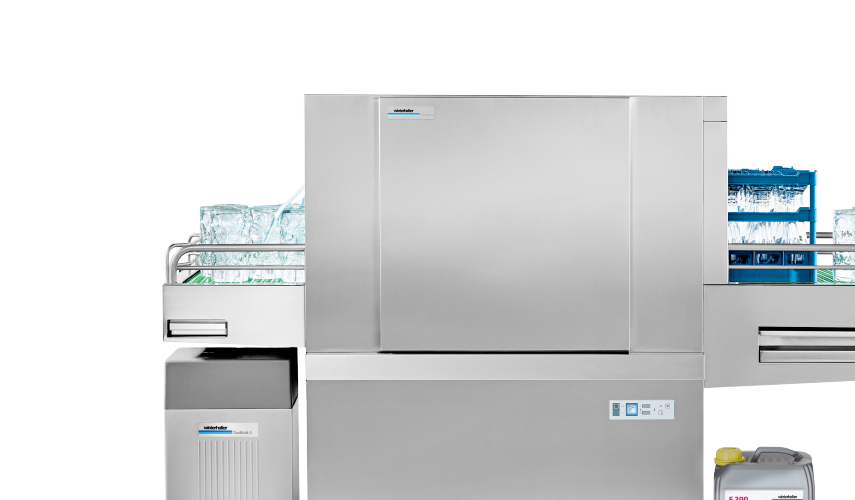 EXTREME GLASS WASHING.
Festivals. Beer tents and gardens. Large catering establishments with a high number of guests. Drink service is running at full capacity. Glasses are being cleared and new drinks are being brought to tables all the time. In such circumstances, it helps if your warewasher avoids becoming a bottleneck and is able to keep up the pace. Like the STF from Winterhalter: the single-tank flight-type glasswasher washes glasses very quickly, leaving them sanitised and hygienically clean. It also gets rid of lipstick and other stubborn streaks. It even cools the glasses at the end of the wash cycle, so that they can be refilled immediately. So the bar keeps running.
SPEAK DIRECTLY TO OUR EXPERTS!
We want you to be absolutely confident in your decision to choose Winterhalter. Work with one of our experts to find out whether the STF is the right glasswashing solution for you. Simply call or email us.
STF PRODUCT BENEFITS

PERFECT WASHING PROCESS
Hygienically clean glasses and tankards. Washed at maximum speed. And thanks to cold rinsing, they are ready to use again straight away. The STF enables you to look after your guests without difficulty, even at peak times.
HYGIENE SAFETY
The STF makes it possible: despite high washing speeds and cold rinsing, you can have full confidence in the hygiene of your wash items. In combination with the right detergents and rinse aids, the machine guarantees an absolutely hygienic washing process.
CONVENIENT OPERATION
Clear display. Safe handling. Minimal maintenance work. The STF has many clever details that make operation as simple and convenient as possible.
FLEXIBLE CONFIGURATION
With the STF, you stay flexible: the loading and unloading areas can be adjusted to suit a variety of requirements. And the version with castors provides mobility.
At Munich's Oktoberfest, our STF has shown year after year how efficient it is by doing what it was designed for: continuous glass washing!
DID YOU KNOW...
you can wash up to 2,800 beer tankards per hour with the STF?
a really nice head can only form in a cold glass?
all the STFs at Munich's Oktoberfest can wash around 100,000 beer tankards an hour?
THE WINTERHALTER SYSTEM
Cleanliness and hygiene. Each one of our products plays its part. Together they deliver the perfect wash result. Welcome to the complete Winterhalter system