Unlike most modern-day machines, Winterhalter warewashers are built to last. Our warewashers feature the latest German technology and are designed to withstand even the most demanding conditions. Although these warewashers outlast the competition, one simple secret allows a Winterhalter warewasher to last over a decade: preventative maintenance.
What is preventative maintenance?
Everyone knows that a machine that has been inspected and serviced regularly runs better for longer. All machines must be loved and looked after, from cars to washing machines to air conditioners, to run smoothly. Commercial warewashers aren't an exception. Day in and day out, they provide high-performance warewashing and deliver perfect wash results. Preventative maintenance ensures your Winterhalter warewasher remains completely reliable throughout service for years on end.
Additionally, machines can break down at the most inconvenient times, such as during the peak of service. Regular services prevent these events from occurring and give you control over when the machine is out of use. In the long run, preventative maintenance is more cost-effective than replacing or repairing a damaged appliance.
What happens when you service your machine?
A preventative maintenance service allows Winterhalter's specially trained technicians to inspect and repair your warewasher's electrical connections, wash and rinse temperatures, limit switches, safety, controls and overall operation. Through servicing, technicians can also identify and replace worn-out and damaged parts and identify any future problems. Doing so prevents your Wintehalter from breaking down at the most inopportune times.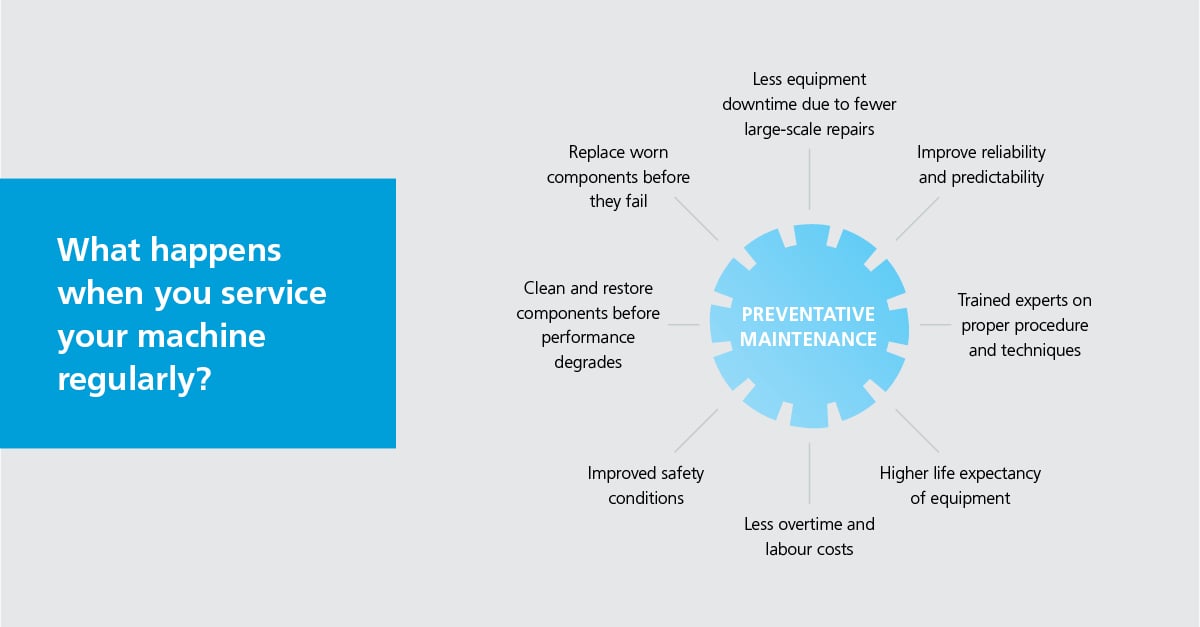 How often should you service?
It's important to schedule regular servicing to ensure the operation and safety of your machine. For machines in constant use, it's recommended that service takes place every three to six months – depending on the type of use. Moreover, Winterhalter machines are designed to run constantly, with little downtime. However, when turned off for long periods, things can go wrong. For example, having the machine off can cause bacteria and limescale build-up, hardened rubber seals and detergent crystallisation. As a result, if you've had your machine off for over two weeks, you should call Winterhalter for a quick service.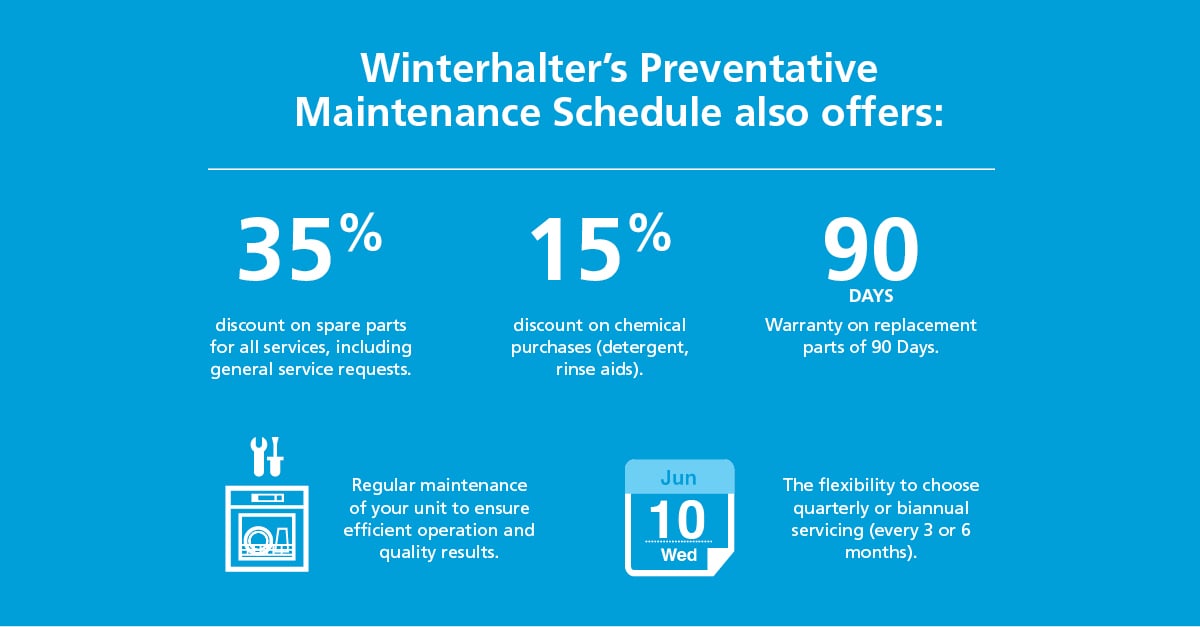 What are the benefits of preventative maintenance?
The benefit of preventative maintenance is in the name; it prevents inconvenience and loss of income. Subscribing to a regular maintenance service safeguards you from unforeseen machine breakdowns and large-scale repairs. For constantly busy businesses, preventative maintenance is an economic investment that optimises your business through improved reliability and predictability. It also guarantees an extended life expectancy of the machine, less overtime and labour costs, and improved safety conditions.
Moreover, customers that subscribe to the Preventative Maintenance Schedule receive exclusive discounts on chemicals and spare parts during all services – including general service requests. In addition, customers who subscribe receive a 90-day warranty on all their replacement parts. Winterhalter also understands that the needs of every business are different, and that's why they give you the flexibility of choosing between quarterly or biannual services. There's also no locked-in contract – allowing you to opt-out of the schedule if it no longer suits you.
Winterhalter works day and night developing and redeveloping their extensive range of commercial warewashers. They design their machines to be fast, hygienic, environmentally friendly, economical and to be able to withstand the pressures within the most demanding kitchens. Yet, the life expectancy of the machine is still dependent on one thing: the love and care of the user. Winterhalter warewashers are sturdy enough to wash under extreme conditions for extended periods; however, without attention and respect from the user, they inevitably will break down. To combat this, Winterhalter designed a Preventative Maintenance Schedule. This service allows their specially trained technicians to take care of your machines, so you and your staff don't have to. Taking care of your warewasher is easy with the Preventative Maintenance schedule – you won't have to lift a finger, and your machine is guaranteed to last over a decade.
To sign up for Winterhalter's Preventative Maintenance contact the Winterhalter Service Department Supervisor via [email protected]. Alternatively, for emergencies, contact our service desk on 02 9645 3221 or email [email protected] for after-hours assistance.