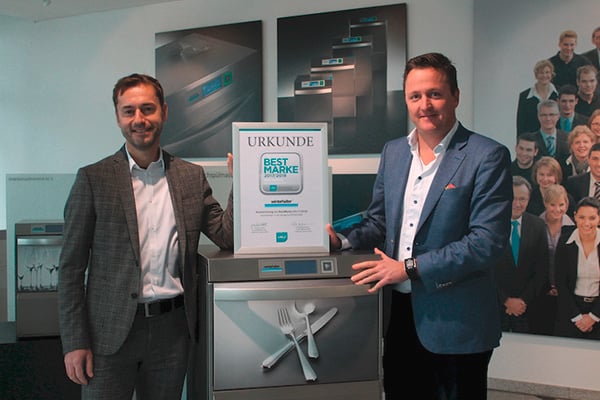 On behalf of a renowned German publication 'Allgemeine Hotel- und Gastronomie-Zeitung' (AHGZ) between August and October 2017 over 800 German hoteliers and restaurateurs were asked which companies offer the best products and services. According to the survey, the best warewashing solutions and the best service comes from Meckenbeuren. Winterhalter is not only the overall winner, but also claims victory in the categories Quality/Product Performance and Service.

The BestMarke study surveys decision-makers in the German hotel and foodservice industries, by way of telephone interviews. Compared with four other warewashing solution manufacturers, Winterhalter made the biggest impression. The warewashing specialist from Lake Constance received top marks in the overall judgement and was also best-in-class in the categories "Quality/Product Performance" and "Service".

According to the study, customers place the highest priority on an optimum wash result. Winterhalter also impressed in the key criteria "places particular value on energy and water economy" and "simple operation of the appliances". Winterhalter is especially favoured for its excellent reliability and good reputation. Ralph Winterhalter, Managing Director of Winterhalter Gastronom GmbH, explains: "The motto of my grandfather "You are never successful alone" is the inspiration behind our team spirit and customer loyalty. For 70 years we have been a predictable and strong partner to our customers."
But perfect wash results and reliable products are not enough. Fast, competent service and good all-round advice play a key role in purchase decisions. With the first-class performance in the categories Quality/Product Performance and Services, Winterhalter customers can be confident they have made the right decision.