Back to Overview
THE WINTERHALTER MT SERIES – NEW: WITH BUILT-IN SAVING FUNCTIONS
Winterhalter MT Series rack conveyor and flight-type warewashers introduce impressive savings potential from October 2017. Technical enhancements in the rinse zone have allowed warewashing specialist Winterhalter to cut water consumption up to a minimum. This takes a significant bite out of operating costs.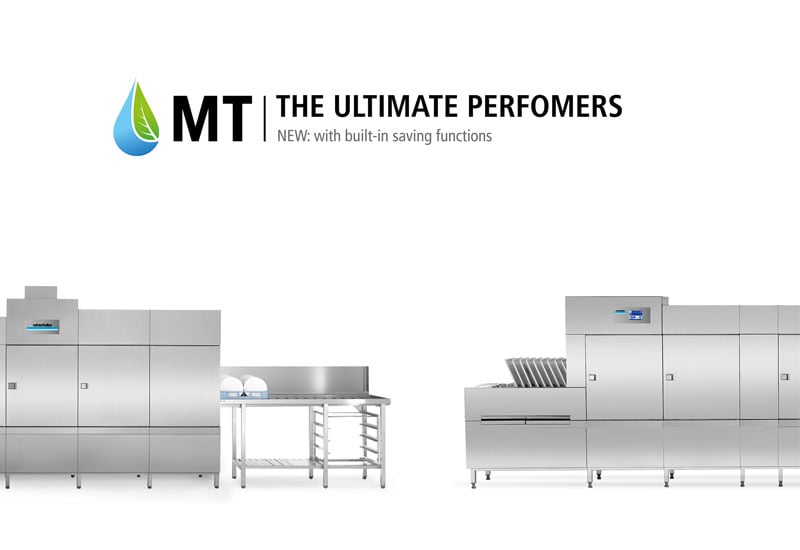 Managing Director Ralph Winterhalter explains: "We have been manufacturing conveyor dishwashers for almost 50 years. So we know that cost savings and conserving resources are major issues for our clients, especially when it comes to washing large quantities of dishes." From October 2017 the rinse zone of the Winterhalter MT Series, will be equipped with a re-engineered filtration system. The proven Winterhalter Mediamat technology is at the heart of the optimisation. Using centrifugal force, the Mediamats remove almost 100 percent of fine waste such as semolina or vegetable particles from the lye-mixed water in the rinse zone.
The rinse jets were also redesigned. Their new shape enables a finer spray pattern which achieves better surface coverage with less rinse water.
Technical modifications have also been made to the tried-and-tested heat pumps, in both the small and large version. The result is a new heat pump, ClimatePlus, which merges the positive aspects of both previous sizes. ClimatePlus impresses with the energy-efficiency of the larger heat pump, enclosed within the footprint of the smaller.
Ralph Winterhalter summarises: "Thanks to technical enhancements in the rinse zone, we have been able to considerably reduce water consumption – by up to 20 percent. This results in considerably lower operating costs, with proportional savings in detergent and rinse aid, as well as in energy. We look forward to a positive response from our customers."
IHRE ANSPRECHPARTNERIN FÜR PRESSE ANFRAGEN
Sie sind Pressevertreter und benötigen Informationen zu unseren Produkten, Dienstleistungen oder zum Unternehmen? Ich freue mich über Ihre Anfrage.