Tips on saving energy in commercial kitchens
Boiling, baking, simmering. Refrigerating and freezing. Washing, ventilating and lighting. In the foodservice industry, the kitchen and its equipment, is one of the places where energy is in highest demand. Depending on the type and size of the foodservice business, the kitchen accounts for as much as 25% of total energy consumption. The potential to save energy here is subsequently high. We show you how to significantly reduce your energy costs with easy-to-implement measures, in each area of commercial kitchens.
Boiling and simmering requires the most energy in commercial kitchens With rising energy costs, this area has the greatest impact on overall costs – and therefore offers the greatest potential for savings. Energy consumption can be significantly reduced if attention is paid to the finer details, such as placing a cover or lid on a pan when cooking and only heating as much water as is actually necessary.. Of course, you should avoid lengthy heating and use the residual heat from the cooker and hotplates after switching them off. Checklists with corresponding instructions can help to ensure that you don't forget these things in stressful situations.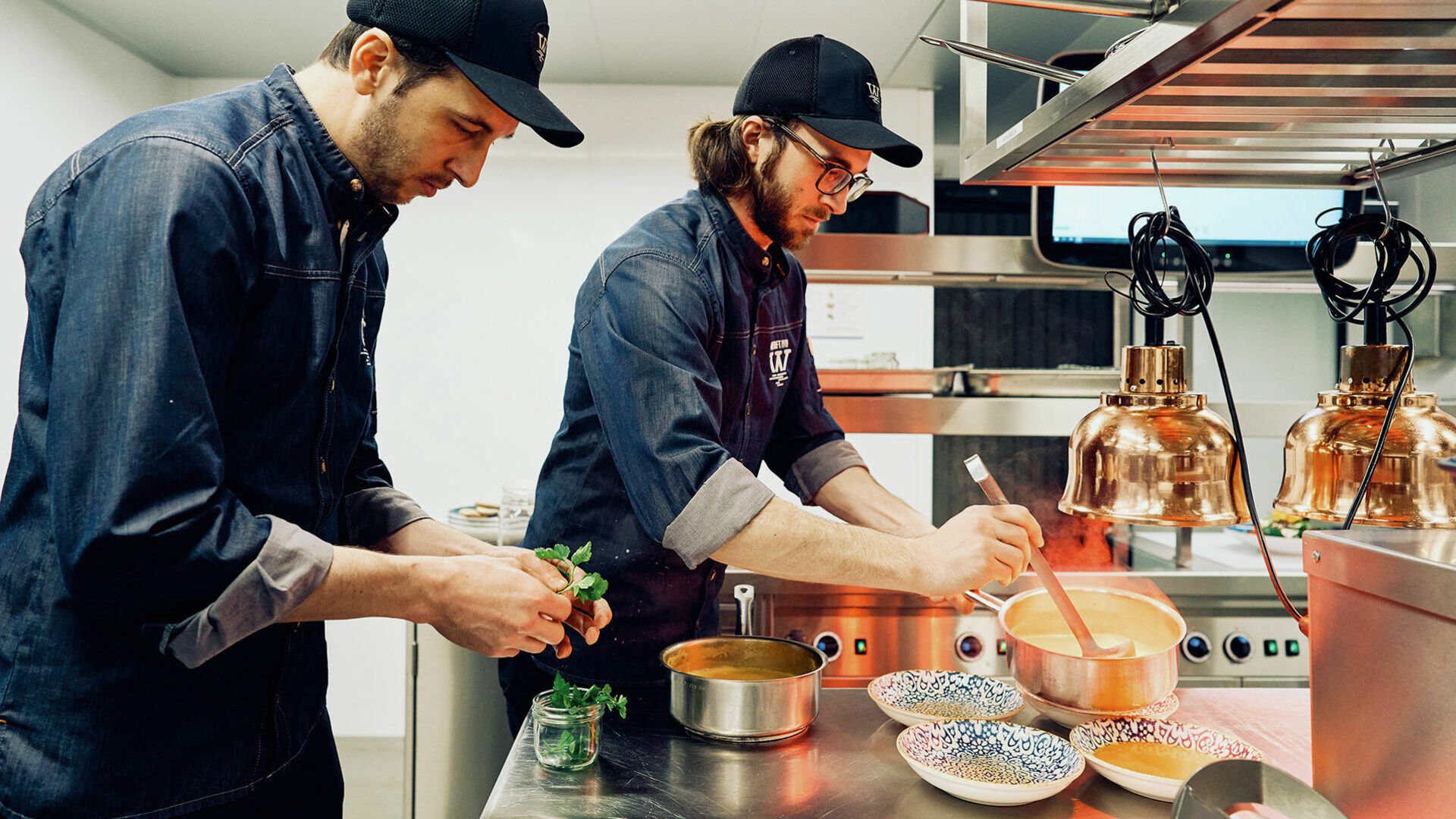 If you want to reduce energy costs further, use modern cooking equipment in the kitchen. They are also effective for smaller businesses because the acquisition costs quickly pay for themselves due to the significantly lower energy consumption. The main kitchen equipment is the combi steamer, which cooks food with steam or hot air, depending on the dish and temperature requirements. As a combination of convection oven and steamer, it offers many advantages all in one. For example:
Simultaneous cooking of several different dishes without cross-contamination of taste
Shorter heating and preheating times
Lower temperatures than a standard cooker thanks to better heat distribution
Energy-efficient cooking process thanks to pre-set programmes for different types of food such as fish, meat, vegetables or pasta
Efficient and time-saving self-cleaning programme
Minimal energy loss thanks to multiple glazing and integrated heat exchanger (for new generation units)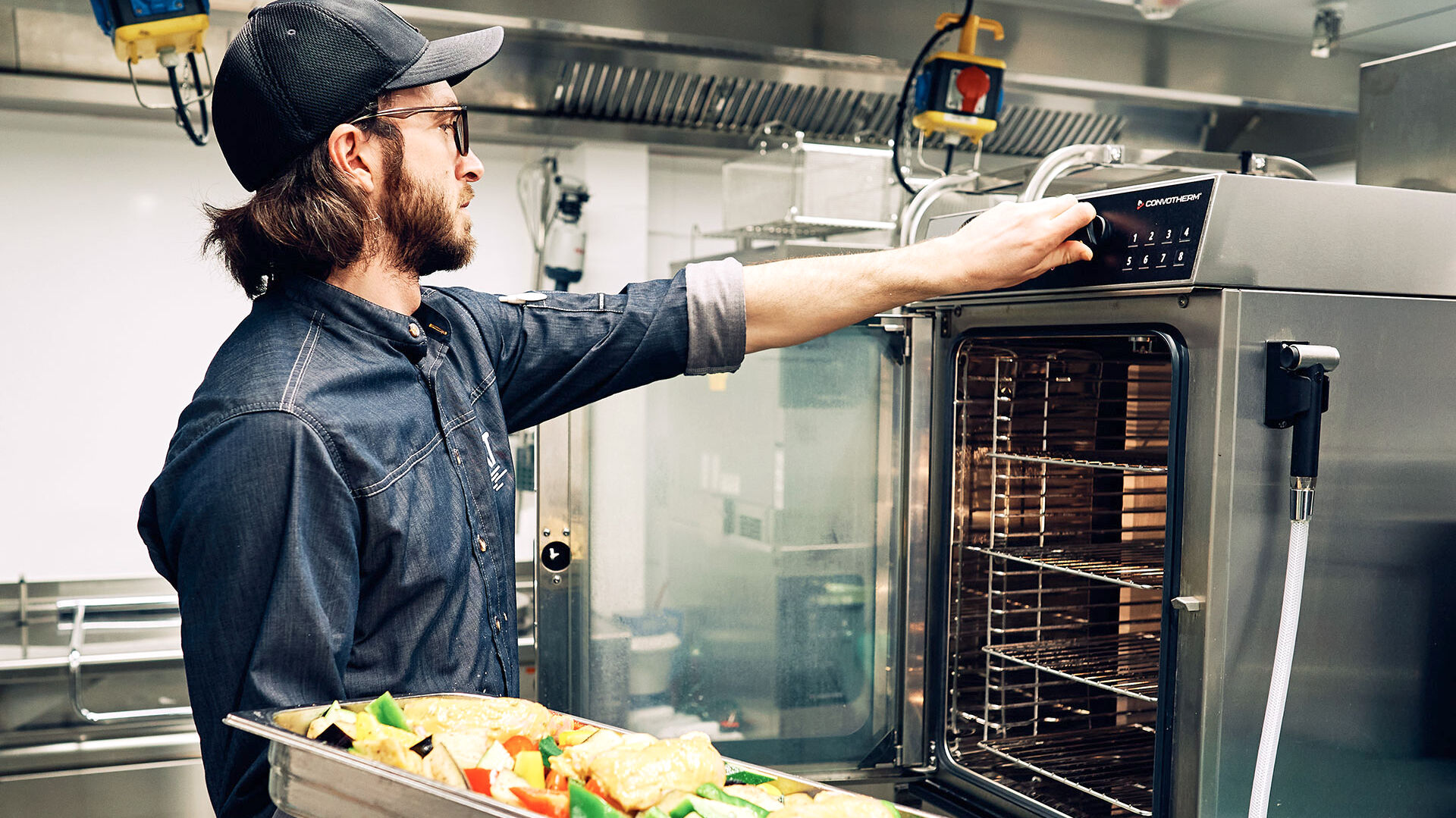 To ensure that the combi steamer can fully exploit its energy-saving potential, thedoor should only ever be opened briefly for putting food in or taking food out. You should also check the seals regularly and replace them if they are cracked or perished.
TIP: Check your menu! Can dishes that are simmered or stewed for a long time be replaced with quick-roasting or quick-cooking dishes. Or: Can pickled/fermented vegetables that do not need to be cooked be served instead of cooked vegetables? Raw vegetables, side-salads or bowls are also energy savers, and healthy and delicious.
Foodservice warewashers are also among the larger electricity consumers in the kitchen. The largest proportion of electrical energy is required for heating the wash water. This means that everything possible should be done to allow as little heat as possible to escape from the machine. The machine should also consume as little water as possible. Innovative warewashers come with a range of features for this purpose. For example:
an efficient washing and filtration system that ensures that very little fresh water is required for each wash cycle
a double-skinned housing that has very good insulating properties and keeps the heat inside the machine
an internal heat recovery system that uses the energy in the machine to preheat the cold inlet water.
digital services that make it possible to analyse all relevant operating data of the networked machine and provide individual notes on saving energy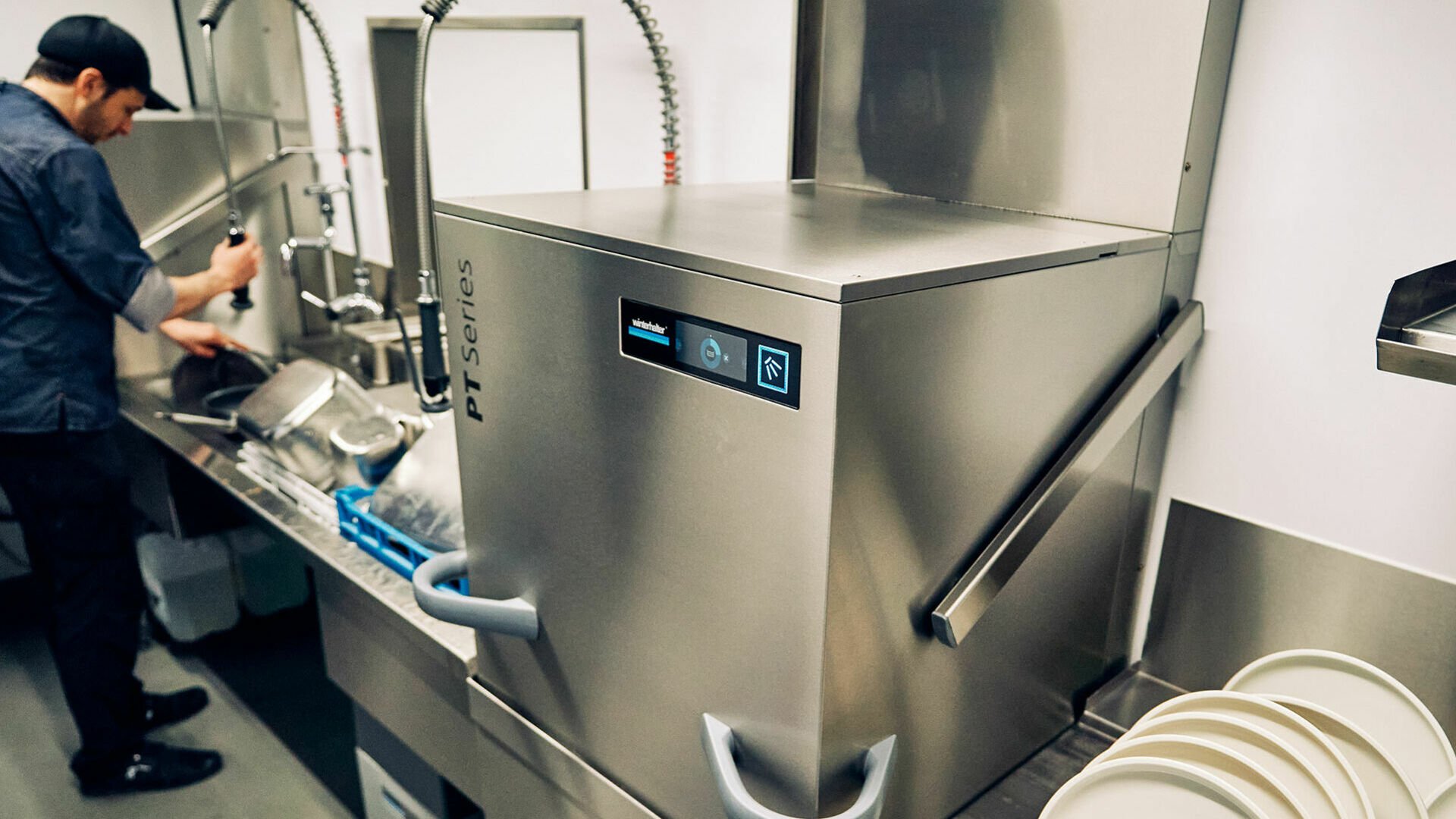 However, it's not just the technology that helps to reduce the energy consumption. The operation of the machine and the handling during washing are also contributing factors. Here are some examples of how to wash dishes in an energy efficient manner:
Adjust the size of the plates to the amount of food and avoid serving mini-bites on oversized plates – large, cold plates use up more energy in the machine than small ones.
Wash at a favourable time – if possible, just before peak times. This means that plates come out of the machine hot and do not need to be preheated.
Switch on the machine shortly before washing to avoid unnecessarily long heating times.
Before washing, remove food residues and stubborn dirt and when pre-washing make sure that the water is only lukewarm.
Do not completely switch off your machine if you temporarily pause your washing operation for a time. Use the stand-by mode for this.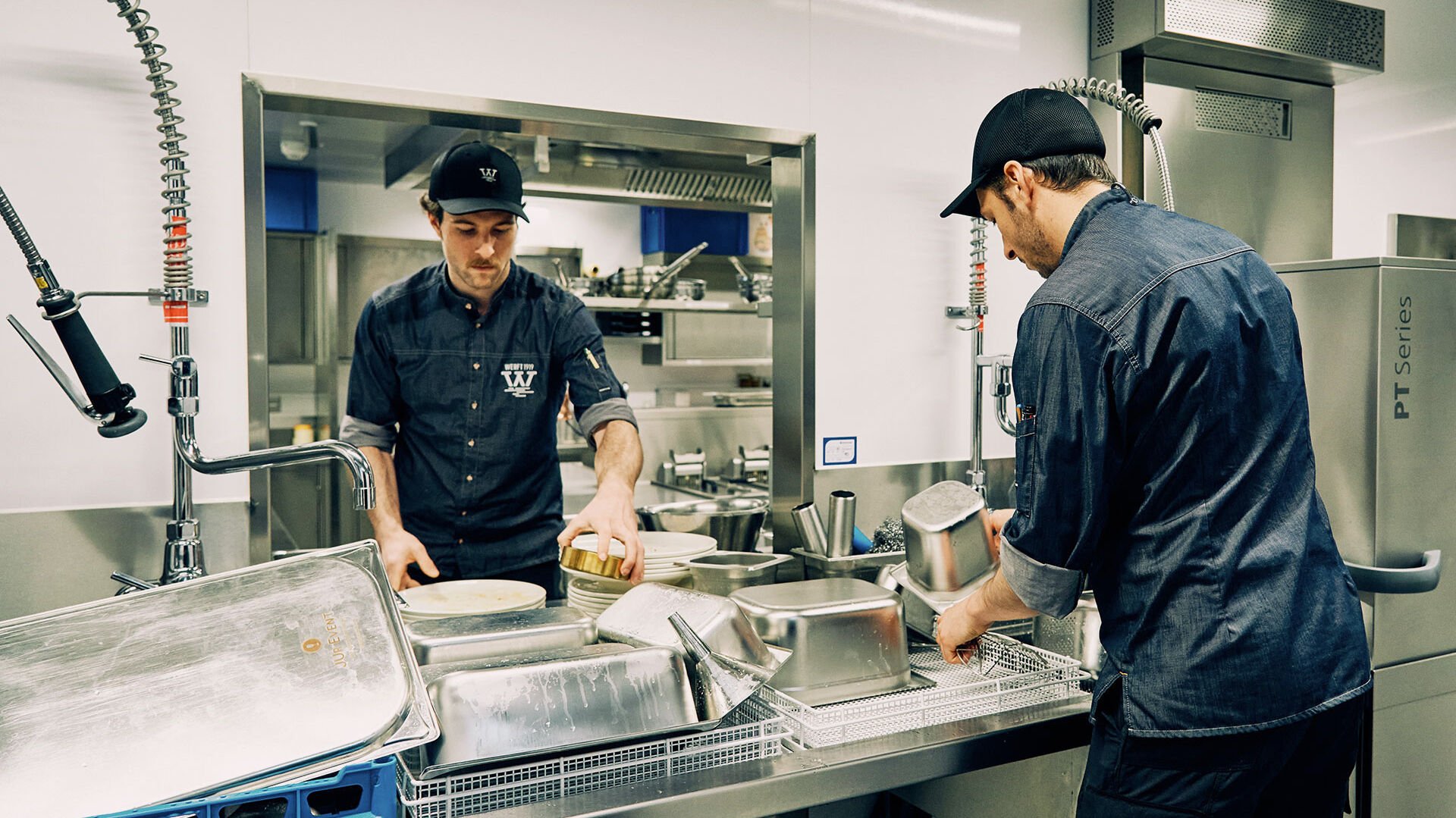 3

Refrigerating and freezing
Appliances such as refrigerators, freezers and chest freezers are permanently switched on in commercial kitchens, so they consume a relatively large amount of electricity. That is why it is worth purchasing modern and highly efficient equipment with energy efficiency class A or B. Please note, the old and confusing classifications were replaced in 2021 – today's A used to be A+++, B used to be A++.
An alternative could be a cooling cell or a cold store. cold store combined with a wall cooling unit. These are also available in smaller versions for businesses that have limited space. They are developed for the professional sector and are extremely energy-efficient and temperature-stable. A special insulating foam and magnetically sealed doors ensure a perfect seal. In addition, the refrigeration units are equipped with antimicrobial wall and floor coatings, ensuring a high level of food safety.
There are also a few simple basic rules for cooling and freezing that you can use to save energy.
# Tip 1
Compare the actual temperatures of your refrigerators and freezers with the recommended values. For a freezer, -18 °C is usually sufficient – each degree below, requires around 6% more energy. In refrigerators, the individual cooling zones should be observed and used for optimal cooling – it gets colder from top to bottom.
# Tip 2
Make sure that the cooling blades of the refrigerators and freezers are cleaned regularly. Dusty cooling blades reduce performance and increase energy consumption. The easiest way to clean them is with compressed air or a vacuum cleaner.
# Tip 3
Make sure that the cooling units are at least 5 centimetres away from the wall. Too small a distance from the wall increases energy consumption. Placing directly next to heat sources such as the cooker or combi steamer should be avoided as far as possible.
# Tip 4
Make sure that your refrigerators are always well filled – this uses less energy than half-empty units. If there is not enough food to fill the refrigerator, you can use Styrofoam or foam to fill up – for example bags containing packaging pieces from goods that have been delivered. Also check whether the contents of two refrigerators can be stored in one appliance and whether you can temporarily switch off the other unit.
# Tip 5
Check that the seals of the refrigerators are in order and that the doors close properly. Cracked, perished or brittle seals drive up energy consumption because warm air enters through them and has to be cooled down.
# Tip 6
Always open refrigerators as briefly as possible and ensure you put food in and take food out quickly. This prevents heat and moisture from entering the unit through open doors. Set delivered goods down in front of the refrigerator and then put them away in one go. It is advisable to choose permanent positions in the refrigerator for items to avoid having to search for them and leaving the door open for a long time.
# Tip 7
Last but not least, check whether glass refrigerators or mini-fridges are really necessary to have behind the bar. They consume quite a lot of energy due to their large glass surface and low cooling capabilities.
4

Ventilating

When energy prices are high, the biggest problem in many foodservice establishments is that the air intake system runs from early in the morning until late at night. Kitchen staff do not often know how to handle the installed air intake system and play it safe by setting the switch to maximum power. This not only affects air quality, but also energy consumption. And it's exponential: if the air supply is increased by 20 per cent, the power consumption increases by 40 per cent.

Ventilation priority should be to use according to demand rather than continuously! Proper ventilation in the commercial kitchen is a science in itself. Structural design (closed or open kitchens), room size, humidity, work intensity or number of portions produced, type of hob and several other factors are included in the "ventilation formula". To make matters worse, these factors vary throughout the day. And that's not all. As every commercial kitchen is different, each one needs an individual ventilation concept. It is recommended to consult an independent energy advisor – funding programmes often exist for this. It is also advisable to work with a ventilation planning company that works with various brands and manufacturers and can implement a customised concept for your operation.

The optimal solution for energy-efficient ventilation is a smart or automatic air vent system. It analyses the ventilation requirement, uses sensors to determine the air humidity and CO2 content and increases or decreases the air exchange accordingly. The settings and consumption values can also be viewed remotely via an app and the ventilation can also be controlled manually, by the relative personnel. With integrated heat recovery or a counterflow heat exchanger, waste heat from the kitchen can be used to heat the dining room, which in turn reduces heating costs. A good solution for existing air vent systems is to equip them with a timer that allows ventilation at set time intervals.
In commercial kitchens, lights are often on all day. As energy consumption can add up, the most important rule for lighting in the commercial kitchen is: use modern power-saving LED lamps instead of incandescent bulbs and halogen spotlights. In addition, there are some other tips on how you can further reduce lighting costs:
Only use lamps that have a high energy efficiency class.
Use LEDs with cold white light between 3000 and 5000 Kelvin, as it stimulates concentration and performance
A built-in surge protector increases the service life of the lamps
Clean the lamps regularly to guarantee maximum light output.
Equip corridors, side rooms and storage rooms with motion detectors.
Only switch on heat lamps at the pass as needed and switch them off again immediately after the food has been removed.
Lamps with mirrored reflectors provide better, more targeted lighting on work surfaces and tables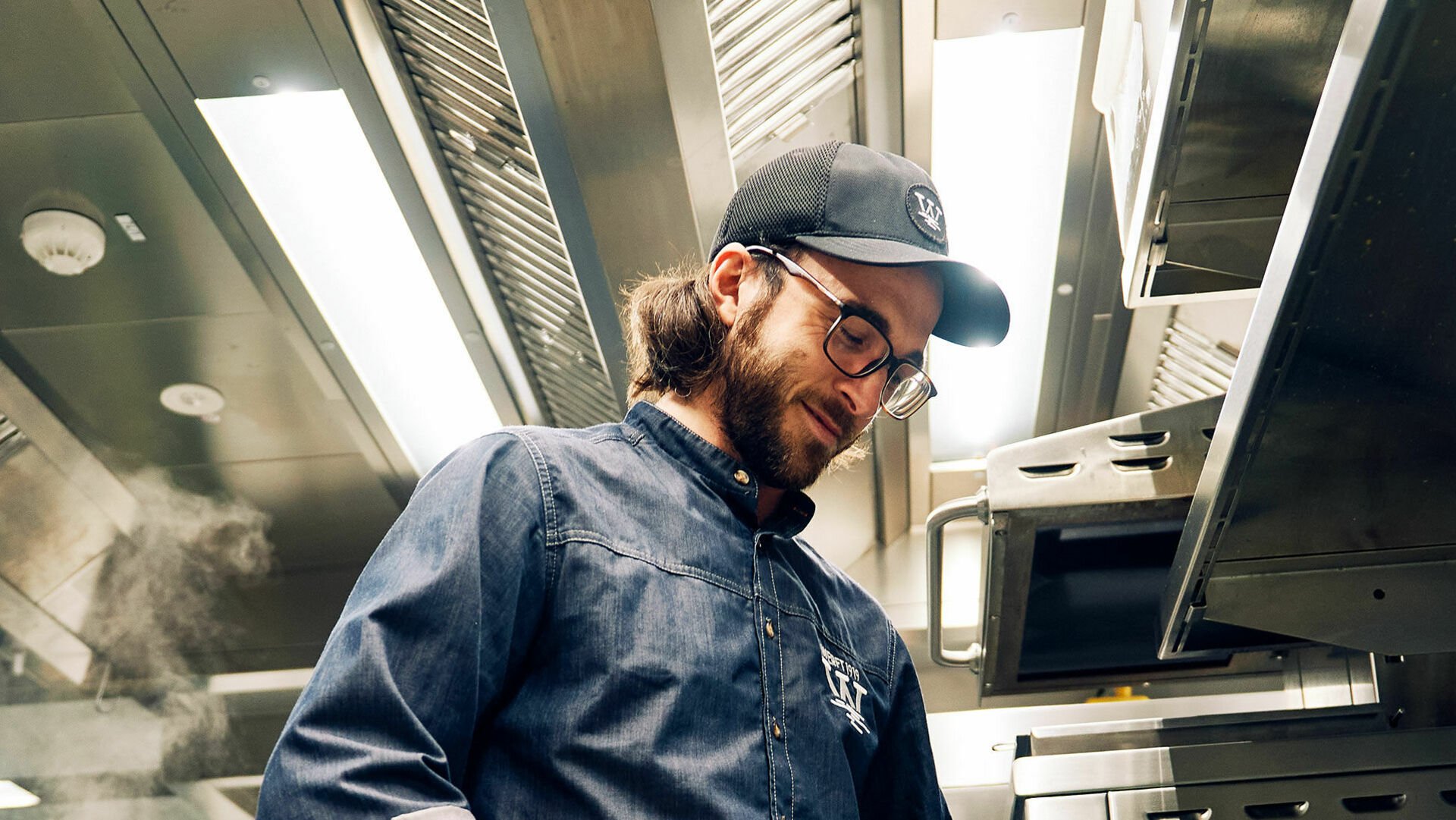 ---