9 tips for hygienic washing in the foodservice industry
Warewashers have a key role to play when it comes to hygiene in the foodservice industry. As well as stubborn dirt, they also remove over 99.999% of viruses, bacteria and other germs. At least, they do if, like Winterhalter machines, they have hygiene certification. Find out here what you need to pay attention to when washing in the foodservice industry and the errors to avoid.
1. Use a warewasher
Do you want to be safe and hygienic when washing? Then you need to follow one of the most important rules – always wash glasses, dishes and cutlery in a machine! The machine washing process is completely automated with high temperatures and long active wash times. In addition, highly concentrated detergents are used with optimal dosing. And the machine's rinse cycle dries the dishes so well that they don't need drying by hand – which prevents the transmission of germs. Warewashers like those from Winterhalter offer hygienic wash results at a consistently high level and with certified hygiene safety. And in the shortest possible time. This is because a machine can hygienically wash approx. 25 glasses in under 2 minutes – depending on the rack and machine size.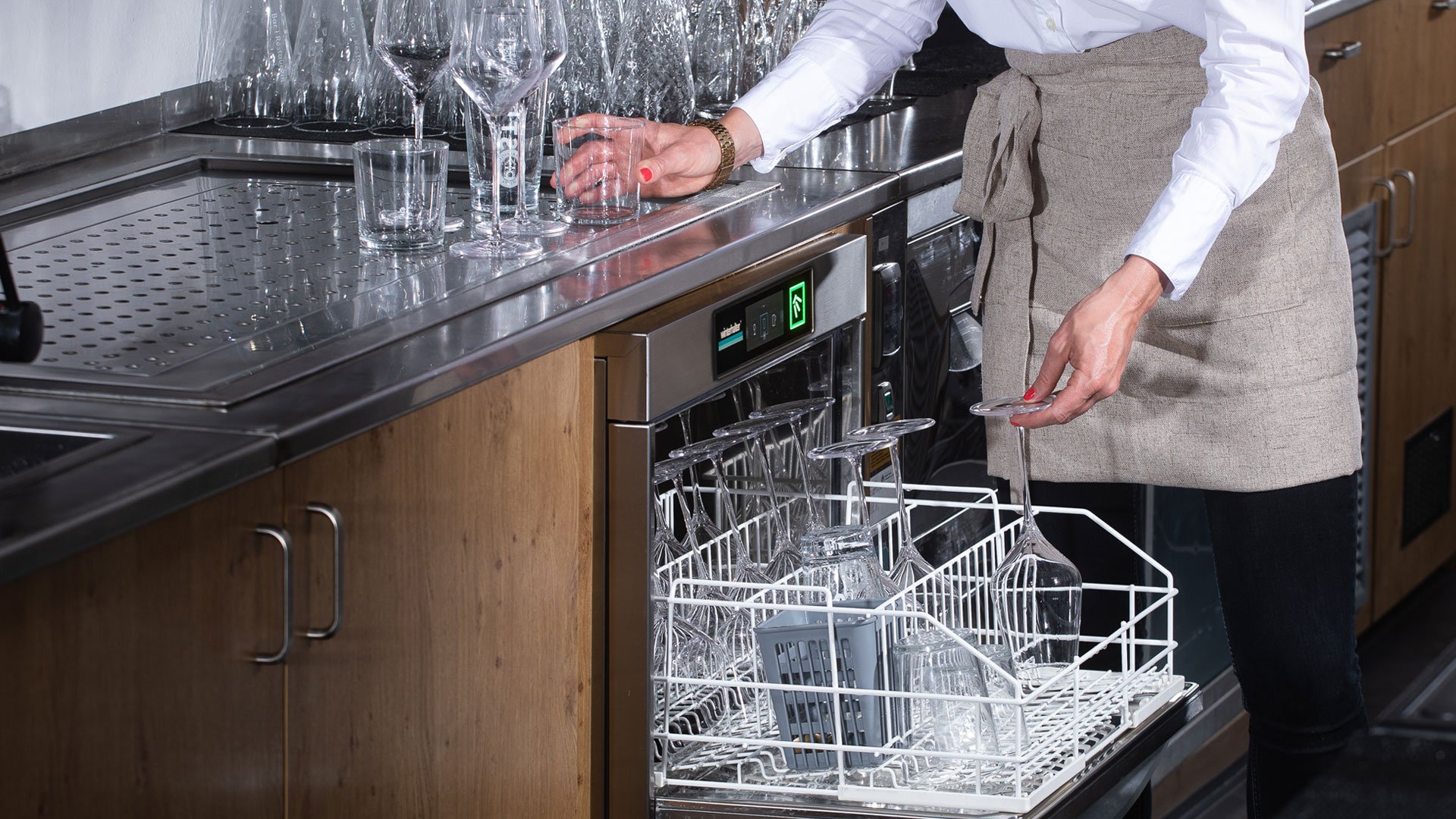 2. Avoid hand washing
Coronavirus has made it even more apparent that dishes should not be washed by hand in the foodservice industry. Firstly, washing by hand does not reach the temperatures required to inactivate viruses and kill bacteria to a sufficient level. Secondly, detergent cannot be precisely dosed. There's also the danger of glass or dish breakage due to manual pressure or carelessness, and consequent injury. Furthermore, direct contact with the detergent solution can damage the skin's protective layer over time.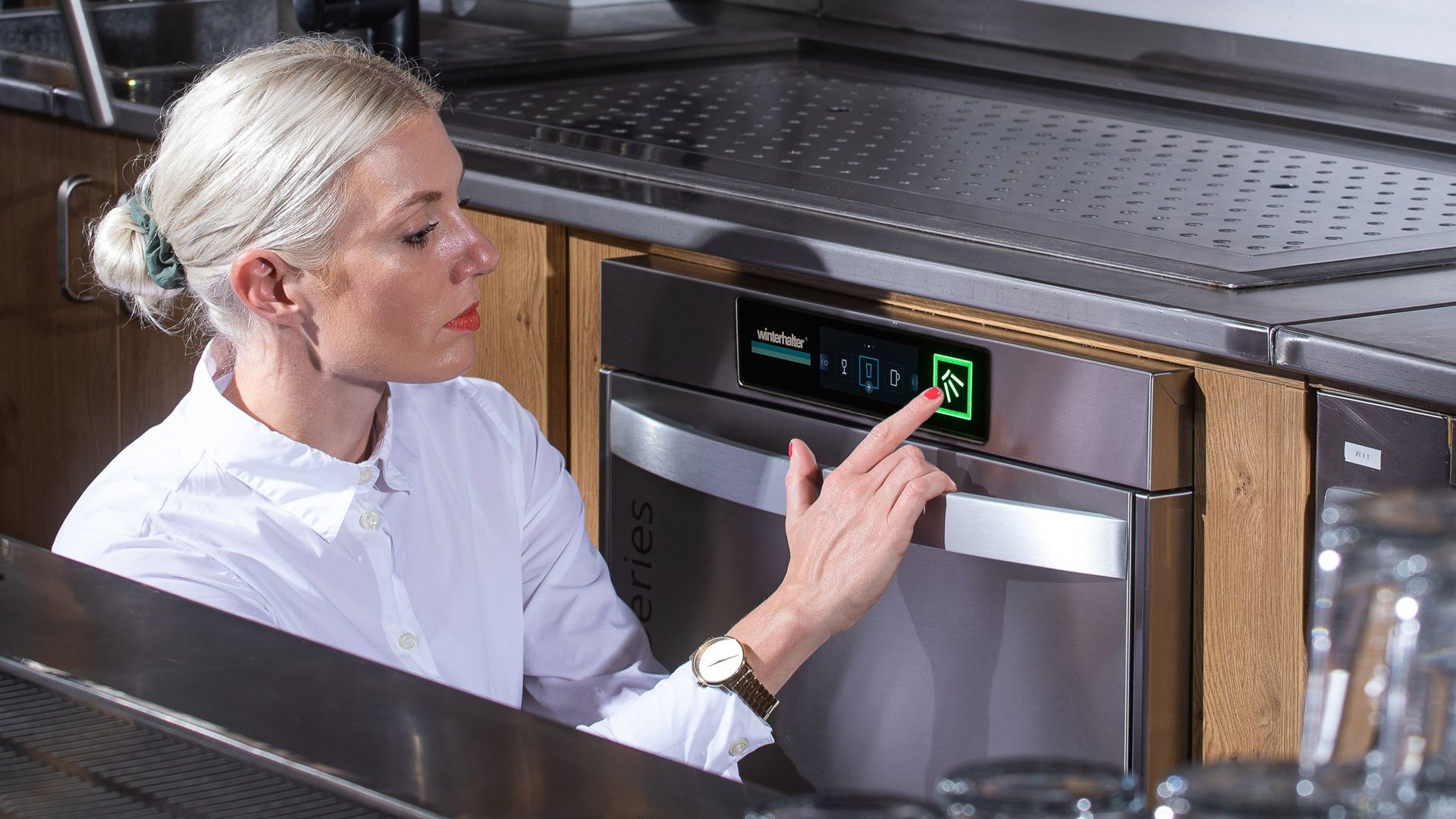 3. Wash glasses correctly
As germs can be spread via contaminated glasses, these should never be washed by hand. Instead, they should be washed in a professional glasswasher at the recommended temperatures and times. After the wash cycle, the glasses should be removed with clean hands or gloves and placed on a glass mat with the opening facing downwards. They should also never be dried or polished by hand, as germs can be transferred from cloths. There is no need for this, as there are various water treatment devices that make manual polishing unnecessary.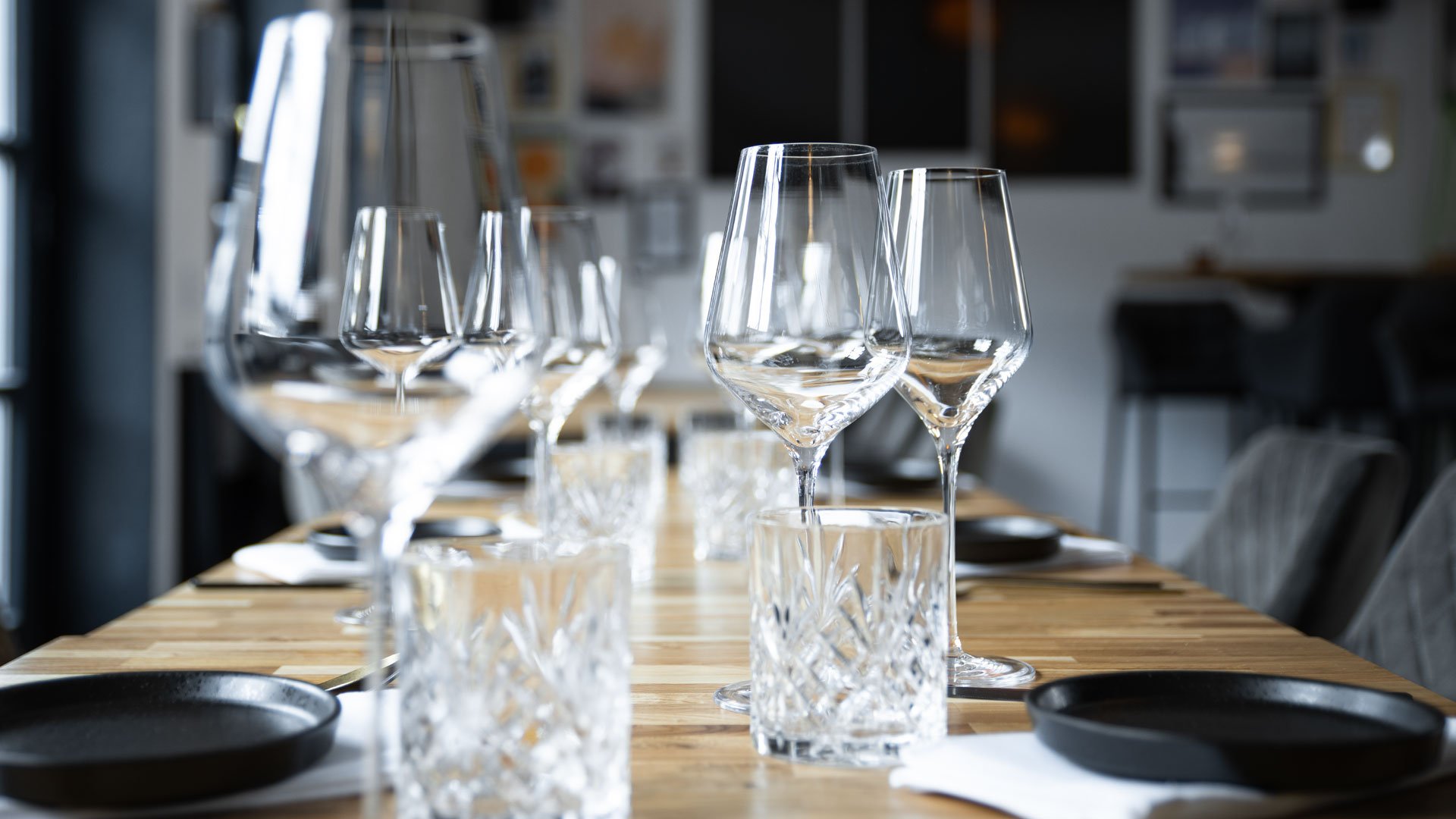 4. Do not dry or polish by hand
Did you know that a used tea towel can hold up to 100 million germs on a surface of just 10 cm²? So, it's no surprise that drying and polishing by hand is strongly discouraged in foodservice – the danger of transferring germs is too great. This danger is avoided by using professional glasswashers. When used with specially developed detergent and rinse aid, these not only deliver hygienically clean glasses, but also a brilliant shine – without any manual polishing.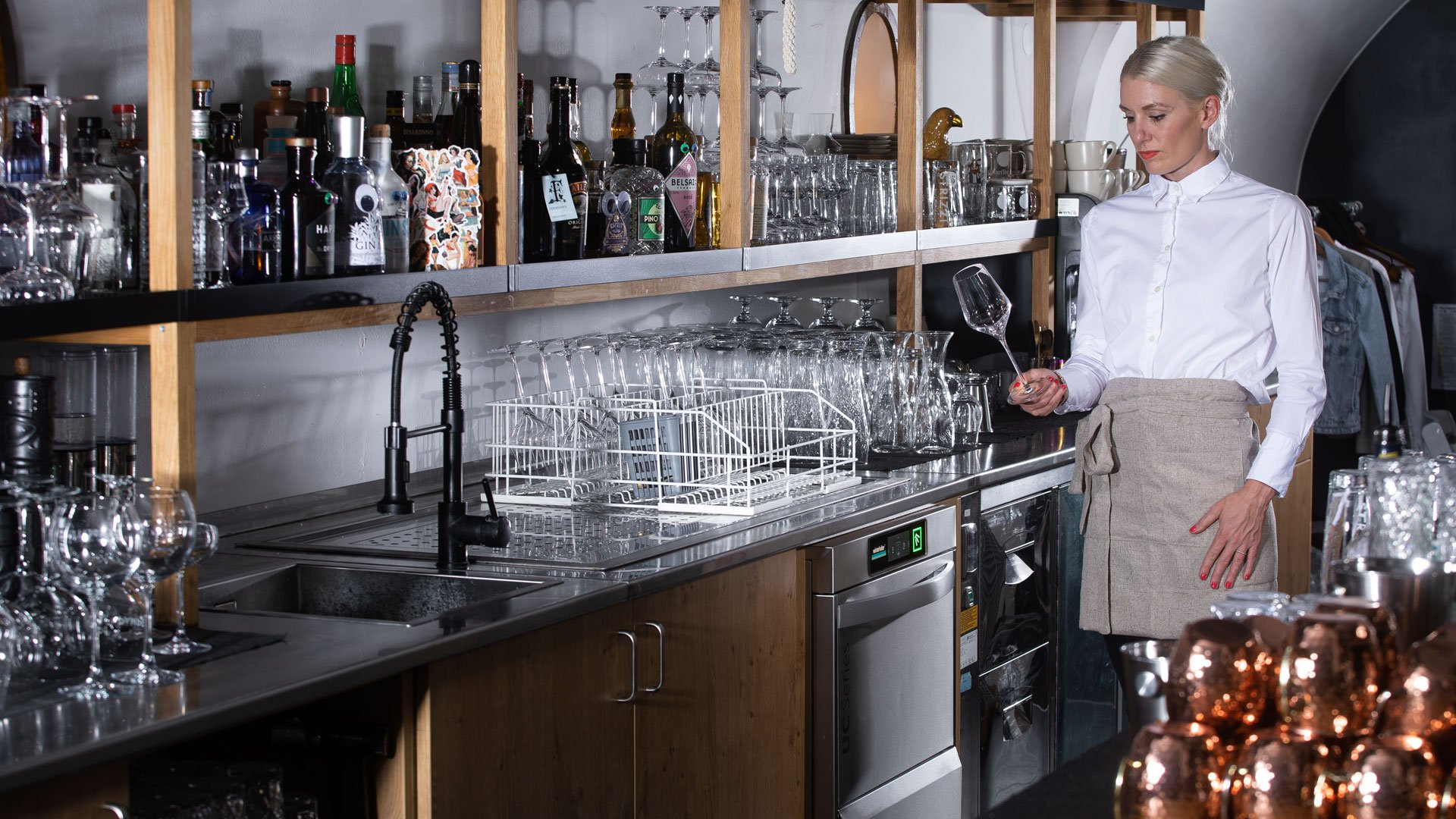 5. Store glasses correctly
After washing, it's important to store properly – ideally, glasses should be stored on a special glass mat with the opening facing downwards. This offers several advantages – the glasses are protected against cracks and chips when placed opening-down, they do not get dusty, unattractive dry rims do not form, and the circulation of air prevents germs from developing.
Glass mats are available in different designs, including by the metre, to be cut to size. You can also buy fixed grid panels that can be plugged together and extended as required. They can also come in the form of a draining rack with a drip tray, which can be used to empty the drip water into the sink.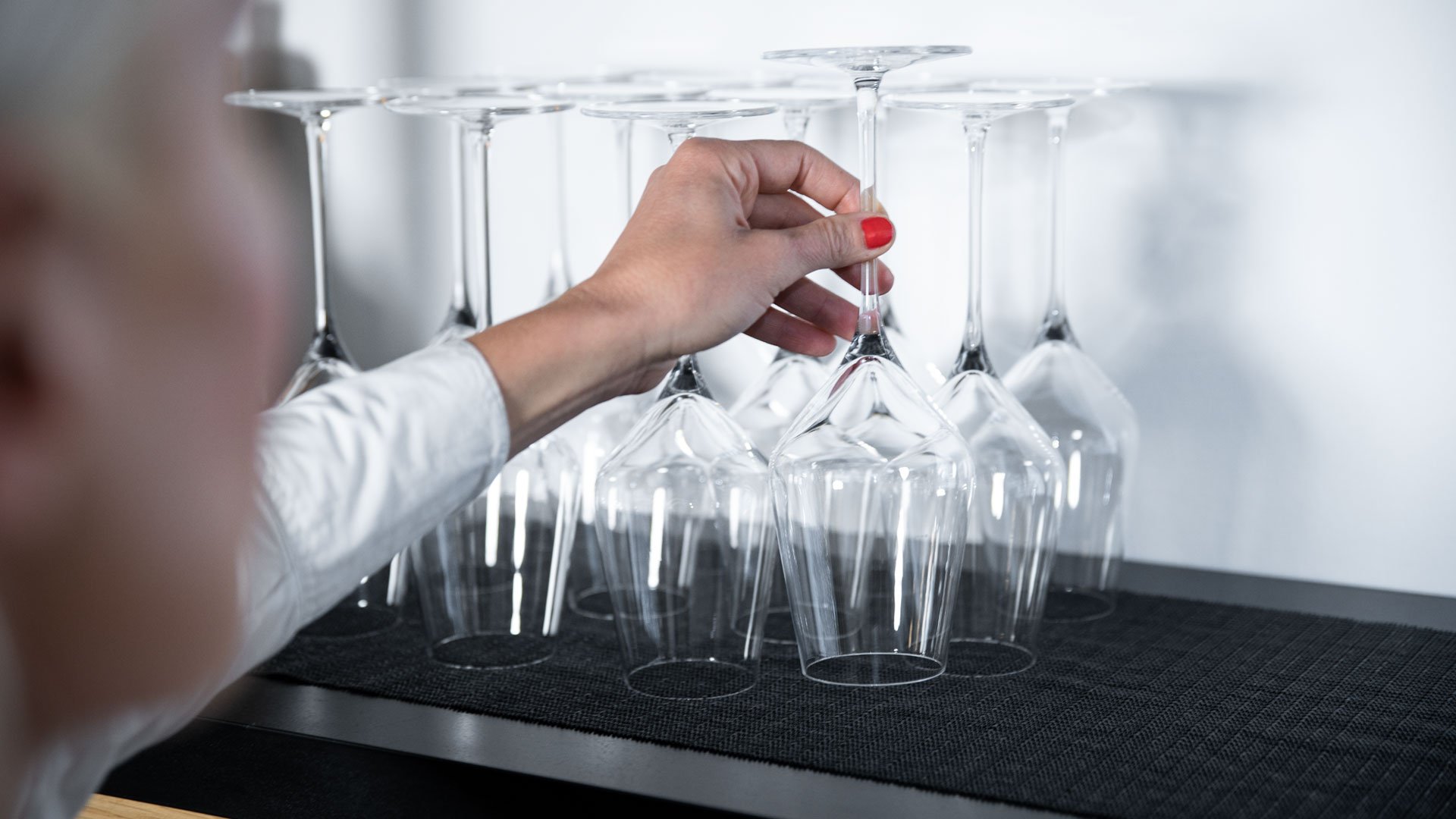 6. Ensure the chemicals are the right ones
Professional warewashers need professional chemicals. In other words – the right chemicals at the right dosage contribute significantly to a clean and hygienically perfect wash result. High-quality products such as Winterhalter detergents and rinse aids are specially developed and optimally adapted to machine types, applications and soiling level. There are also chlorine-based detergents for very high hygiene requirements.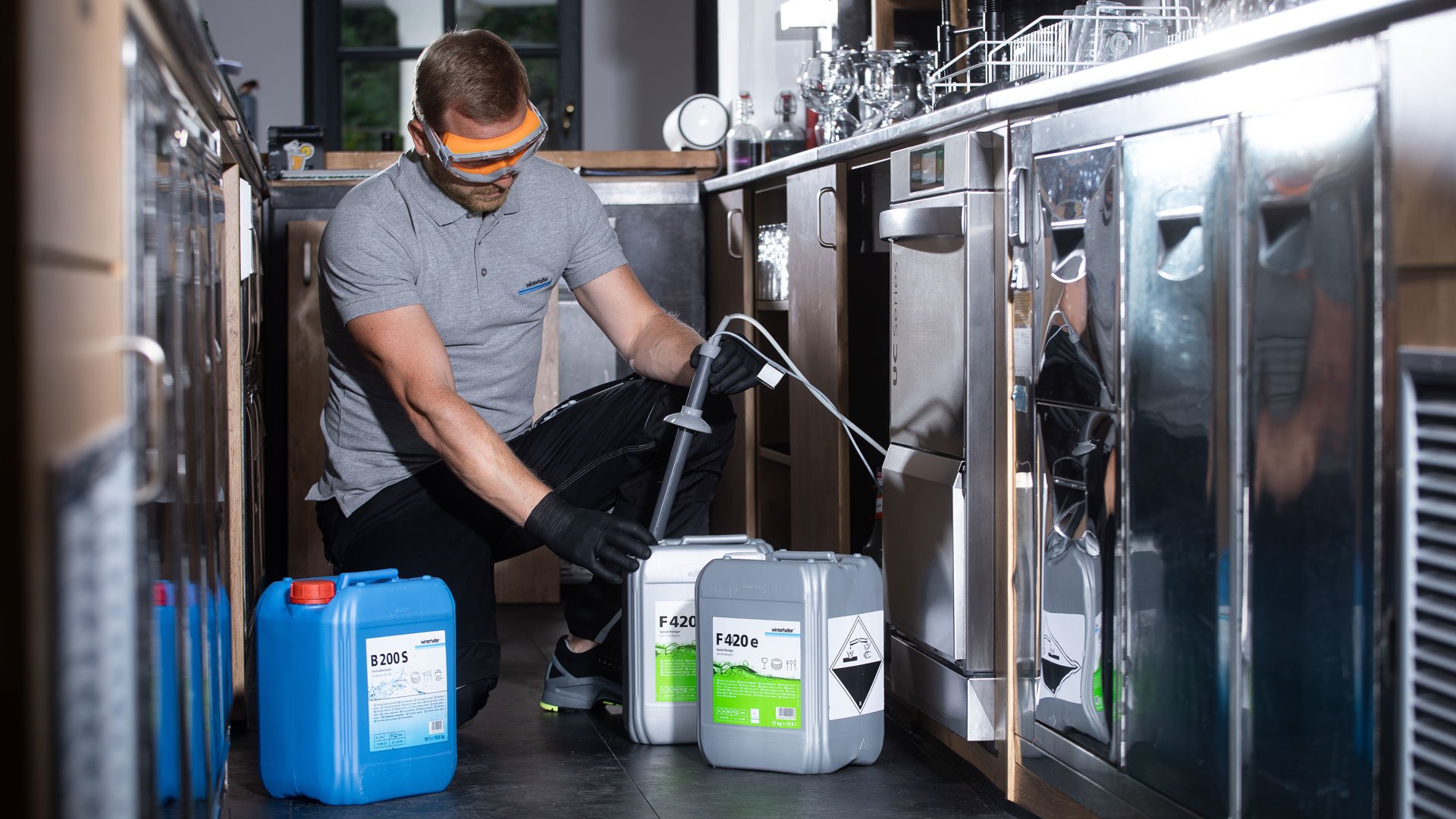 7. Pre-wash correctly
As a general rule, the period of time in which residues can dry on dishes, glasses and cutlery should be as short as possible to prevent the development of germs and coatings. If you do not start the wash cycle immediately, a manual pre-wash is recommended. First remove any residues and then pre-wash with cold or lukewarm water. Important: The temperature should not be too high, because at temperatures above 40 °C protein and starch burn and make cleaning more difficult!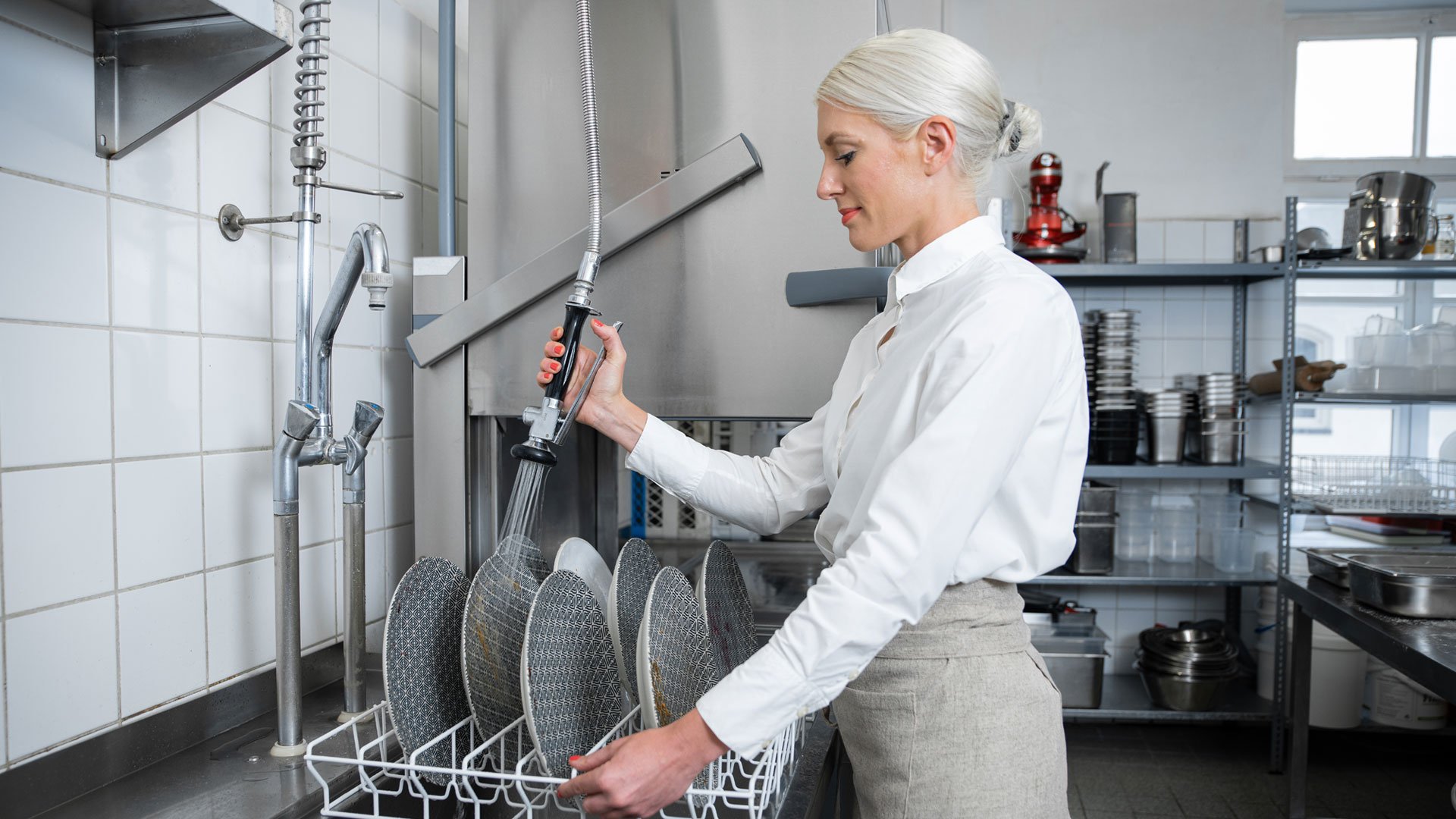 8. Monitor the wash temperature
A warewasher can only reliably remove germs when specific minimum temperatures are maintained. Professional commercial warewashers automatically monitor these temperatures to ensure a hygienic wash. However, it is still important to check the temperature at regular intervals - on most machines this can be done quickly and easily by just checking the display: during washing, the temperature should exceed 60 °C and during rinsing it should be between 65 °C (glasses) and 85 °C (dishes).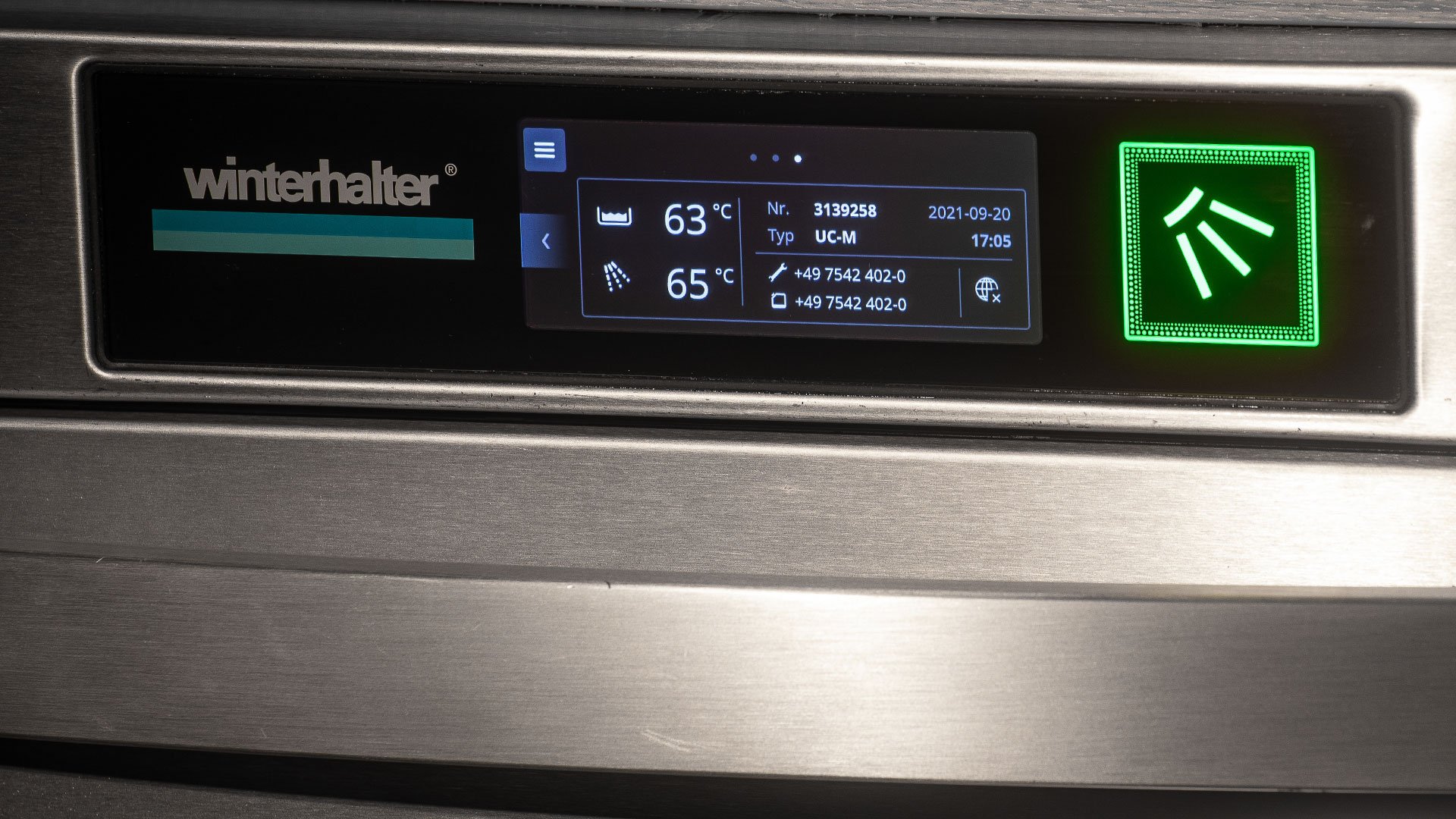 9. Clean the warewasher regularly
A final cleaning at the end of the day or after the last wash cycle will ensure consistently perfect functioning and hygienic washing and increase the service life of your warewasher. The self-cleaning programme does most of the work, and only certain parts such as the filter, wash arm and seals must be cleaned separately. Any foreign objects, such as toothpicks, dish fragments or fruit pips, should first be removed from the machine. The simplest and quickest way to do this is by following the manufacturer's instructions. And don't forget – after daily cleaning, leave the door or hood open.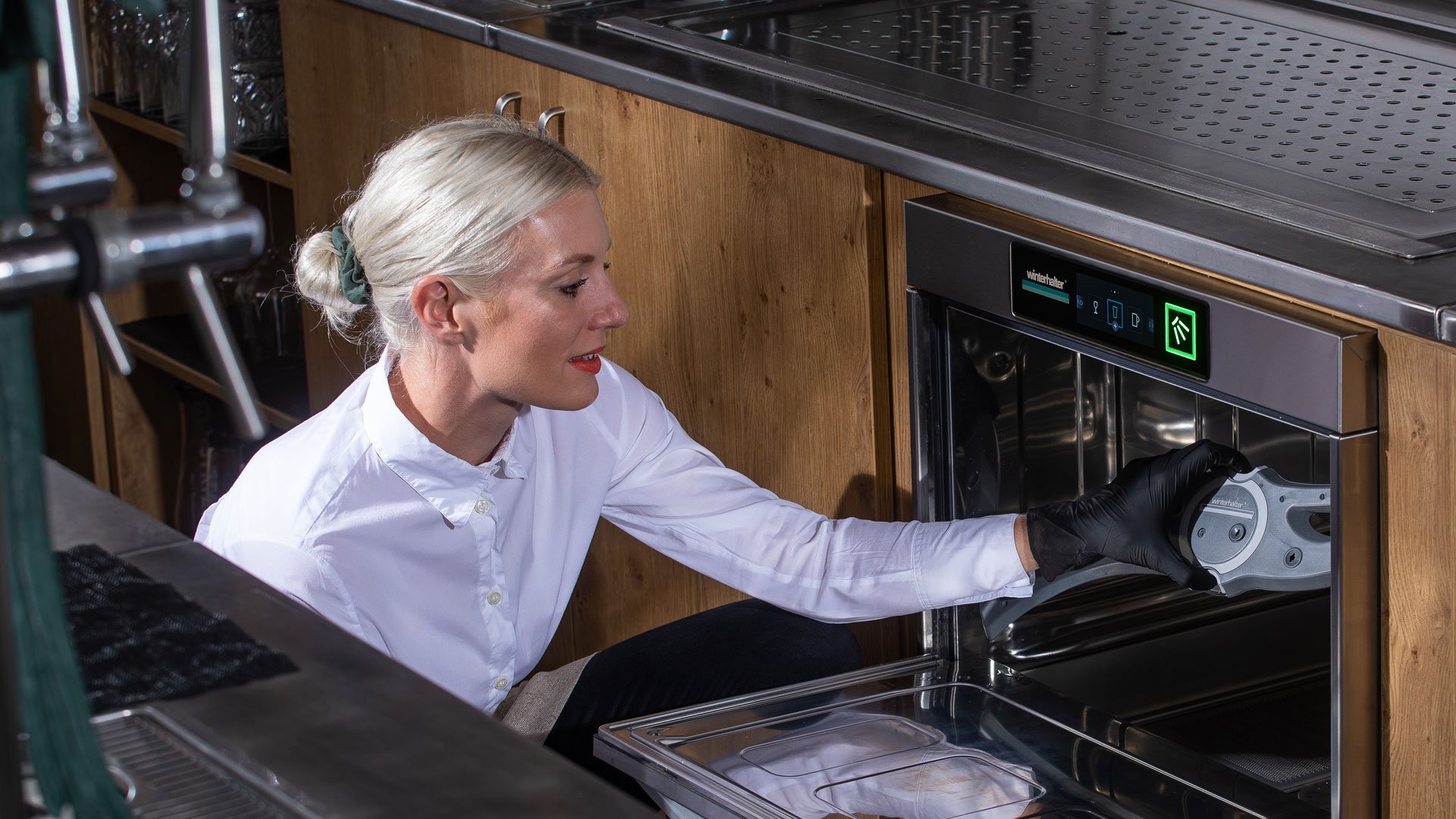 ---