C50
RACK CONVEYOR
DISHWASHER
Rapid washing speed. Maximum flexibility. Rack conveyor dishwashers by Winterhalter can be combined on an individual basis. For first-class wash results while requiring little space.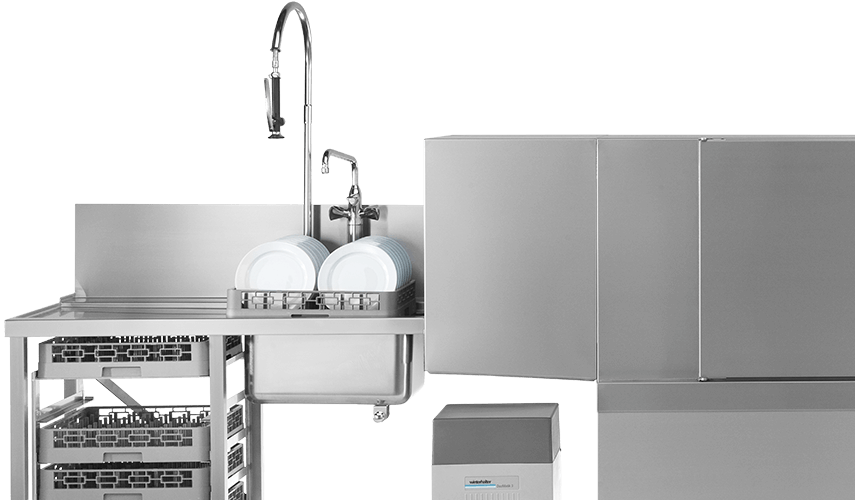 SPEED UP.
Restaurants, hotels, dining halls and canteens. People who work in these places know: Sometimes things have to happen really fast. In the kitchen too. Stacks of plates, cups, glasses and cutlery must be hygienically cleaned as quickly as possible. This is precisely why Winterhalter has developed the C50 rack conveyor dishwasher: The warewashing system was developed for maximum performance and is designed for maximum speeds. With compact dimensions and modules that can be combined individually. For first-class wash results while requiring little space.
SPEAK DIRECTLY TO OUR EXPERTS!
We want you to be absolutely confident in your decision to choose Winterhalter. Work with one of our experts to find out whether the C50 is the right dishwashing solution for you. Simply call or email us.
Product benefits C50

WASHING SPEED
The major strength of the C50 is in its performance: With it you can achieve up to 260 racks per hour. And all this with compact dimensions and low space requirements. Three different speed levels allow you to adjust the wash cycle to suit the volume of wash items. With this, you are ready for anything. Even at peak times.
MAXIMUM FLEXIBILITY
With the C50 you have – and will continue to have – full flexibility: The machine is available in 2 basic versions, "single rinse" and "dual rinse". The modular system also offers different configuration and installation options. Pre-cleaning zone or drying zone? Possibility for HighTemp mode? Mechanical or electrical corner conveyor? Linear or corner inlet table? It is all possible – and can of course be upgraded later.
HYGIENE SAFETY
The C50 is specifically designed for first-class wash results, hygienic cleanliness and excellent drying: With a standard tank heating performance of 18 kW, upgradeable tank heating performance to 27 kW (HighTemp) and a well-thought-out hygienic design. The boiler heating always operates, independently of the water pressure provided on site, with a stable 27 kW: This guarantees consistent and perfect rinse results.
USER-FRIENDLY
The C50 is simple: simple to install, simple to operate, and simple to clean. The display is self-explanatory and language-neutral. Automatic programmes help you during the cleaning and ensure fast emptying and filling of the machine. That makes your C50 ready for use in no time at all.
Hot and fast is the name of the game here. The C50 is consistently designed to ensure top performance and hygienic cleanliness. And all this with compact dimensions and low space requirements.
THE WINTERHALTER SYSTEM
Cleanliness and hygiene. Each one of our products plays its part. Together they deliver the perfect wash result. Welcome to the complete Winterhalter system