SERVICE
EXCELLENT SUPPORT
Fast assistance when service is required. Avoid downtime. Individual finance options. Optimisation of the washing process. In short: being there when the customer needs us. That's what we understand by good service.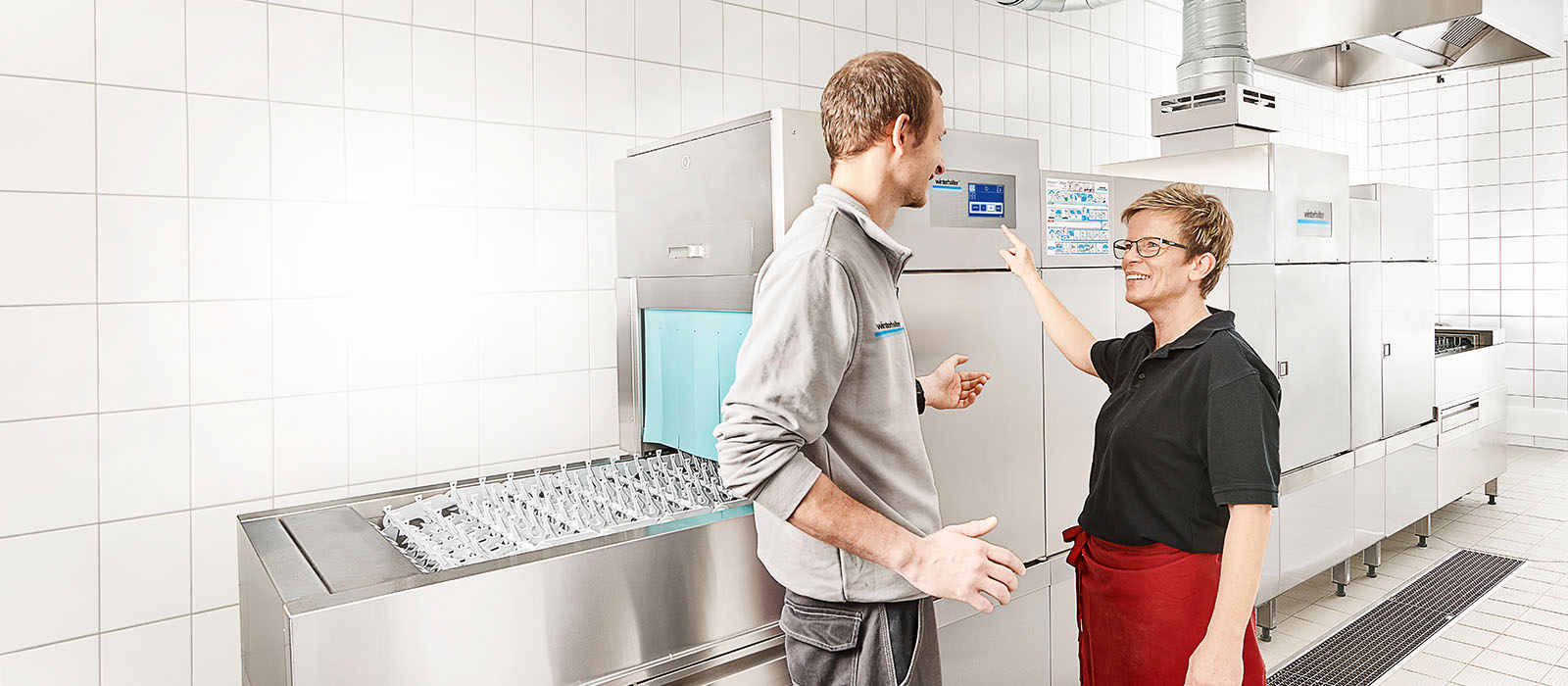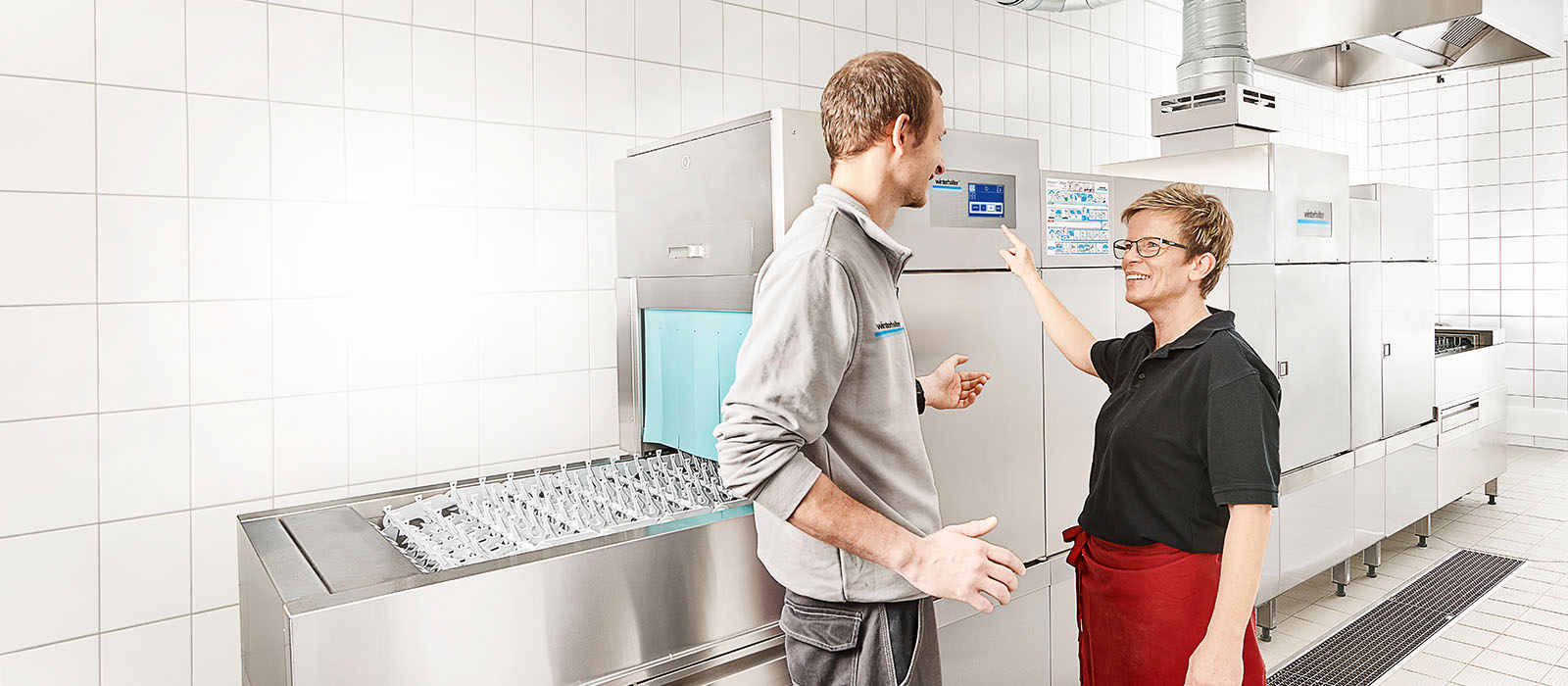 WINTERHALTER CUSTOMER SERVICE
A partner for warewashing solutions. At Winterhalter, that's what we aim to be for our customers. This includes being able to rely on us at all times. Especially if the machine is not working properly and the washing process is getting in the way of operations. We will analyse and resolve the problem with the help of our extensive service network. Our customer service technicians are available to all of our customers around the clock and can be on site very quickly. So that everything will be up running again as quickly as possible.
CERTIFICATED SERVICE TECHICIANS
Close to you: If assistance is required our comprehensive service network with more than 100 certificated service technicians guarantees prompt and professional support all over Australia.
PERCENT FIRST CONTACT REPAIR
Problem solved: More than 90% of our service issues will be solved by our technicians successfully within the first contact onsite.
SERVICE-HOTLINE
Always available for you: The Winterhalter service is available all around the clock and 365 days per year. Also on weekends and public holidays.
RESPONSE TIME
Prompt assistance: In average the service issues of our customers will be solved successfully within 24 hours.
---
At Winterhalter, we are proud of the quality of our warewashers and aim to guarantee perfect wash results for our customers day in, day out. That's why we and our partners are here to help, ensuring first-class service even after you have made your purchase. With service technicians that are available quickly, preventative maintenance and attractive all-round hassle-free packages.
---
MAINTENANCE
Everyone knows: a machine that is inspected and serviced regularly will run better. And for longer. This is also true of commercial warewashers: day in, day out, they have to provide high performance and deliver perfect wash results. Without breakdowns. That's no problem for a Winterhalter that is serviced regularly.

Preventative maintenance is not only more cost-effective than fixing a machine with a problem, but it means you can choose a service time that suits you, instead of having work interrupted to fix an urgent problem. That's why we offer you suitable maintenance packages.
HOW OFTEN DOES MY WINTERHALTER NEED SERVICING?
To guarantee your machines run smoothly for years on end we recommend a service:
> ONCE EVERY 6 MONTHS
IF YOUR MACHINE IS ALWAYS IN USE
> UPON REQUEST
IF YOUR MACHINE HAS BEEN OFF FOR 2 WEEKS OR MORE
Winterhalter dishwashers were made to work. They're designed to run continuously. This means that when they're shut down for long periods of time, things can go wrong. Rubber seals can start to harden. Limescale and bacteria may build up due to lack of freshwater flow. Residual detergent left in tubes crystallises. Pipes may become calcified. This is why we recommend a service if machines have been off for two weeks or more.


HYGIENE CERTIFICATES
Guarantee hygiene with our Winterhalter Certificates of Cleanliness and Hygiene, specific to your venue and model. Give your customers the confidence they're eating & drinking in a clean environment.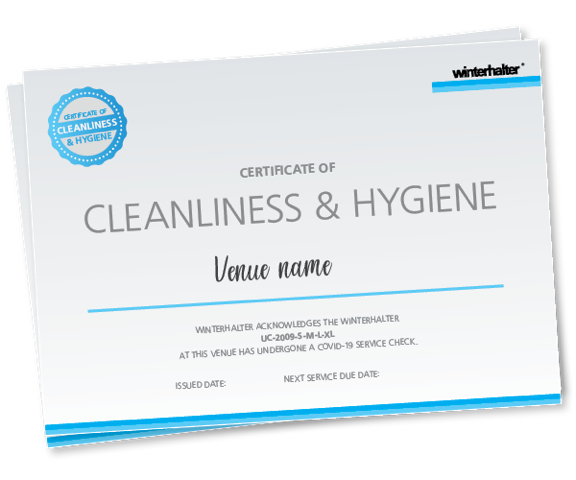 To learn how to best maintain your Winterhalter in between services, download our Best Practice Guide.

> Best Practice Guide

​​​​​​​
DO YOU HAVE QUESTIONS RELATING TO MAINTENANCE?

Would you like to avoid downtime for your warewasher? Prevent unexpected repairs? Achieve perfect washing results in the long term? Our maintenance packages provide more security. We will be happy to advise you and look forward to hearing from you.
---
CONNECTED WASH
Making the washing process transparent. Identifying the areas where there is potential for optimisation. Improving workflows. CONNECTED WASH makes possible what was previously impossible: by connecting the warewasher to a network, the key operating data can be analysed and evaluated – to optimise the washing process in a targeted way. For perfect wash results in combination with maximum safety and optimal efficiency. CONNECTED WASH is available as an option for warewashers in the UC, PT and UF series.
---
DOWNLOAD CENTRE
Brochures. Operating instructions. Safety data sheets. You will find these and many other documents in the Winterhalter download centre. Always up-to-date.
---