ABOUT US
»SUCCESS IS ALWAYS
A TEAM EFFORT.«
A family company with committed staff. A network of professional partners. This is this basis on which Winterhalter develops solutions for commercial warewashing. For the benefit of our customers all over the world.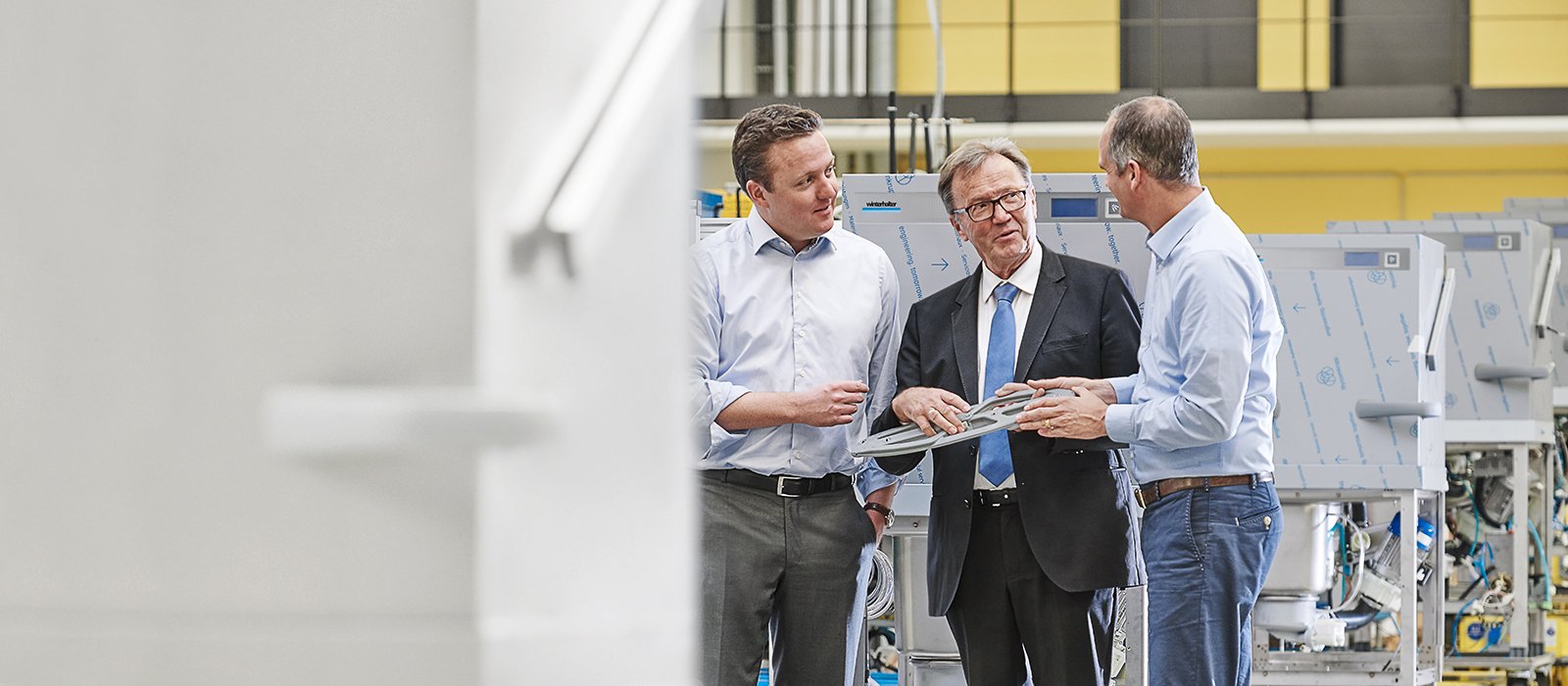 INTERNATIONAL BACKING. LOCAL EXPERTISE
Winterhalter opened its UK office in 1971 and has grown to be the eminent name in commercial glasswashing and dishwashing for the foodservice industry. We are the only company that solely concentrates on warewashing; machines, water treatment, chemicals, racks and service.
We work with many of the country's leading pub, restaurant, hotel, supermarket, coffee shop and casual dining groups. In addition we're proud to supply a large proportion of the very demanding Michelin starred restaurants and chefs around the UK who command exceptional wash results.
We provide warewashing solutions to the public sector where our larger schemes can often be found in hospitals, universities and prisons. We're also well placed to develop schemes for specialist caterers like sports stadia, conference centres, music venues and even food processing.
We have a network of high quality distributors around the country who supply the wider catering industry with our products. All of our UK operation is underpinned by our nationwide network of Winterhalter service technicians who are trained by us and only carry genuine Winterhalter parts.
BRANCH OFFICES WORLDWIDE
The company is a global player: with its main office in Meckenbeuren (Germany) and branches and partners throughout the world.
MILLIONS OF EUROS
That's the order of the turnover that Winterhalter generated in 2021.
THE YEAR THE COMPANY WAS FOUNDED
The post-war period in Germany: Karl Winterhalter established his own company in Friedrichshafen on Lake Constance. Now his son Jürgen and grandson Ralph are managing the fortunes of the company.
EMPLOYEES WORLDWIDE
That's how many staff the company employs worldwide. 500 of them work at our headquarters in Meckenbeuren.

WHAT DOES WINTERHALTER STAND FOR?
Family. A down-to-earth attitude. Vision. The culture and values of our family have been shaping the company for three generations. Customer proximity, ongoing exchange and the desire to deliver integrated solutions – all this is standard for Winterhalter. And it has made us what we are today: a worldwide specialist in warewashing. We love our family company. And we love that we grow a little every day!