CHEMICALS
COMMERCIAL DISHWASHER
DETERGENTS AND
RINSE AIDS
Light or stubborn soiling. Wash items made of a variety of materials. Mark-free and with a dazzling shine. Winterhalter has the right commercial dishwasher detergents and rinse aids for every situation.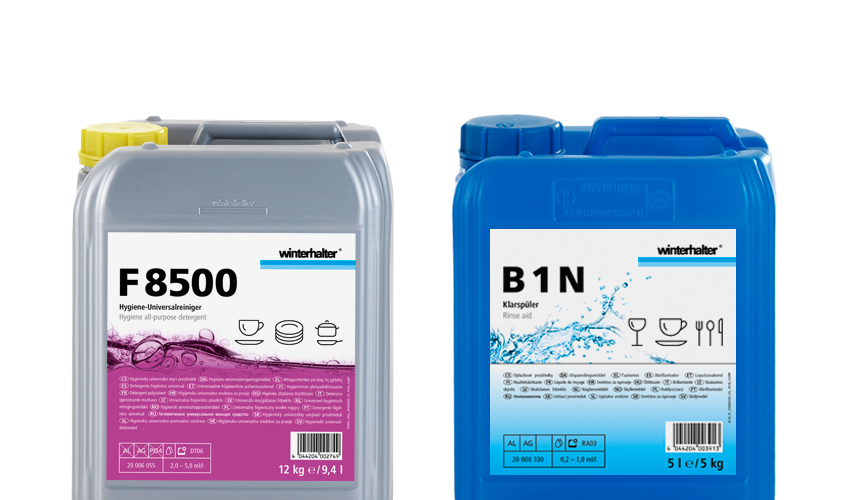 WE HAVE THE RIGHT CHEMICALS.
Chemicals can be overshadowed by the machine. Often underestimated. But they have a crucial influence on the wash result: the more effective they are, the better the wash result. That's why the chemicals are an established and important component in Winterhalter's complete system: as a warewashing specialist, we have our own laboratory in which we develop formulas with maximum effectiveness. Commercial dishwasher detergents and rinse aids, for special applications. Perfectly in tune with one another. And reliable when it comes to cleanliness and hygiene.
SPEAK DIRECTLY TO AN EXPERT!
We want you to achieve the very best wash results by using the optimal chemicals for your application. Work with one of our chemical experts to identify which detergent and rinse aid will deliver hygienic and sparkling wash results for you. Contact us using the form below.
PRODUCT FEATURES CHEMICALS
Without intelligent chemicals, even the best warewasher will only deliver moderate results. That's why detergents and rinse aids have been part of our product range for over 50 years. We develop the formulas in our own laboratory. The ingredients are optimally tailored to a variety of applications. As part of a system, they work in combination with the machine and water treatment to deliver the perfect result.
DID YOU KNOW...
we test customer-specific applications in our in-house laboratory so that we can provide you with
recommendations for optimal machine settings?
the staff in our in-house laboratory develop our own chemical formulas which are perfectly tailored to
each application?
the quality control in our laboratory guarantees that our chemicals
are extremely economical to use?
we can analyse your water for you in our laboratory?
THE WINTERHALTER SYSTEM
Cleanliness and hygiene. Each one of our products plays its part. Together they deliver the perfect wash result. Welcome to the complete Winterhalter system.