MORE SAFETY. MORE EFFICIENCY.
CONNECTED WASH
With CONNECTED WASH you connect your Winterhalter dishwasher to the (W)LAN. Access to the important operating data opens up opportunities for optimisation.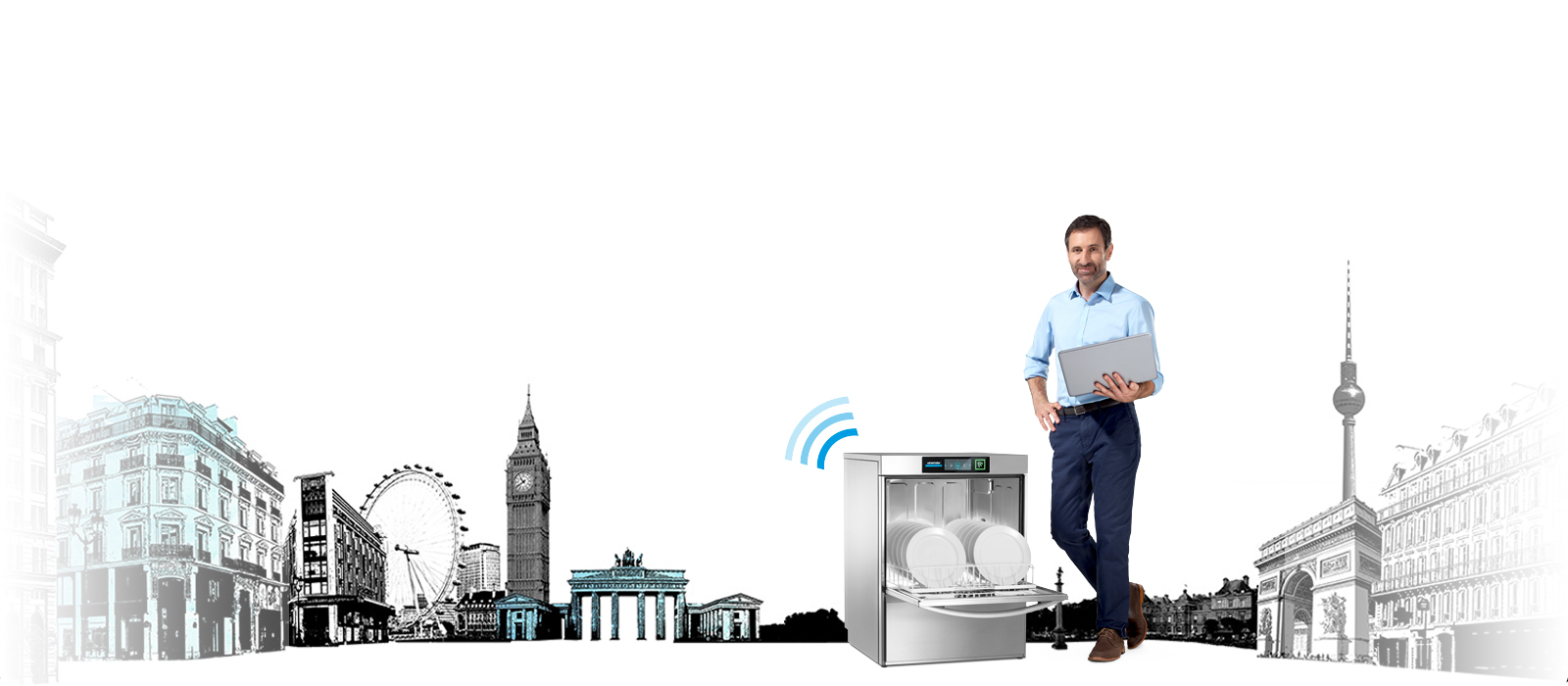 In an increasingly networked world, Winterhalter boosts commercial dishwashing to the next level: The new generation of under counter, passthrough and utensil washers as well as the CTR series rack conveyor dishwasher are network-integrated thanks to CONNECTED WASH and enable the analysis of all key operating data. This means that you can optimise the whole washing process and increase your operational security − for the highest cleaning quality with the best possible efficiency.
1. Warewashers are connected via cable or Wifi...
2. ...and send their data to a server.
3. This is analysed and evaluated.
4. The washing process and operation are totally transparent...
5. ...and can be monitored and analysed from anywhere via an app.
6. This ensures better safety.
7. And offers optimisation options.
8. The result: perfect wash results with the best possible efficiency.
---
REGISTRATION CONNECTED WASH
ARE YOU NEW TO CONNECTED WASH?
Then in just three steps we'll bring you to the next level: to more safety and more efficiency. It's this easy:
1. REGISTER MACHINE
2. CONNECT THE MACHINE TO THE MAINS SUPPLY
3. ACTIVATE CONNECTED WASH ON THE MACHINE (PAIRING)
ARE YOU ALREADY USING CONNECTED WASH?
If you are already registered, you can add more machines to your account and manage your whole fleet. Benefits to you:
MONITOR MACHINE STATUS

RECEIVE OPTIMISATION TIPS

EVALUATE WASHING BEHAVIOUR
---
FREQUENTLY ASKED QUESTIONS
Are you interested in CONNECTED WASH, or are you already enjoying the advantages of a networked machine and have a question? Then we might have the answer you need here.
---
UTILISE ALL POSSIBILITIES
Are you convinced by the advantages of CONNECTED WASH? But you still have questions or want to talk to someone personally?
Just use our contact form. We′ll be happy to give you a call back!



AN IDEA AHEAD
The NEXT LEVEL SOLUTIONS from Winterhalter.
Since 1947, time and again Winterhalter has managed to actively shape the field of commercial warewashing and set benchmarks with innovative warewashing solutions. The reason: we want to know exactly how our customers′ world works, what their needs are and how we can best support them. We listen and observe: change in society and changes to the world of work, technical developments and the possibilities presented by them. In short: we work intensively today on what will be heading our customers′ way tomorrow and beyond. You can see what these solutions look like with our NEXT LEVEL SOLUTIONS.

Don′t want to buy, rent or lease a professional warewashing solution, but simply to pay for each wash cycle individually? Discover another NEXT LEVEL SOLUTION from Winterhalter: PAY PER WASH.

More info