A QUALITY DISHWASHER ON A SCHOOL BUDGET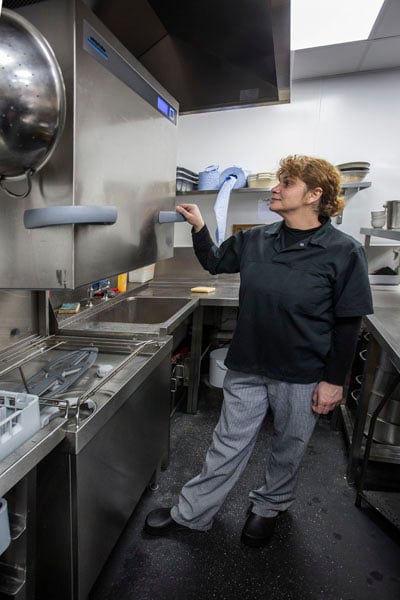 Winterhalter has developed a school-specific version of its market-leading PT passthrough dishwasher. The PT500 offers all the cleaning results and reliability caterers expect from a Winterhalter, but in a more basic, budget-friendly format.
"We've talked to school caterers to find out what they need in a passthrough dishwasher," says Paul Crowley, Winterhalter UK's marketing manager. "They're keen on the results, running cost savings and reliability that only a top quality machine can deliver. They're less keen on the price. That's why we developed the PT500. It's a Winterhalter with some of the bells and whistles stripped out, but with all the performance and practical features still very much there."
Typical of the advanced features essential for optimum warewashing is the energy management system, which makes the PT500 super-fast, able to quickly cope with the build-up of dirties during busy school lunches. It also has a special elliptical wash arm, which delivers superb results, and a quadruple filtration system, which reduces running costs by maximising the life of the washwater.
The PT500's controls are optimised for schools and are very simple to use. There are three programmes: short, for low soiling, standard and intensive. Features like the self-cleaning programme and self-diagnostics (for example, it will warn if rinse aid needs topping up) also help make life easier for staff. Options include an integral water softener.
"Given the lower running costs, better cleaning results and longer service life that Winterhalter's technologies deliver, we think the PT500 will be a huge hit with school caterers," says Crowley.
Visitors to the LACA Main Event will be able to check out the PT500 and talk to Winterhalter's warewash experts, on stand M8.