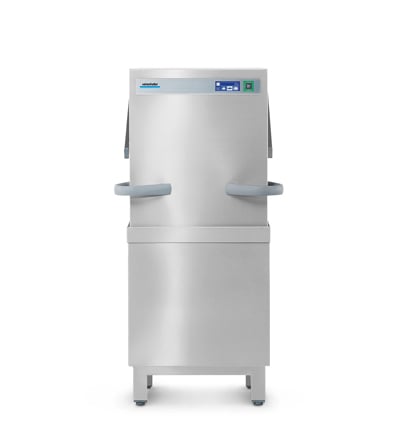 PT500 combines quality build, quality results and a budget price
Stand 7, Public Sector Catering Expo 2019; 19-20 November, Telford International Centre
Winterhalter will spotlight its new passthrough dishwasher at Expo. Designed specifically for the public sector, the PT500 is a stripped-back version of the company's PT machine, offering all the cleaning results and reliability caterers expect from a Winterhalter, but in a more basic, budget-friendly format.
Although it's been designed to a budget, the PT500 exploits the technologies that make Winterhalter machines so popular. For example, the quadruple filtration system not only enhances cleaning power, by trapping any dirt, but also maximises the life of the washwater, reducing costs. The PT500's controls are very simple to use, offering three programs: short, for low soiling, standard and intensive. Features like the self-cleaning programme and self-diagnostics (for example, it will warn if rinse aid needs topping up) also help make life easier for staff.
The PT500 can be tailored, with extra options and advanced features. One that's sure to be popular in busy sites is the increased boiler heating, which makes the PT500 super-fast. The additional heating power delivers significantly shorter warm-up times and means that the machine is ready to use quickly.
Latest undercounter reduces costs by 22% and delivers best-in-class results
Also on show is the latest Winterhalter undercounter machine, the UC Masterpiece. Its extensive upgrades make it even more energy and water efficient, reducing running costs by up to 22%, while delivering best-in-class wash results. A new smartphone-style touchpad control panel makes it very easy to use, and offers more functions, while the body has been reengineered to give it the longest possible service life.
Connected Wash: technology that makes warewashing more efficient
Winterhalter has more experience than most with Connectivity – its Connected Wash technology was amongst the first to hit the market. At Public Expo the company will demonstrate how Connected Wash can enhance the efficiency of warewashers, allowing users to remotely monitor the operation of their machines and send software updates.