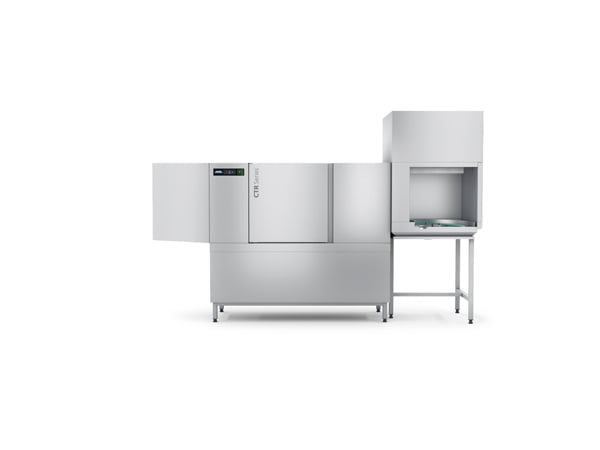 Modular conveyor dishwasher is small but powerful, washing up to 195 racks per hour
Fast, flexible, highly efficient and hygienic – that's the latest compact conveyor dishwasher from Winterhalter. Called the CTR, it's capable of speeds of up to 195 racks per hour and includes innovative features that reduce energy, water and chemical consumption whilst enhancing performance and wash results. The CTR is based around a clever modular system that allows options such as drying zones or prewash tanks to be retrofitted, so it can adapt to changing demand.
With the pressure on kitchen space ever increasing, the CTR makes use of a truly compact design. Despite its fast performance, the main wash unit is as little as 1400mm long and 800mm wide. The flexibility of the modular design and the choice of modal variants mean that a CTR system can be customised to make maximum use of available space – so it can offer the best solution, whatever the shape of the wash area. Straight lines, u-shapes, 180° outlet corner conveyor; whatever space is available, there's a CTR configuration to fit it. Meanwhile the modular options mean that customers can specify a system that precisely matches their needs, by adding prewash or drying zones (both of which are available in a variety of different formats) to the main wash tank.
Sustainability is an increasingly important part of the buying decision. Amongst the CTR's impressive 'green' credentials is the fact that it uses up to 50% less rinse water than its predecessors. Less water means less energy is required for heating, and less chemicals for washing. There are also optional features such as the exhaust air heat recovery systems. This uses energy from the steam produced during washing to pre-heat the cold water supply. As well as reducing energy consumption, the system lowers operating costs and, by removing steam, improves the kitchen environment.
There's no point in being energy efficient if the wash results aren't sparkling. The CTR produces outstanding results thanks to a variety of features, including its high performance wash arms, which ensure water is distributed over the entire wash area, and the multiple water filtration system, which keeps the wash water cleaner. A new feature is the hygiene mode. If the temperature of the wash water drops, this mode automatically slows the rack speed down, ensuring a thorough, hygienic wash.
The CTR is easy to operate and look after, and can be programmed to wash dishes, glasses and utensils.
Stephen Kinkead, managing director of Winterhalter UK, says, "Compact, customisable and configurable, and delivering results that are speedier, cleaner and greener – the CTR precisely matches the needs of the modern commercial kitchen."