Winterhalter announces runners up for the 2019 awards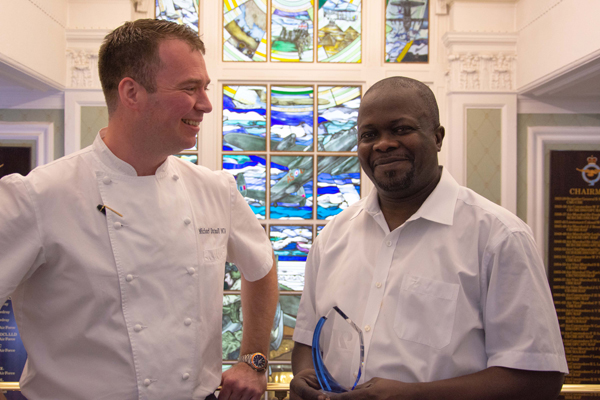 As part of its sixth annual Kitchen Porter of the Year awards, Winterhalter has announced the two Highly Commended runners up, Cheryl Wrightson of Jurys Inn Middlesborough and Sam Idubor of the RAF Club in Piccadilly. Both received a trophy, a special presentation KP of the Year apron and £250, as well as the glory of being recognised as one of the UK's top KPs.
Sam Idubor has been a kitchen porter at the RAF Club for just over two years. He says, "I have worked here for two years and I love it! I am part of a great team so to be recognised for such a big award is amazing, I am very happy. The club told me that I was in the Top 10 but to receive Highly Commended is just brilliant."
Cheryl Wrightson has been a kitchen porter at the Jurys Inn Hotel for ten years. "I couldn't believe it when I found out I was nominated," she says. "To be awarded Highly Commended is something else; such a surprise! It's nice to know I've beaten some good competition and be recognised like this."
KP of the Year is the brain child of Winterhalter, the commercial dishwasher specialist. "There are loads of competitions and awards for chefs and restaurants," says Winterhalter UK managing director Stephen Kinkead. "But what about the poor old KP? A few years ago we decided it was time they had an award too. They have a really tough job and they work really hard. Yet they often get overlooked. Hopefully these awards are helping to put that right.
"Cheryl and Sam really exemplify why we started the awards, and why so many of the country's top chefs support it," he adds. "Both of them embody the qualities that make someone a truly great KP. They're team players, and their hard work helps to support and inspire their colleagues to be at their best. Every time we're blown away by the quality of the nominees, and this year is no exception. "