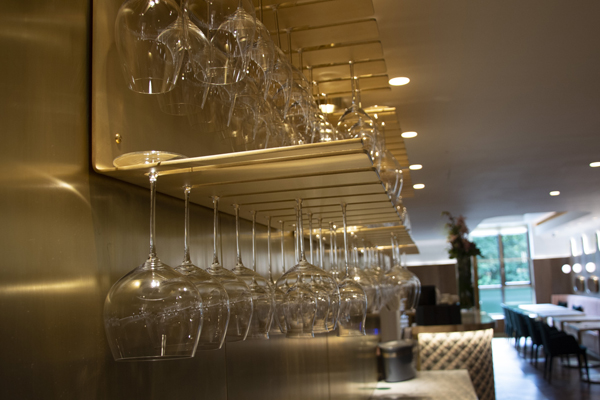 Winterhalter adds professional polish to new Dublin restaurant
Overlooking Dublin's St Stephen's Green from its residence inside the Fitzwilliam Hotel, Glovers Alley brings a taste of modern French influenced cuisine to its 70-seater restaurant. Since opening in February 2018, the restaurant has established itself as one of Dublin's premium dining experiences. Part owned and run by celebrated chef Andy McFadden, Glovers Alley combines fresh Irish produce with vibrant à la carte and tasting menus.
Glovers Alley replaced Thornton's restaurant, which shut in October 2016. Since then the space has been revamped, with £1.1m invested into the new project. Alongside the tasteful new décor, the kitchen was redesigned. In order to find the most suitable appliances for his set-up, Andy used local specialists Kaneco, and when it came to warewashers, they recommended Winterhalter.
"People always ask, did you design the restaurant? Of course I didn't, I'm a chef, I don't know everything!" Andy says. "I'm not an expert on dishwashers, so I found the best people, who know the best products."
Through his career working in some of London's most decorated restaurants Andy was aware of Winterhalter. However, before returning to his home city to create Glovers Alley he had never had the chance to directly experience the high quality results of the brand's appliances.
"This was a unique opportunity to do almost whatever I wanted, because we had so much space I could separate everything. So I was like, 'I can have a glasswasher, plate washer and a pot wash!' I feel like I'm only going to get to do this once, so I'm going to go for it."
The Winterhalter appliances chosen for the set-up make the most of the layout, but also have energy efficiency and versatility at their core. The UC unit offers versatility by being able to slot seamlessly into the operation without encroaching on valuable worktop space, while also using reverse osmosis technology to remove water impurities and the need to polish washed pieces. In keeping with Andy's ambitions to ensure investment was made in specialist appliances, Glovers Alley's pots and pans are washed separately from their fine china and glassware in a UF utensil washer. Meanwhile, the Winterhalter PT EnergyPlus passthrough is the pièce de résistance. Incorporating a waste water heat exchanger and an additional exhaust air heat exchanger, it cuts the operating costs in the kitchen and reduces the power consumption. It even improves the kitchen climate, by ensuring no steam escapes when the hood is opened at the end of wash.
Along with Winterhalter machines, Andy has also gone with Winterhalter Chemicals. These are designed specifically to get the best possible warewashing results.
Since its opening, Glovers Alley has already picked up several accolades, and this is in keeping with the quality of the table and glassware that the restaurant uses. Andy has been impressed with the results he has seen from his warewashers and chemicals, "We never have an issue with the Winterhalters in terms of whether something's clean and I absolutely love them, they're going really well," he says.
"The glasswasher is amazing because the guys don't have to polish the glasses at the end of the cycle, and they're delighted with that. With the Winterhalter it's so quick and easy to get people trained to use it. You don't need a science degree, it's really simple."