NEW WAREWASHING APPLIANCES BRING SENSE OF CALM EFFICIENCY TO WINDRUSH INN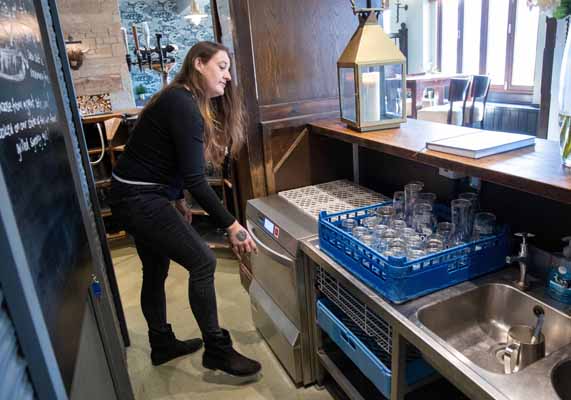 The Windrush winds its way through 35 miles of Cotswolds' countryside, from Gloucestershire down to the Thames, taking in some of Britain's most scenic stretches of riverside. One Oxfordshire town which has the river at its heart is Witney. The wool industry was the town's heritage with the water from the Windrush supposedly at the root of the quality of the wool. With this in mind, it should come as no surprise that one of the town's most popular establishments, a pub and chophouse, the Windrush Inn, should be named after the wonderful waterway.
The family oriented pub is equally suited to hosting casual diners or catering for wedding receptions, while a garden provides space for outdoor functions and a marquee. The Windrush offers a high quality steakhouse and grill service alongside its much celebrated carvery. Locally sourced ingredients are central to its menu, with all of the beef reared within a 25 mile radius of the Inn and aged for a minimum of 28 days.
Since taking over the establishment two years ago, co-owners Jeremy Laight and Mia Lester have enjoyed a big growth in business, "We're busy during the week, but the weekends are our busiest days," says Jeremy. "We can do service for up to 250 covers on a Saturday and Sunday, and that's based pretty much around our carvery."
With periods of such intensity coupled with quieter spells, Jeremy and Mia wanted to invest in catering equipment that could handle a heavy load, provide energy efficiency and offer a cost effective solution. "We were looking for a new glasswasher, a premium product, which would be easy to use, easy for staff training and offer reliability," Jeremy says.
Their quest was made easier by discovering Winterhalter's innovative Pay Per Wash (PPW) finance solution, which made the company's undercounter UC-ME glasswasher affordable. There's no upfront cost with PPW – the machine is free and operators just pay for the washes they do. After researching the scheme, Jeremy spoke to a Winterhalter representative, and made his choice. "We chose Winterhalter because of the PPW option – it seemed too good to be true, but we've had the machine for several months and it's been absolutely fantastic."
The PPW approach is one that the Windrush Inn has fully taken on board, and is helping to reduce costs. Mia says "The new glasswasher is much more efficient than our old one. To get the best out of it we make sure it's fully loaded each time we use it, that's not a problem – there're no half loads here!"
As well as only being charged when they use their UC-ME, there are no additional maintenance or repair costs and all chemicals are included as part of the plan. This has made looking after the Winterhalter a breeze at the Windrush Inn, with Jeremy delighted by the process, "It's very easy and straightforward to order chemicals online. It even tells you on the machine which chemicals are needed, and if I've ever needed to message Winterhalter directly with a query, they have got straight back to me, fully answering my questions."
After being impressed by both the new UC-ME glasswasher and the PPW scheme, Jeremy and Mia decided to add a PPW PT passthrough dishwasher to the Windrush Inn's kitchen setup a month later. Since the appliance was installed Mia has been impressed by its performance, "The PT has been very efficient. It gets all of the plates and cutlery very clean, especially during our busy periods. We can fit a lot of plates in there and there're lots of places to put the pots and little condiment containers that we use."
Alongside the seamless installation and operation of their two Winterhalter PPW appliances, Mia has noted the efficiency and practicality of PPW, from a financial point of view, "The PPW scheme with both the machines works incredibly well for us. We just log in, use the reference numbers we've been given for each machine, and then pay by card – it's instant. We then get a paid receipt through the post, which easily matches up to the bank statements and our accountant's happy as well, so all's good!"
Winterhalter's latest UC Series is capable of processing up to 77 racks per hour and is available in four sizes, from small to extra-large. The PT passthrough dishwasher has a clever energy management system that means it is super-fast, handling up to 72 racks per hour, and it features energy-saving technology as standard.