Back to Overview
NO MUDDLING THROUGH: WINTERHALTER HELPS TOP BELFAST RESTUARANT ATTAIN HIGH STANDARDS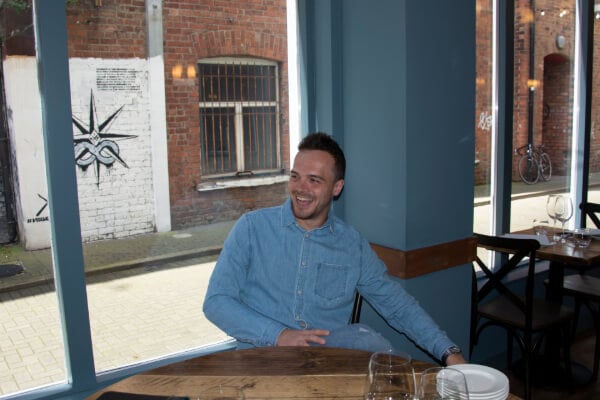 Based in Belfast's cathedral quarter, the Muddlers Club is a restaurant that has swiftly established a reputation as one of the city's finest since opening in 2015. With a menu created by owner/head chef Gareth Mccaughey that showcases the best in local produce with modern flair, it is part of the new generation of restaurants that has put Belfast on the radar of the world's foodies. Since opening it has become a regular winner of Ireland's restaurant awards.
"Our ingredients are locally sourced as much as possible," says general manager Barry Fletcher. "They can be on a diner's plate within half an hour of being farmed. We're just trying to give customers the best food!"
When quality is the target, every detail counts. "We took a long time to choose the right equipment, we needed to be sure that we picked the best brands," says Barry.
This is how the Muddlers Club ended up with Winterhalter equipment for their warewashing duties.
They selected a PT passthrough washer to handle dishes and utensils, and a UC undercounter glasswasher for sparkling glassware.
"We were looking for equipment that would help us streamline our processes," says Barry. "At peak times we're incredibly busy, so making sure we're as efficient as possible was vital."
The PT range is packed with features to enable perfect results time after time, regardless of the level of soiling. The VarioPower system changes the pressure of the water, along with temperature and chemical dosing, according to requirements. It helps to protect more delicate pieces while guaranteeing perfect cleaning on heavily soiled items.
The Muddlers Club's UC glasswasher has an external reverse osmosis unit to remove minerals and other impurities in the washwater. This stops any residue being left on the glasses, which means that, if used in conjunction with Winterhalter's chemicals, it removes the need to hand polish the glasses once the cycle has finished.
"The chemicals are fantastic," says Barry. "Superb results time after time, and no need for staff to do extra polishing!"
Reducing running costs and resource consumption is also an important consideration. "Obviously we're always looking for ways to keep our overheads as low as possible, so the work Winterhalter puts into keeping running costs down helped influence our decision," says Barry.
The PT range is the first passthrough on the market to feature heat exchanger equipment as standard, saving 10% or more on energy use by recycling the machine's waste heat to heat up the incoming water supply. Despite this, it's super-fast, too. Its clever energy control system speeds up the washing process, increasing rack capacity per hour by 28% and reducing heat-up time by 50%. The speed of the system means the PT is ready for action faster than conventional passthroughs, allowing back-to-back rack washing, which is a huge bonus in busy kitchens. "It's incredible, no matter what we throw at it the results are perfect every time, which is vital when we're at our busiest," says Barry.
"Having an open plan restaurant lets diners get a sense of how their meals are made, but having steam escaping from the washers would spoil the vibe we're going for," Barry explains. "Our glasswasher is so well behaved we can put it facing diners with no issues."
If equipment does misbehave or require a little TLC, the after-sales service offered by Winterhalter has impressed Barry. "The odd time we've had an issue, it's just a question of giving them a ring. They've been round and fixed it, usually within the hour!"
While the Muddlers Club doesn't like to trumpet its achievements too much, it has already gathered an impressive range of awards. "We prefer to rely on word-of-mouth, it's much more genuine that way," says Barry. "But Winterhalter's impressed us so much, we're more than happy to recommend it publicly!"