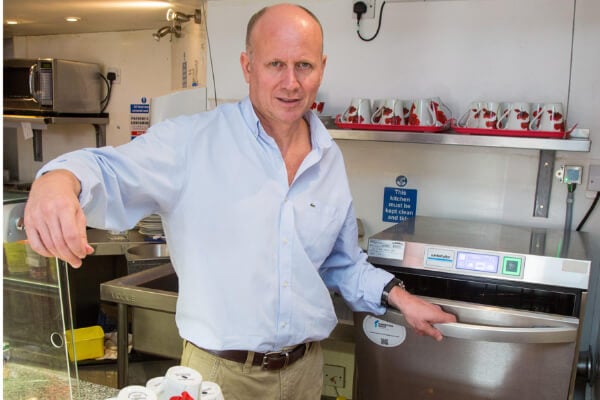 The Poppy Pantry is a café set in the Grade 1 listed grounds of the City of London Cemetery. It offers visitors a place to relax, providing them with a range of meals and snacks as well as a catering service for wakes.
"We serve a range of different meals," says owner Paul Charters. "Everything from full English breakfasts, jacket potatoes, sausage and mash and soups to sandwiches. Fairly standard café fare, but good and hearty." Business is steady, with an average of 150 covers every day, although there are seasonal spikes. "Mother's Day and Father's Day are always busy, as is the week before Christmas. It'll often be non-stop then, but our warewasher is in near constant use every day. It's a vital part of our setup."
As with many businesses when they start out, Paul tried to find ways to keep initial costs down. "We knew we would need a warewasher and we decided to try and save some money by picking up a second hand model. With hindsight we know that was a big mistake!"
After a year of breakdowns and repairs, enough was enough. "I knew we needed to get not just a new machine, but the best machine," says Paul. "I spoke to other operators I know for advice, and most of them mentioned Winterhalter as making the best warewashers. When I found out about Pay Per Wash that just sealed the deal."
Pay Per Wash is Winterhalter's alternative payment model that allows operators to take advantage of their market leading technology with no money up front. Operators get a warewasher, chemicals and a complete service package and only pay for actual wash cycles.
"Compared to the initial outlay the competition required, it made the decision very easy," says Paul.
Poppy Pantry chose a Winterhalter undercounter model. These come in four different sizes, with variants designed specifically for glasses, dishes, cutlery and the bistro model, which copes with all three. Each model incorporates Winterhalter's technical advances that guarantee perfect results every time. "The difference is like night and day," says Paul. "With the old machine, we'd have glasses coming out with residue still on them, or plates with bits of food baked on. It had real problems with coffee stains too, it was never ending! We'd waste so much time doing extra cleaning. But now everything comes out absolutely perfect, no extra work required. Fantastic!"
The advantages of Pay Per Wash were immediately apparent to Paul, too. "It makes planning our budget incredibly easy," he says. "We can buy a number of washes up front, so we know right away we've lined up the washes we'll need for half a year, and that expense is paid for. It takes a lot of the pressure off."
Detergents are also part of the PPW deal. "We're in an area with very hard water, so we need to use a lot of salt to get the right results, but we've never run out of any of the chemicals we use," says Paul. "Winterhalter are great at keeping us supplied, plus it's another thing to not have to worry about."
Pay Per Wash also includes full call-out service and maintenance. "We've only had two minor problems," explains Paul. "Both times they've sent engineers out within a couple of hours and resolved the problem very quickly, it's a fantastic service."
Paul has a message to anyone sitting on the fence about the Pay Per Wash service. "Honestly I can see why some people might be sceptical, but it's completely exceeded my expectations. I'd advise everyone to give it a go, whether you're starting out or looking to change. Winterhalter Pay Per Wash is the answer!"