Tweets worth £500 to Hospitality Action!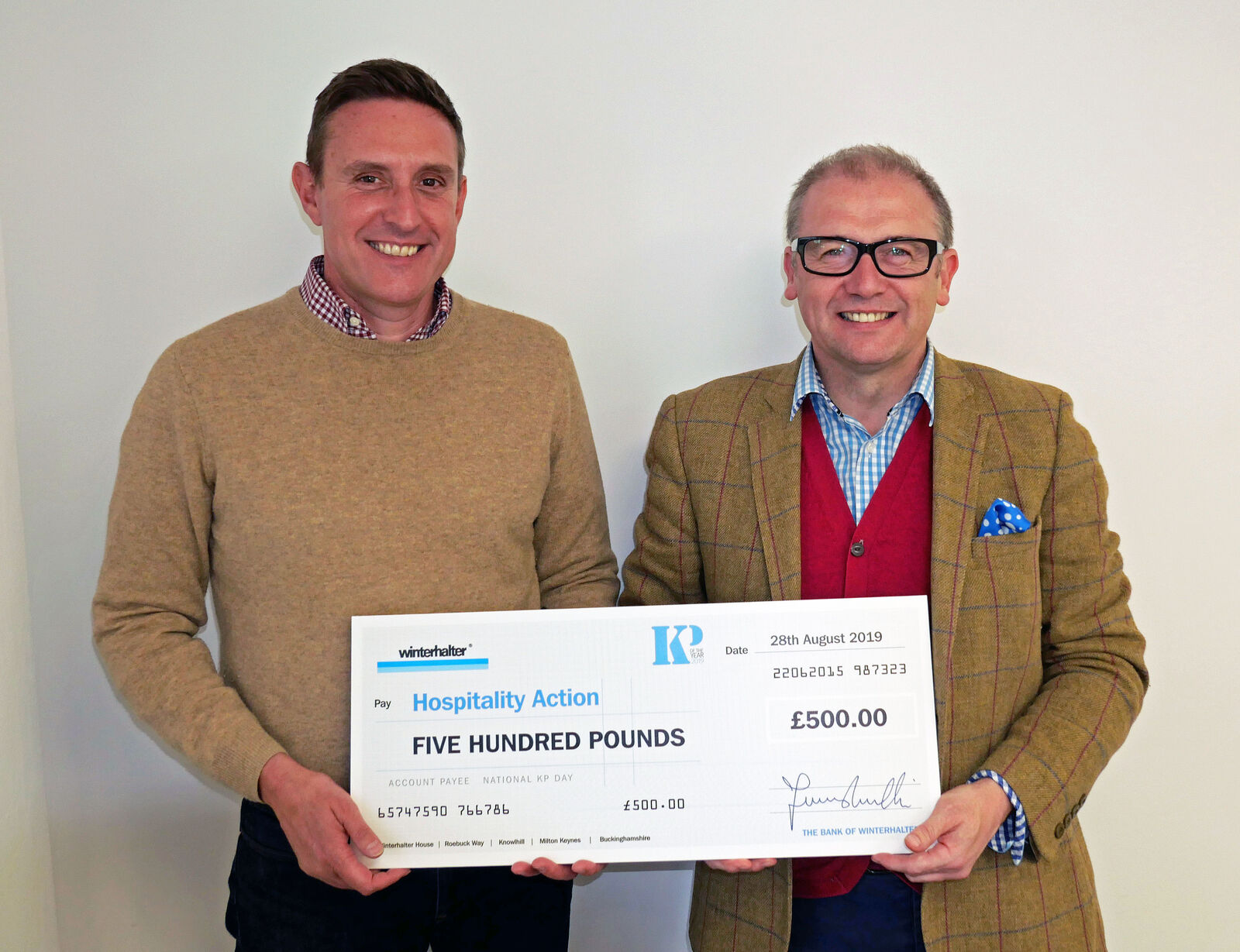 Winterhalter gives cash to charity on National KP Day
This year's National KP Day saw lots of kitchen brigades join in celebrating their kitchen porters by tweeting photos of them with the hashtag KPday. As usual the photos were a mixed bunch, with action shots, lots of smiles and clearly plenty of fun occurring.
Along with the humour, the day has a serious element with Winterhalter UK pledging money to charity for every tweet. This year the company's managing director, Stephen Kinkead, was able to present a cheque for £500 to Hospitality Action, the charity that supports people in the industry who fall on hard times.
Mark Lewis, chief executive of Hospitality Action, is one of the judges for Winterhalter's KP of the Year awards for 2019. He met with Stephen at the judging panel to accept the cheque. He said, "Hospitality Action can only be as supportive of its beneficiaries as our supporters are generous. We're therefore hugely grateful that Winterhalter has this year chosen us as the nominated charity for its annual KP Day celebration. Thanks to supporters like our friends at Winterhalter, we're able to transform the lives of many hospitality people."
"We've had a lot of really funny photos over the years with National KP Day," says Stephen. "When you think of a busy kitchen you tend to think about hard work – it's great to see the humour that runs through so many kitchens around the UK."
Winterhalter provides a total solution for dishwashing and glasswashing, from pre-sales advice to after-sales service, training and maintenance. Alongside its market-leading dish washers and glass washers, the company's range includes utensil washers, advanced water treatment machines, cleaning chemicals and detergents. For further details, call Winterhalter on 01908 359000, visit www.winterhalter.com or email [email protected].
Copy ends
KP Day 2019 raises £500 for Hospitality Action – Oct-19
Press Enquiries:
Alison Haynes at The Publicity Works: 01263 761000 Email: [email protected]
Separation/Inclusion charges: By email only to [email protected]
For more news about Winterhalter visit the press office at www.publicityworks.biz
Paul Crowley at Winterhalter: 01908 359000
Follow Winterhalter on Twitter
Email: KP Day 2019: Winterhalter gives £500 to Hospitality Action (image link at end of release)