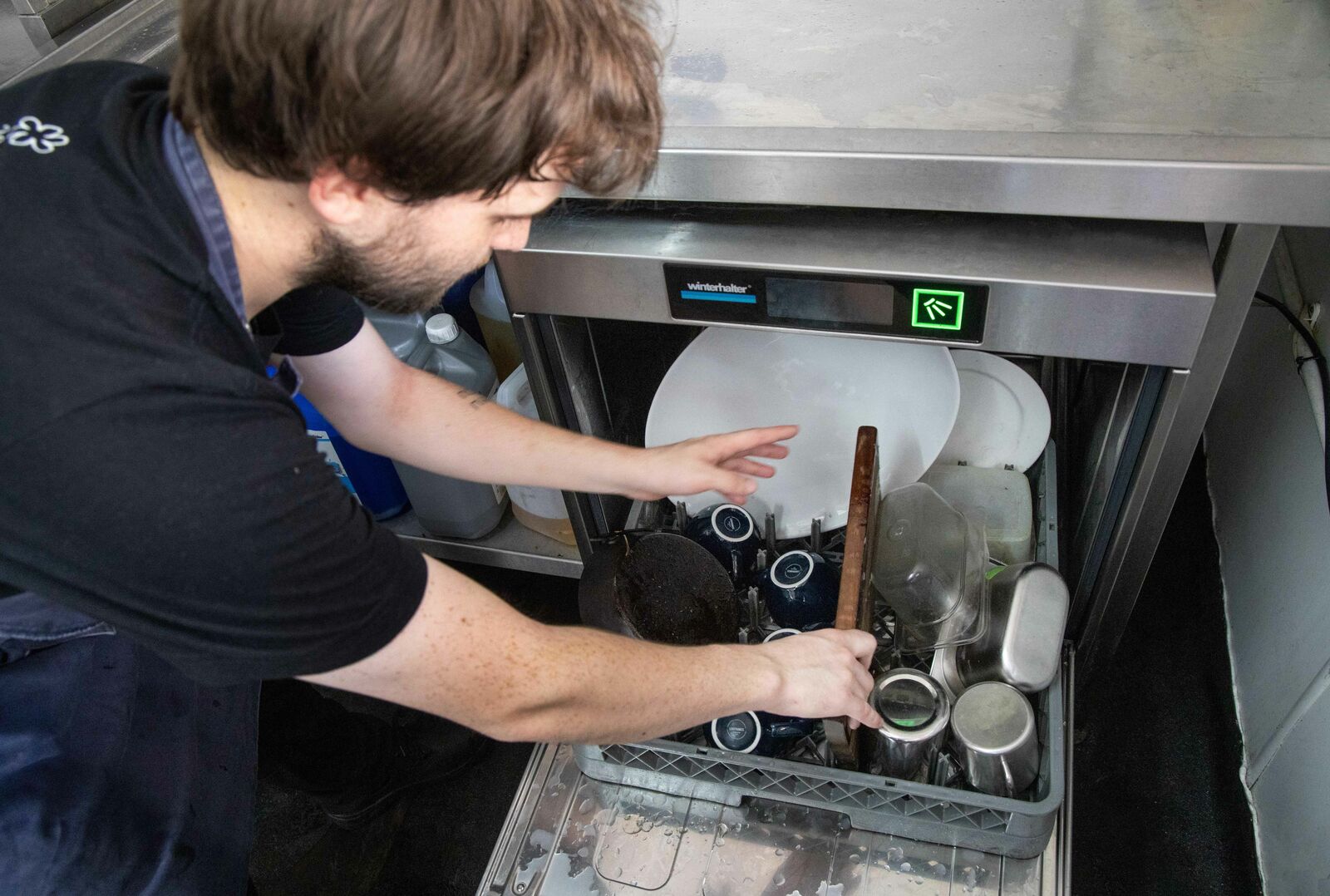 If you're looking for information on hygiene and warewashing in the context of managing Covid-19, then the Winterhalter website cleanliness and hygiene page is the place to go. The warewashing specialist has expanded its advice and guidance, so that now the page includes an FAQs section, hygiene safety downloads with infographics covering handling crockery, glassware and cutlery, and a host of specialist and specific detailed recommendations.
A section is devoted to the issue of washing by machine vs. washing by hand. It covers not only cleanliness and hygiene, but also considerations such as safety, economic efficiency and the environment. One critical concern is the temperature of washing – the high temperature required to ensure hygiene safety can't be reached by hand washing.
One of the most frequently asked questions is whether a commercial dishwasher can make Covid-19 inactive. The answer is yes, to 99.999%. This is because a quality warewasher such as a Winterhalter will be certified in accordance with DIN SPEC 10534 and guarantee a reduction in germs by more than 5 log levels – which is virtually the same level as disinfection. This high degree of cleanliness and hygiene is achieved by a combination of the right dosing of effective alkaline detergents, sufficiently long contact time in the wash, and stable high temperature management in the tank and during the rinsing. Winterhalter points out that this assumes that the machine is looked after – that it's functioning correctly and staff understand how to operate it.
The infographics covering the handling of glass, crockery and cutlery offer staff clear, simple instructions on how best to keep ware safe from contamination. For example, clean plates should be stored in a secure and sterile (if possible) environment; customers should be encouraged to pick up their plate directly from waiters' serving trays; dirty plates in the wash areas should be kept well away from clean plates; staff should wash their hands immediately after loading the dishwasher; clean plates should be allowed to dry by air, without the use of tea towels etc.; look to minimise the handling of plates when serving food; and have separate staff to operate the dishwasher and service food to customers.
"Anyone who needs information that's not covered on the page can contact us direct, by phone or email," says Paul Crowley, marketing manager at Winterhalter UK. "We are operating throughout lockdowns, to ensure customers who need advice or support can get it."
Winterhalter regularly updates the information on the website. To find out more visit winterhalter.com/uk-en/hygiene.