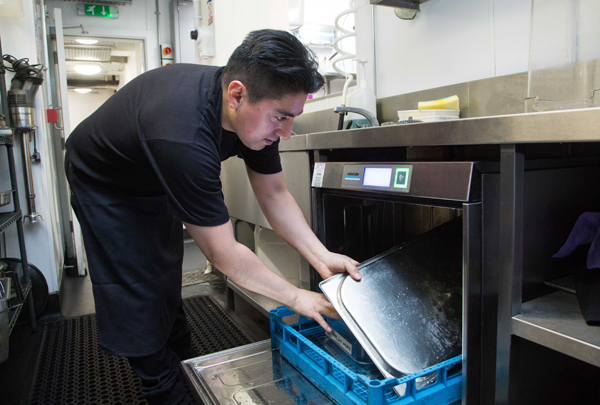 As restaurants repurpose as takeaways, they can repurpose their dishwashers and glasswashers
With the government relaxing planning regulations to allow pubs and restaurants to operate as takeaways for twelve months in response to the Covid-19 pandemic, many businesses will be changing the way they operate significantly. Some large chains have already made the switch to a takeaway/delivery only model with an increasing number of independent businesses following suit.
Winterhalter UK is highlighting how commercial dishwashers and glasswashers can be adapted to help meet new requirements businesses need to reach. Understanding how existing equipment can be re-purposed to meet new demands can help to control workload, as well as helping to maintain high standards of hygiene.
Restaurants and pubs becoming takeaways will begin to operate more like production kitchens, with almost no need to wash plates and cutlery but greater amounts of pots, pans and utensils being cleaned, more often.
Some undercounter and passthrough dishwashers and glasswashers, such as Winterhalter's, can be adapted to make them able to handle these very different requirements. Changing the wash parameters, for example to increase water pressure and length of the wash cycle, will enable machines previously optimised for delicate stemware or decorated plates to easily tackle more heavily soiled pots and pans, even with heavily baked-on foodstuffs.
Using re-purposed dish and glass washers to clean pots, pans and utensils, rather than washing them by hand, helps to ensure the results are completely hygienic, as well as freeing up staff for other tasks.
To get the best results you need chemicals specifically designed for pots and pans, rather than glasses or dishes. Winterhalter would recommend an aluminium safe dishwasher detergent in combination with an open rack, for washing an increasing amount of utensils. Meanwhile, for sites washing by hand, Winterhalter would recommend the use anti-bacterial washing up liquid.
"Facing uncertain times, restaurants and foodservice operators will need to respond quickly to the changes in the market in order to help protect vulnerable sections of society and their business," says Paul Crowley, marketing manager of Winterhalter UK. "It's very important that dishwashers and glasswashers that are re-purposed for utensils are able to do the job effectively and hygienically. Hence the wash cycle has to be adjusted, and the right racks and chemicals need to be used."