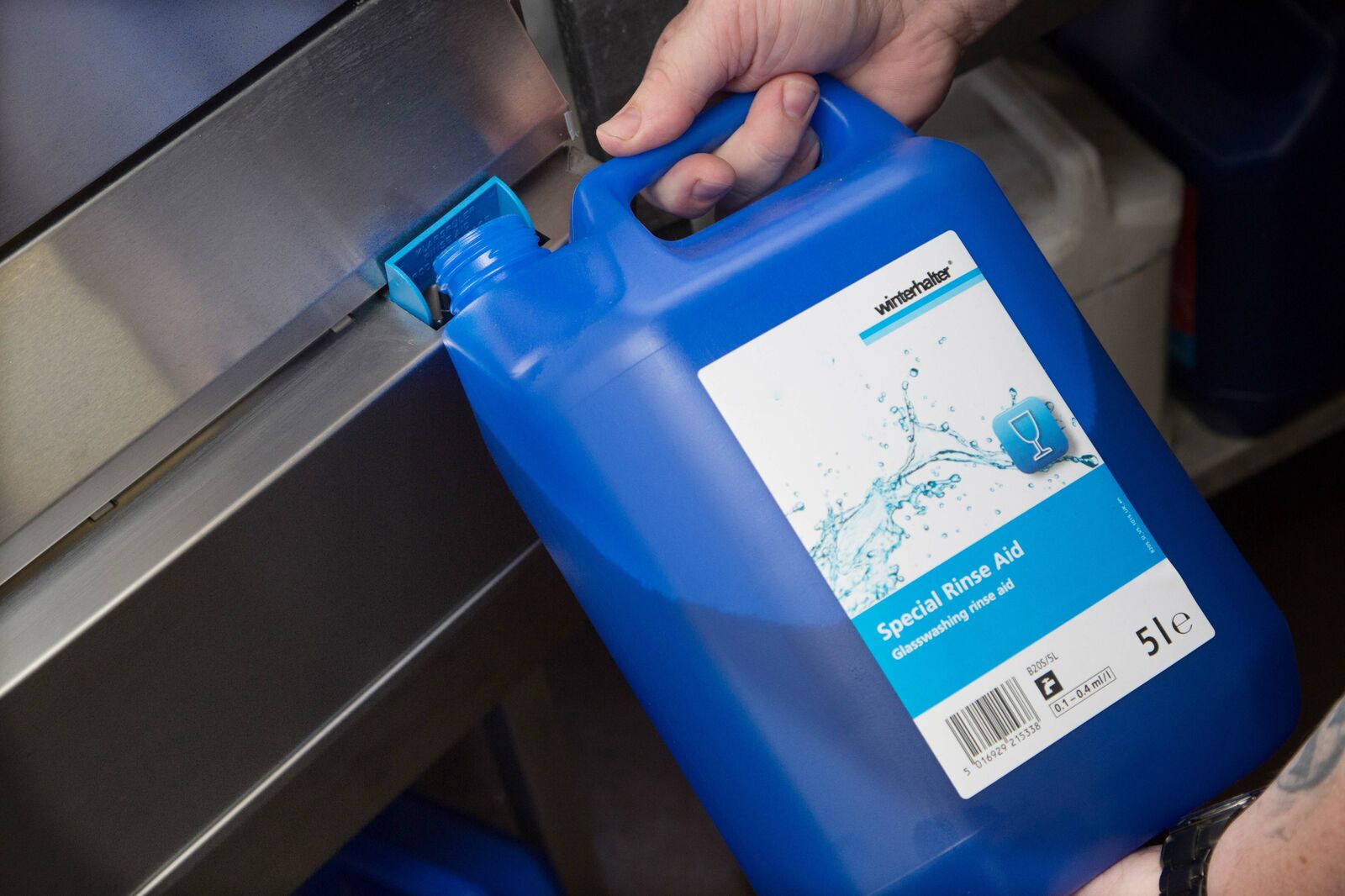 Price promotion celebrates warewasher specialist joining NACC
Getting the right chemicals is as important as the right machine when it comes to hygienic dishwashing. Winterhalter recently launched a range of dishwasher chemicals that have been formulated to deliver the best possible cleaning results, whatever the local water conditions. To celebrate joining the NACC (National Association of Care Catering), the company has created a special promotion for care homes. It has selected four dishwasher chemical products that it believes are ideal for the care home sector and is offering each of them at a 20% discount for any members of the NACC.
"The Covid 19 pandemic has focused even more attention on the need for hygienic, sanitised dishwashing, especially in care homes," says Paul Crowley, marketing development manager at Winterhalter UK. "These four chemicals will give top results and will help maintain the integral hygiene of the dishwasher."
The four chemicals feature a choice of two detergents. The first, F8500 Dishwash Detergent, includes active chlorine for extra hygienic results. The second is F420e Bistro Detergent, which is a versatile and eco-friendly product that meets strict environmental criteria and carries the EU Ecolabel. When it comes to rinse aid, in care homes it's important that the chemical is suitable not only for glass, porcelain and stainless steel, but also for plastics and polycarbonates. That's why Winterhalter has selected the B1N Neutral Rinse Aid, as it is ideal for a huge variety of different wares.
Lastly, Winterhalter has included its A15MC machine cleaning tablets in the promotion. Even the most careful manual clean or most effective self-cleaning program will leave tiny mineral deposits in warewashers. Over time these can grow and, as well as potentially damaging the unit, can lead to unpleasant odours. The A15MC tablets combat this. They get rid of the deposits, leave a clean, fresh fragrance, and deliver a new level of hygienic cleaning. In addition, by removing any trace of mineral deposits and limescale, they extend the life of the machine.
The 20% discount is available to all members of the NACC on their opening order of Winterhalter chemicals. As an example, the list price of the F8500 detergent is £48.30 for a 12kg container. Once the promotional discount is applied, this reduces to £38.64 (excluding VAT).