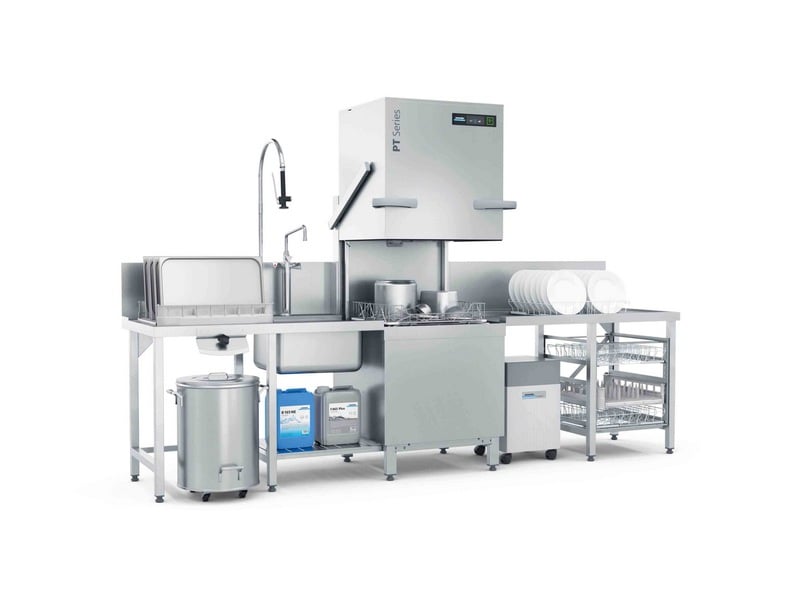 Powerful new dishwasher can handle plates and utensils
Winterhalter has launched the PT Utensil, a powerful passthrough dishwasher that can clean both utensils and plates, making it an ideal all in one cleaning solution for a range of businesses.
Like other models in the PT range, the PT Utensil features upgrades and innovative technology that helps to reduce energy and water consumption while enhancing reliability and usability, which ensures that both utensils and plates are cleaned to the highest standards time after time.
With the shortage of KPs, there's been a huge increase in demand for utensil washers. The PT Utensil delivers superior results in a compact footprint, plus, it can be switched to wash dishes if required.
Underpinning the design of the PT Utensil is Winterhalter's hygiene concept. Every component has been tweaked to ensure that there are no nooks and crannies where dirt can accumulate. For example the rack guide has been redesigned to stop deposits from forming, while the water tank is deep drawn and features a hygienic heating element. The PT Utensil features a four stage filtration system that removes the smallest impurities from the wash water to guarantee the best wash results, as well as helping to assure the longest working life.
The cleaning power of the PT Utensil comes from two newly designed s-shaped wash arms that evenly distribute the water within the wash chamber. The Variopower system automatically adjusts the wash pressure for each wash and the level of soiling, meaning that plates and cups use standard pressure while heavily encrusted utensils are washed at higher pressures. This ensures that it's powerful enough to clean the most soiled items while delicate pieces are treated more gently.
As with other models in the PT range the Utensil includes the EnergyLight heat recovery system as standard. This recycles heat from the wash water to help heat incoming cold water, reducing energy consumption by up to 10%. Additional energy savings can be made with the optional EnergyPlus air heat recovery system, which recycles steam to heat the water. As well as improving working conditions by stopping steam being released when the unit is open, it can reduce energy costs by up to 15% per wash cycle.
Each PT Utensil comes with a set of custom racks specially designed for plates and utensils, protecting each from damage while ensuring optimum water coverage and facilitating fast drying. Controlled from a robust touchscreen, the system has simple one-button operation and easy to understand symbols. Programs can be customised and controlled using Winterhalter's networking app Connected Wash, which allows operators to easily gather operating data including full HACCP information. Connected Wash can also use this data to provide suggestions to operators for optimising their wash, as well as identifying potential issues before they become too serious.
For more information on the PT Utensil, along with Winterhalter's comprehensive service and leasing packages, visit their website at winterhalter.co.uk.