CTR
COMPACT
RACK CONVEYOR
DISHWASHER
Rapid washing speed. In the smallest space. The compact rack conveyor dishwasher. Can be individually configured whilst remaining flexible.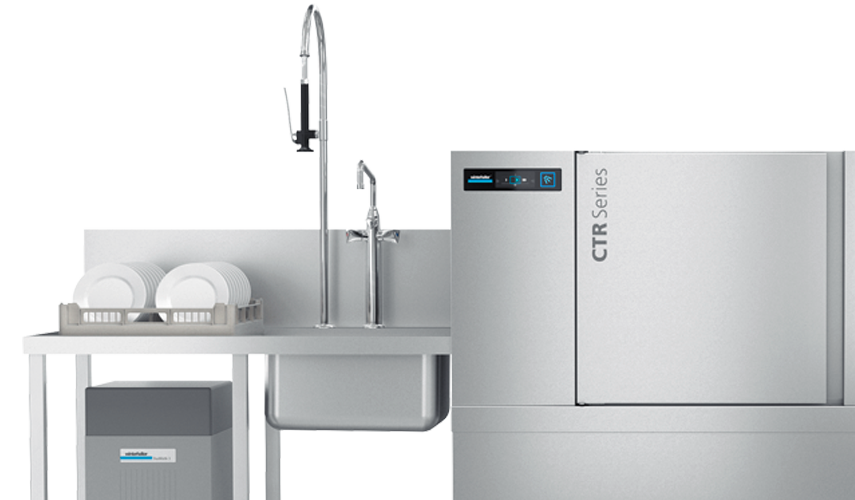 SPEAK DIRECTLY TO OUR EXPERTS!
We want you to be absolutely confident in your decision to choose Winterhalter. Work with one of our experts to find out whether the CTR is the right dishwashing solution for you. Simply call or email us.
EVERYTHING IS POSSIBLE.
It has to be compact. Because there's generally not a lot of space in the kitchen. It has to be fast. Because there's a lot to wash at peak times. It has to be modular. So that it can be tailored precisely to meet individual requirements and demands. Naturally it should also be economical to operate. The impossible becomes reality with the CTR from Winterhalter: high washing performance and compact dimensions. Up to 195 racks per hour. Lower consumption values and lower operating costs. Maximum hygiene safety – and a huge degree of flexibility. This is thanks to the modular system, which enables the CTR to be easily planned, individually configured and retrofitted. The perfect solution for 100 to 400 diners.
CTR PRODUCT BENEFITS

HIGH DEGREE OF FLEXIBILITY
It offers a wide range of machine variants, is available with up to three tanks and has modules and features that can be retrofitted: the CTR is based on a modular system and can be customised to precisely meet your individual requirements. Even for confined spaces.
HYGIENE SAFETY
The CTR is designed with hygiene always in mind. Doors that open 180° and deep-drawn tanks. Hygiene tank heater. In addition, a hygiene mode that can be preset: if the tank or boiler temperature falls below the set value, the machine automatically reduces the transport speed, guaranteeing a hygienic wash. In accordance with DIN SPEC 10534 hygiene standards.
PERFECT WASH RESULTS
An efficient warewashing system. A newly conceived and simplified machine design. And effective solutions regarding hygiene safety and filtration: the CTR also guarantees first-class wash results for large loads.
ECONOMIC EFFICIENCY
A big plus for the CTR: despite its high rack capacity, it has been possible to reduce water consumption during rinsing by up to 50% – to a minimum of just 130 litres per hour. This is made possible by the speed-dependent control of the rinse water volume. So you can wash as economically and environmentally friendly as possible.
Our energy-saving features for the CTR Series
DID YOU KNOW...
You can wash up to 195 racks per hour with the CTR?
Winterhalter has been making conveyor dishwashers since 1971?
Winterhalter conveyor dishwashers are all "made in Germany" and "made in Switzerland" as far as production and development are concerned?
Winterhalter has won over 20 awards for technical innovation in the last five years?
THE WINTERHALTER SYSTEM
Cleanliness and hygiene. Each one of our products plays its part. Together they deliver the perfect wash result. Welcome to the complete Winterhalter system